What is Google AdWords?
Google AdWords is the paid marketing strategy introduced by the Google to help the business owners to target right audience in the market and increase the inquiry rate for the business. Whether it can be a product oriented or service oriented business, by using the Google Ads you can get more quality customers to land on your business website from Google Search.If you are using Google AdWords as one of the marketing channels for your business, then you can get more ROI from this.
In Google Ads, you need to pay for each click that user makes on your ad and lands on your website. The cost per click for particular keyword may vary from time to time and will also vary based on the keywords which you target.
Google AdWords offers many kinds of ad variations to support all kind of businesses. Google Ads offers shopping ads, search ads, display ads, video ads and many more types. So based on business type and the marketing strategy you can choose the best type which suits you.
Also read: How much does Google know about you?
Why Google AdWords for Business?
As you know like Google is one of the most popular search engine which is used by maximum percentage of the users around the world. As you can see from the below image, Google is the most used search engine when comparing to the others like Yahoo, Bing, etc. Hence this narrates that Google search is one of the best source for the businesses to generate leads.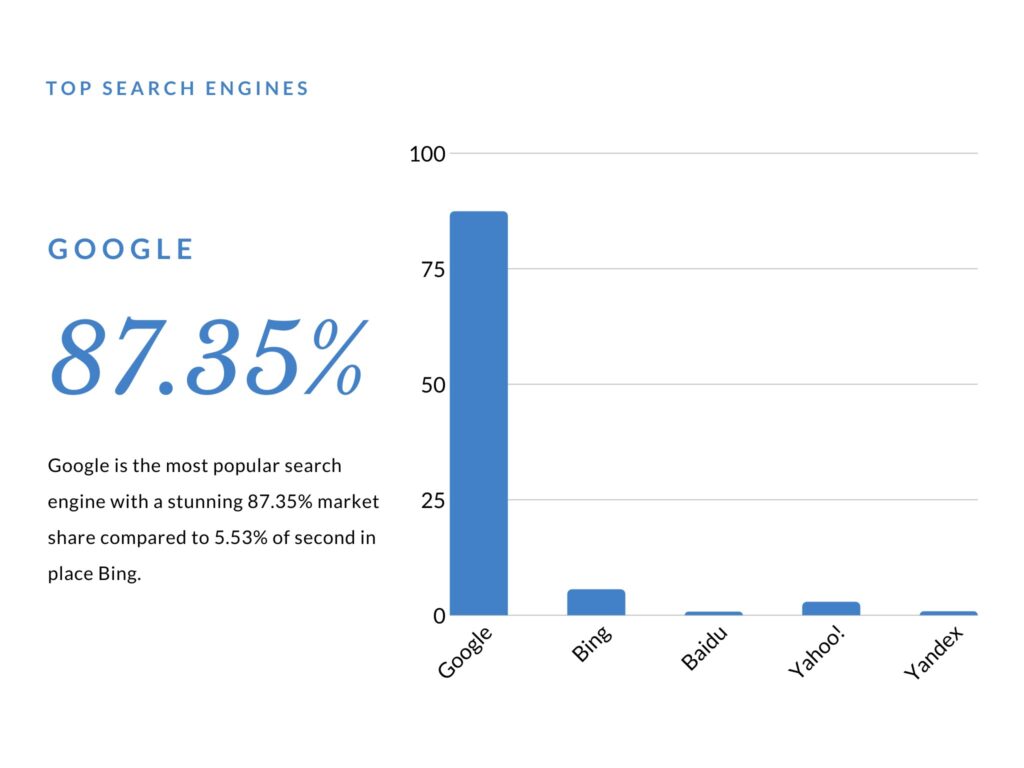 So as business owner, you should make sure that your business website is more easi ly reachable for the right audience from Google. This can be done in two ways. One is you can hire the best SEO Agency in London like ClickDo and rank your business website organically in Google with the proper SEO Strategy by Fernando Raymond. On other hand, you can hire the PPC Consultants and promote your business website with right Google Ads strategy.
As a normal user, when you search for any term in Google. You can see that first four search results are Google Ads results (as in below image), followed by map results and then the organic search result.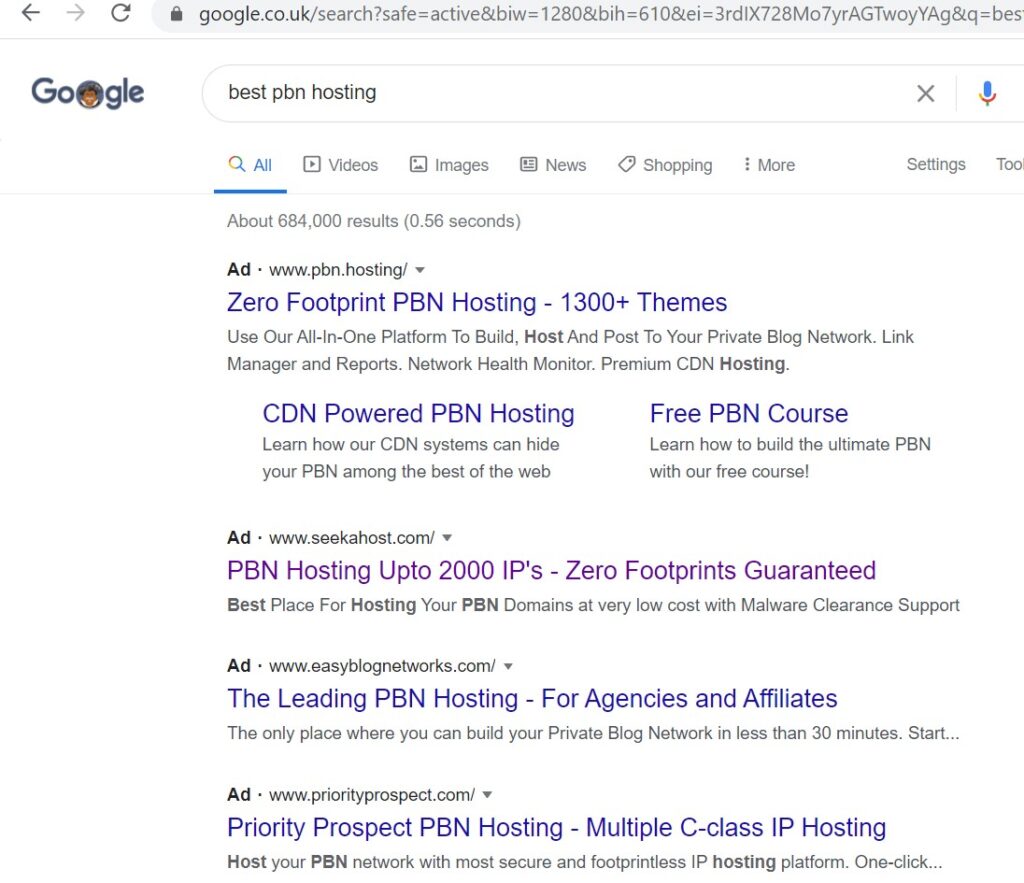 This clearly shows already many business owners have started investing on the Google Ads to get more inquiries for the business.
Also, when normal user searches for any query, then he/she will be clicking on any one of the Google Ads search results which appears in top four spots and will land on the respective websites. Hence Google Ads is must for the businesses.
This doesn't mean that SEO should be given importance. SEO is the organic way ranking a business website in Google and having your business website in top for your niche related search queries will help you get more leads for your business organically in long run. As a business owner, you should give equal priority to both SEO & the paid campaign.
How to get more ROI for business from Google Ads?
In Google Ads, you need to pay for Google for the each click that you get for your ads form the search. Since you are going to spend for each click, you should make sure that right audience are targeted and campaigns are planned smartly to get more ROI buy spending less. Below are some tips for you to manage Google Ads smartly,
Identify the right keywords
Location target
Bidding strategy
Landing page optimization
These are some of the main terminologies to look upon when creating the Google AdWords campaign for your business.
1. Identify the right keywords
Choosing keyword for the Google Ads campaign plays vital role in the campaign success. There are lots of tool available online to do the keyword research, but the most reliable one is the Google Keyword Planner. Google provides us with the some data about the keywords like number of searches for a search term from particular location, approximate average CPC, etc.
Based on all the available historic data, you should choose the best keywords with more search volume and less CPC to get better return on investment roi. Keyword research is the first thing you need to do before starting a campaign. Once you have identified the right keywords, the next thing is to use the right match type in Google Ads to get relevant clicks.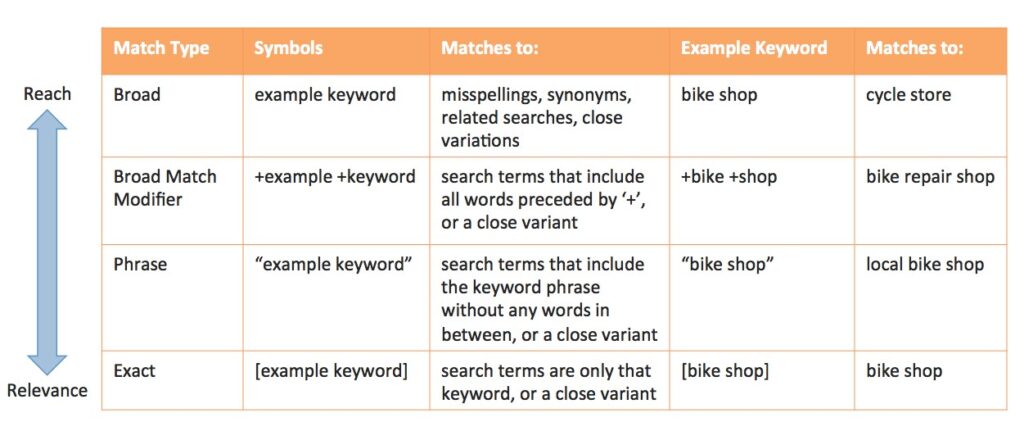 As in the above image, Google provides many keyword match type to target. You can choose the keyword match type based on your advertising strategy. But the most recommended one is exact match type for which the chances of irrelevant clicks to the ads is very less.
2. Location Target
In Google Ads, you need to choose the location in which you need to show the ads. For example, if you running ads for an E-Commerce website, then you can select the particular location where you want to show the ads.
For instance, if you are promoting the products which is more likely for the people in London. Then you can select the custom location and can show your ads for the people who are searching from London alone. So by using the location target you can make sure the right location of the audience.
Google allows you to target multiple locations under one campaign, so as a business owner you can plan the perfect marketing strategy with your PPC consultant. Google allows you to target any location using its advertising platform and hence you can target users from any corner of the world and make them know about your brand.
3. Bidding strategy
Google Ads offers lots of bidding strategy to use in the campaigns. There are many bidding types in Google Ads as listed below and you can choose the one based on your marketing plan,
Maximize Clicks
Manual CPC, etc
There are many bidding types available in Google Ads and may differ based on the campaign type which you choose. If you are choosing the search ad campaign, then you will have the options to bid with manual CPC or maximize clicks.
I would personally recommend to go with the maximize clicks bidding strategy if you are going to start the campaign with minimum budget. In the maximize clicks bidding type, Google will automatically adjust the CPC range to get more number of clicks to your ads within the allocated budget. Hence by using the maximize clicks campaign, you can get more clicks within your budget.
4. Landing page optimization
So, you have driven traffic to website through Ads, now the conversion matters at end of the day for any business. So you should make sure that you have the perfect landing page to convert all the users who are visiting a particular webpage. If you doesn't have a proper business website, then you can check out the blog which is written by Dinesh Kumar VM (yeah, it's me J ) on SeekaHost about creating a WordPress website from scratch.
Basically if you take a landing page, it should have some basic information about the service that you are offering, a video explaining about the service, easy contact options may be like live chat, customer reviews, etc. If you have all these factors in your landing page with good interface, then it will create a very positive impact for the visitors.
On top of all, you should make sure that the landing page or website is more mobile friendly. Below image, you can see that the maximum number of search queries to Google comes from the mobile devices than the desktop devices.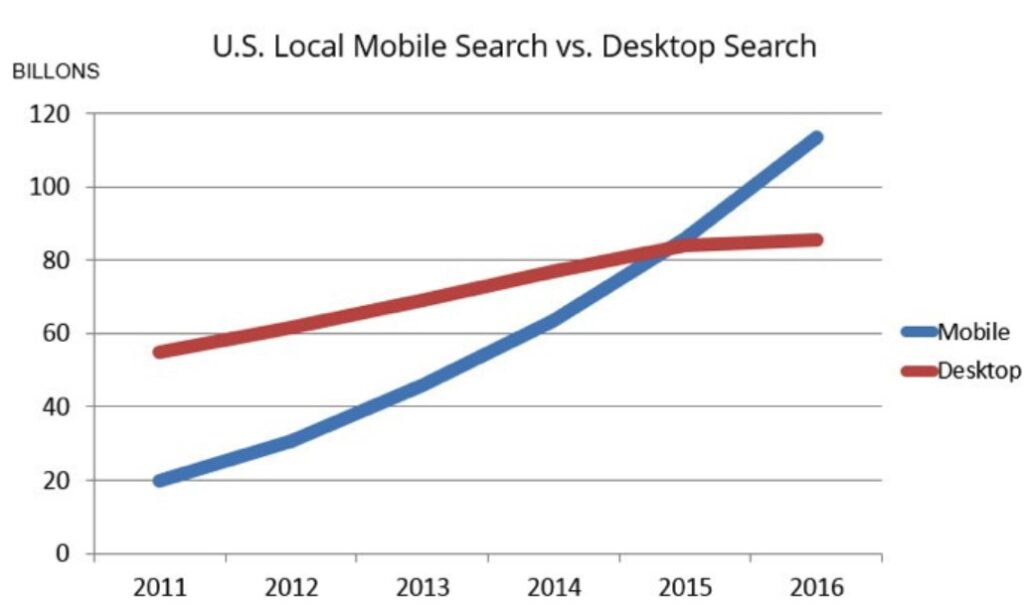 This shows that more number of search queries are coming from mobile devices than the desktop devices. Hence, you should make sure that the landing page is perfectly optimized to perform better in mobile devices.
Conclusion
As business owner, If you are planning to get more inquires for your business from online mediums. Then Google AdWords is best choice for you to get started immediately and get more leads in quick time with roi. You can follow the smart methodologies which is mentioned in this blog to improve the campaigns performance and gain better ROI. Not only the Google Ads, you should also plan to invest more on SEO simultaneously and should try to improve the organic rankings of your business website on Google. This will help you to get more leads for your business in the future and will help you in long run roi.
Try these smart ways and make sure your brand has more reach among the online users. Upcoming future everything is going to be online. So if you are a business owner reading this blog and doesn't have a website yet, then you should immediately take steps to create a business website and start the online marketing activities.
Read Next: Dedicated vs. Cloud Hosting: What Type of Server Provides the Highest ROI?