How to Reverse a Youtube Playlist: It seems that many users really want this feature as there are thousands of comments claiming the ability to Reverse playlists, but YouTube doesn't care about that. But don't worry, there are few extensions you can use to easily reverse playlists to YouTube.
What is a YouTube playlist?
A youtube playlist is basically a collection of videos and everyone on the youtube platform can create, edit and share playlists, whether you are the owner of a youtube channel or a youtube user who just watches the videos.
How to create the YouTube playlist?
To create youtube playlist on your youtube channel, just follow these steps:
Create Youtube playlist for channel owners.
First, go to your [Youtube Studio] channel.
On left side, choose Playlists and you will be directed to a new page.
On the new page, you will find the entire playlist [if you have it], and to create a new playlist, just click "New playlist".

Choose name for your playlist and select Public if you want to share it directly, or you can choose Private.
Click create and playlist will be created.
If you want to edit playlist, just select the menu and click "Edit", then add or remove videos from it.
Create a YouTube channel for YouTube users.
In the last update, the playlist was created automatically for users who do not have a channel and do not share the videos, and it will be created according to the number of times the video is viewed.
But you can create own playlist if you like, just follow these steps:
Firstly, you need to log in to youtube with your Gmail account.
Select video that you want to add to the new playlist, click on the three dots next to the video, and select Save to playlist.
After that, new page will appear with all the playlist you have, but in this case, you don't have anyone:
Choose Create New Playlist Below.
Add the name and privacy of your playlist and click create.
How to delete youtube playlist on mobile devices and desktop?
Sometimes you need to delete a playlist and to do that just follow these tips:
In YouTube Studio, click on the playlist and you will be redirected to the same new page.
Select the selected playlist and click Edit.
You will find a new [Playlist Options] page, and under the title, click the three dots and select Delete.
YouTube is a great platform when it comes to videos and it's easy to access too. Everything you want to learn, binge watch or whatever music you want to listen to is available on YouTube. But there are many additional functions that users have long requested that are missing from the website and one of the ones that is missing is the reverse function of YouTube playlist.
How to reverse YouTube playlist?
Methods to reverse youtube playlist
Use browser extensions
Change the layout in the configuration.
There are different methods and different plugins or tricks that you can use to reverse the playlist on YouTube or view the playlist on YouTube. Follow the various tricks below that we found to reverse your YouTube playlists.
1. Use browser extensions
There are extensions available on the Chrome Extensions website that have the playlist reverse feature along with many other useful features.
First, install either of these two Iridium extension for YouTube or Improve YouTube extension.
Then open the playlist you want to play backwards.
Play the first song and on the right side where the contents of the playlist are listed, you will see the reverse playlist button.
Click on that and your playlist will be reversed.
2. Change the layout in the configuration.
If you are the owner and creator of a playlist, you can change its order from the playlist settings. You can try this trick on both desktop computers and mobile devices. If you are not a playlist creator and cannot edit them, proceed to the next trick.
Open the playlist you want to reverse.
Then, click on the three-dot menu under the name of the playlist for these options and select "Playlist Settings."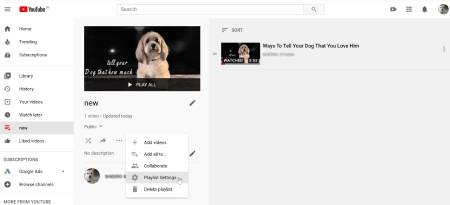 Then click on the "Advanced Settings" options in the next pop-up window.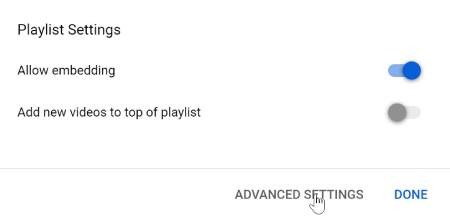 A new page will open, now in that little pop-up window, click on Markup Options and switch to the order you want your playlist to be in.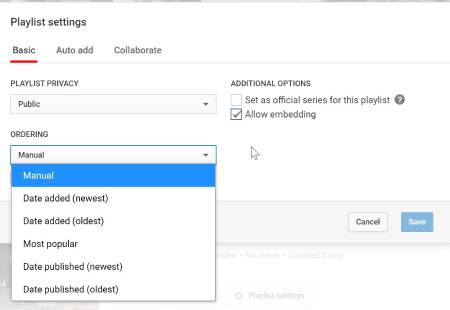 Then click the "Save" button and save your changes. Now the playlist will be set according to the order you selected.
Also read: