Social media platforms are perfect for advertising specific businesses and initiatives in order to reach the target audience. Instagram, Twitter, and Facebook are just a few of the frequently viewed and used social media sites where users are exposed to a variety of adverts and product promotions on a regular basis. Despite the fact that this is one of the less demanding types of promotion, it is crucial to recognize that managing a brand's internet presence is quite hard and time-consuming.
In order to create a company's brand, the person in charge of the social media profile must publish on a regular basis and keep in constant contact with potential customers. It's vital to have an understanding of all platforms and plan announcements in order to strike a balance and please all segments of your audience when presenting the brand on social media, which Hootsuite allows us to do. This application facilitates the successful management of a brand's social channels, provides a clear view of multiple streams at once, and tracks customer feedback. Reading messages, preparing posts, and viewing statistics are all made easier with Hootsuite.
This management technique is used by many large brands to attain the best potential approval of a project or brand among Internet users. If you're looking for a social media management tool, we recommend a few alternatives to Hootsuite that can work for you and your business.
1) Social Champ
This social media management program is frequently used as the first alternative to Hootsuite because it is less expensive (there is no additional payment) and provides greater desktop accessibility. The Social Champ's dashboard is extremely neat and straightforward, and it gives you a better understanding of all aspects of managing a brand's online profile. Unlike Hootsuite, this management system is updated and customized to the needs of its users on a regular basis. This software is particularly focused on the needs of its users, as evidenced by the presence of live chats and social media support, both of which users believe to be beneficial.
Pricing options:

2) Buffer
Buffer, a social media management tool for networks including Facebook, Twitter, and Pinterest, is one of the oldest Hootsuite alternatives. Buffer not only delivers a clean and logical feed for all social networks, but it also offers social inboxing, which increases brand-to-customer contact. Although this Hootsuite alternative is much more expensive than others, some users believe that the cost is justified due to the data analytics that tracks the reach of publications and provides reports based on that data.
Pricing options: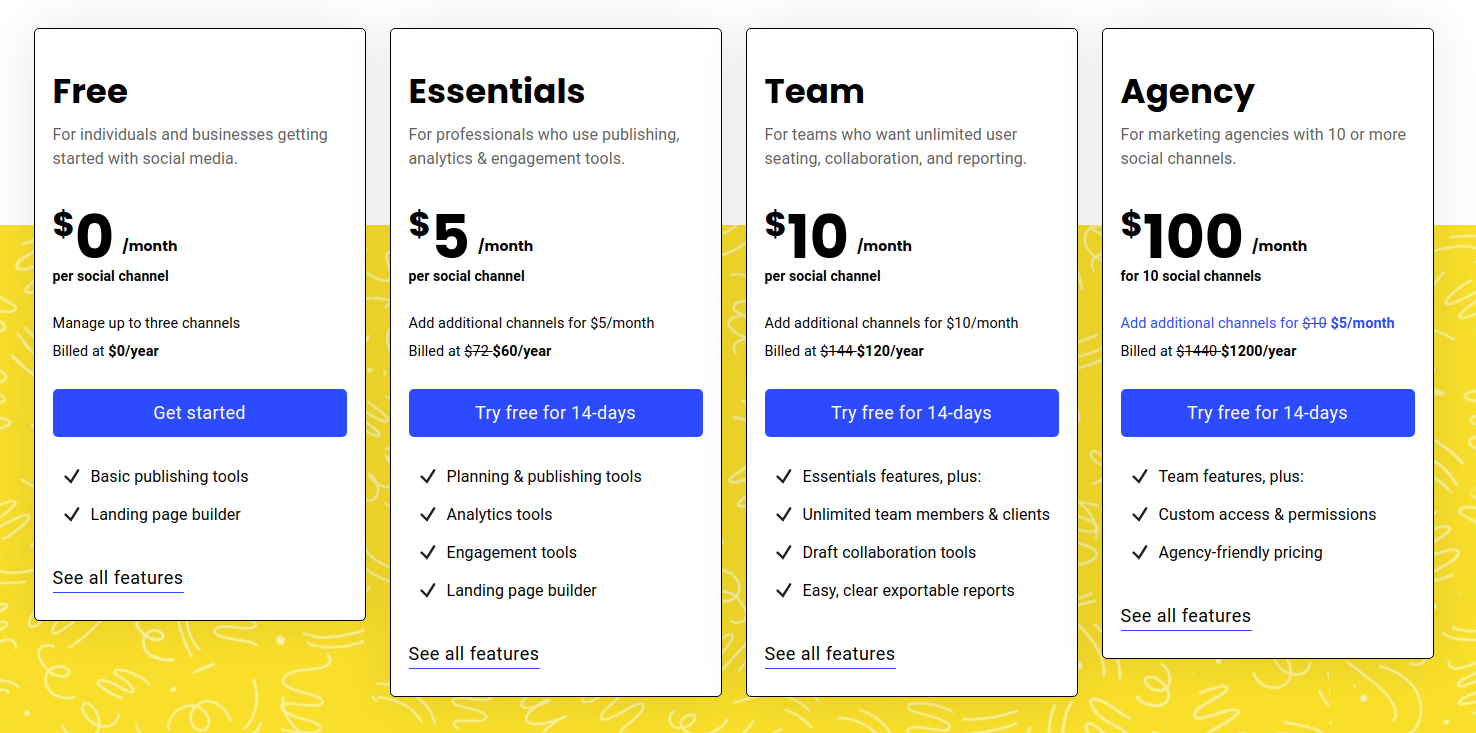 3) Agorapulse
Because of the real-time team cooperation, Agorapulse is one of the most well-known choices for social media administration. It thus allows for the fastest possible operation and updating of social network profiles. This tool is designed to organize your material based on themes and time frames, giving you a clearer picture of your calendar than Hootsuite. This system also gives you access to consumer feedback and gives you more publishing possibilities all in one spot. Agorapulse has tens of thousands of satisfied customers who are delighted about utilizing it for social media management.
Pricing options: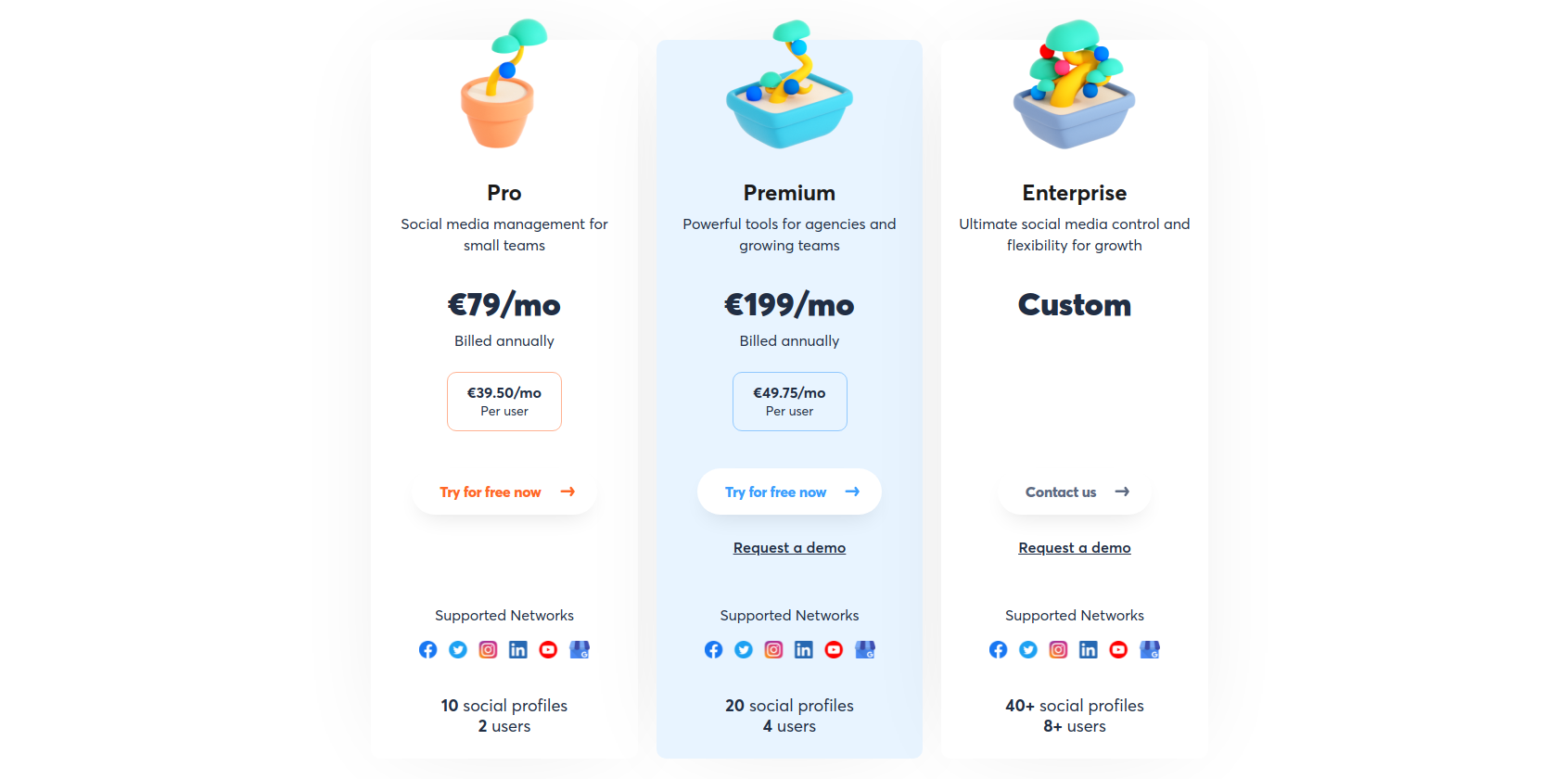 4) SocialPilot
SocialPilot is a reasonably simple system for managing and organizing social networks, that lets you manage up to 200 profiles. It is regarded as the most creative publication system, as well as a very useful timetable for all duties and a great helper when it comes to developing a brand. This social tool has over 115,000+ members and is regarded as a very dependable platform with a very affordable price. With SocialPilot, you can connect and manage over 100 profiles with ease, as well as create 500 articles in bulk utilizing the bulk setup option.
Pricing options:

5) eClincher
This platform encourages the team to improve the brand's success through a simple strategy that takes little time and effort. eClincher is a social media management dashboard that allows you to manage all of the information about a brand's social networks in order to ensure successful adoption. The user can schedule postings for a specified day, as well as enhance specific posts to help them reach their full potential. eClincher utilizes hashtags on multiple social media platforms to gain the most accurate insight into its users' opinions.
Pricing options:

6) TweetDeck
TweetDeck is a social tool for managing Twitter profiles that integrates with the Twitter API to allow users to browse profiles in a logical manner. This system is widely regarded as the most reliable and practical for managing Twitter profiles in real-time, and it provides the best possibilities for brand growth on the platform. TweetDeck is a Twitter expert when it comes to collecting brand data and filtering out undesirable tweets.
7) Sendible
The last of the Hootsuite alternatives we'll look at today is Sendible, which offers a social media inbox that collects and organizes all comments, tweets, and messages into one feed, giving you a better understanding of your customers' experiences. Many users favor this social networking tool because of this feature, citing that it saves them hours of research on a brand's customer experience. This option drastically minimizes the chances of missing important messages. It's also possible to generate data analytics for each social network separately, allowing you to concentrate on the platform you want to use.
Pricing options: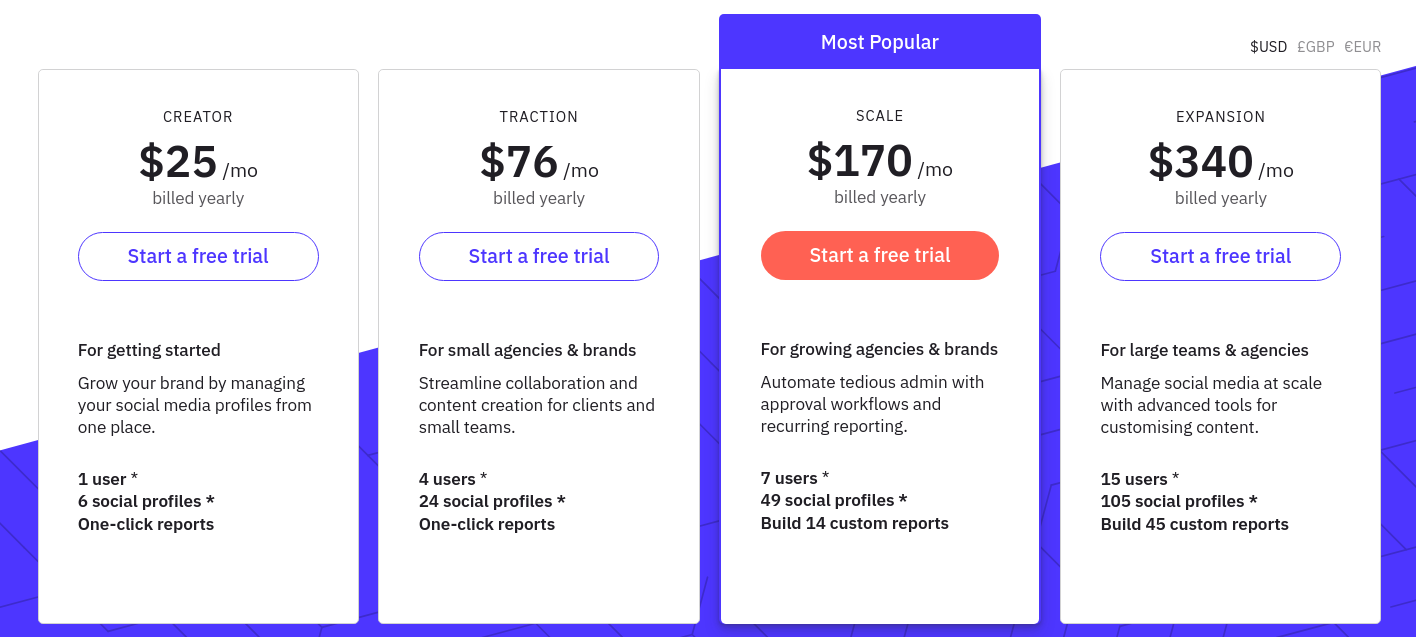 If you're looking for a platform to manage your brand's social media, I believe you'll find a good fit among these options. It's critical to employ a social media solution that allows you to track the reach and success of your brand's placement. You must monitor potential customers' perceptions on a frequent basis, develop your profiles, and adapt them to today's standards, which are rapidly changing. It is vital to employ a specific platform that allows for successful data tracking and analysis in order to gain insight into all sectors of social networks.  You may easily and quickly construct a calendar of future updates for your internet profile using these platforms, which is critical for the brand's effective development.