When a web page loads slowly, 79% of its users are less likely to return to the site. Moreover, 61% of users don't return to unresponsive mobile sites. These figures highlight why you need to stay on top of your site's performance by running an on-page SEO audit. It's by running a site audit website seo checker when you learn if your pages are loading slow, if you're ranking for right keywords, and if your pages look good on mobile — all of which are important for your SEO.

To help you with your website audit, we'll look into several free site website seo checker tools.
1. Ubersuggest's SEO Analyzer
Ubersuggest is a popular all-in-one SEO platform that runs on a freemium model. It has a free site checker feature that allows its users to obtain an SEO audit report.
Just enter your domain and you get an overview of your site's relevant metrics such as your organic monthly traffic and on-page SEO score.
However, you want to look at the sections Health Check, Site Speed, and Top SEO Issues. These sections give insights and recommendations on your website's overall condition.
For example, clicking on the Top SEO Issues gives you up to 10 errors for free (logging in for free gives more results).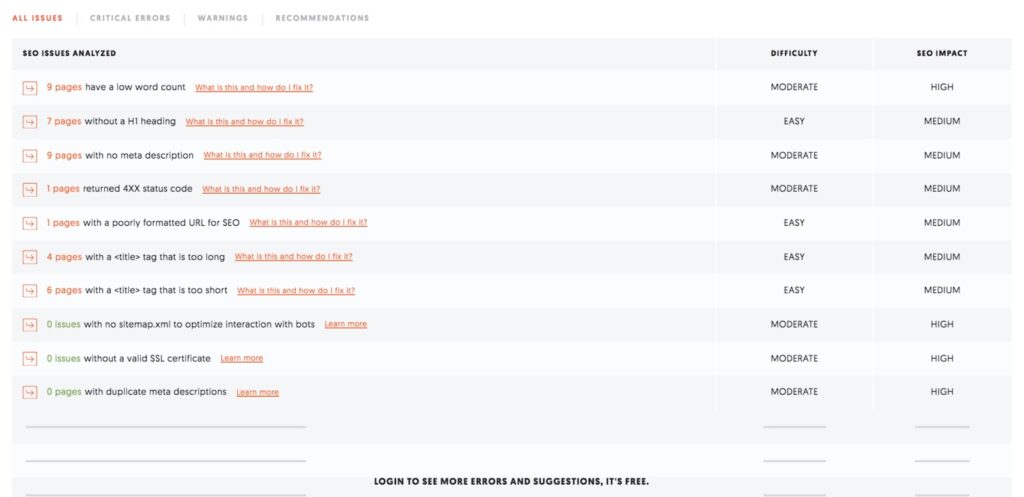 Notice how it points out errors, such as your page having low word count, poorly formatted URL, or if your title tags are too long, etc. It also shows how the error impacts your site's SEO and offers solutions to address the errors.
Once you fix these issues, run another report and see if you did it correctly.
Overall, Ubersuggest is highly recommended for beginner marketers and professionals who need a free, easy, and insightful web checker and SEO tool.
2. Google PageSpeed Insights
When pages take too long to load, you risk losing your users attention and interest in your site. In turn, it negatively affects your bounce rate, conversions, and SEO.
To avoid this, PageSpeed Insights identify site speed issues and generate recommendations to make pages load faster for both mobile and desktop.
When you enter your domain, the free tool gives an overall score of your page speed. This score is based on several different factors such as speed index, largest contentful paint, and total blocking time, among others.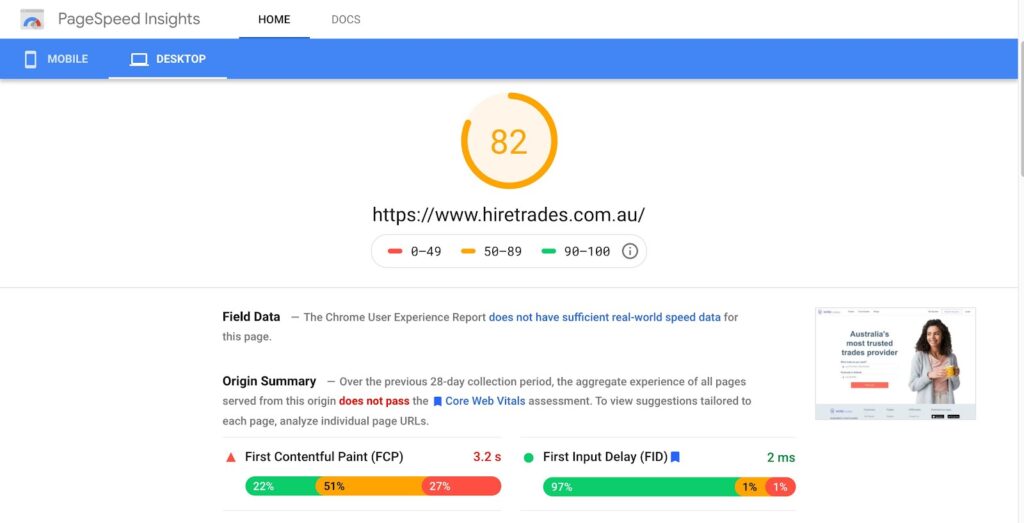 You also get a specific breakdown of these factors in your results page. With this detailed result, you easily identify specific elements that you need to fix in your page.
3. Uptrends
Uptrends is mostly a website traffic checker that tracks the performance report of a site. To access its full feature, you need to pay for a monthly plan.
However, the site offers a free website speed test tool that you can easily access on their site.
When entering your website, the tool also gives an option to test with your preferred server, device, screen size, bandwidth throttling, and browser.
The result gives a summary of your results and breaks it down into three more sections.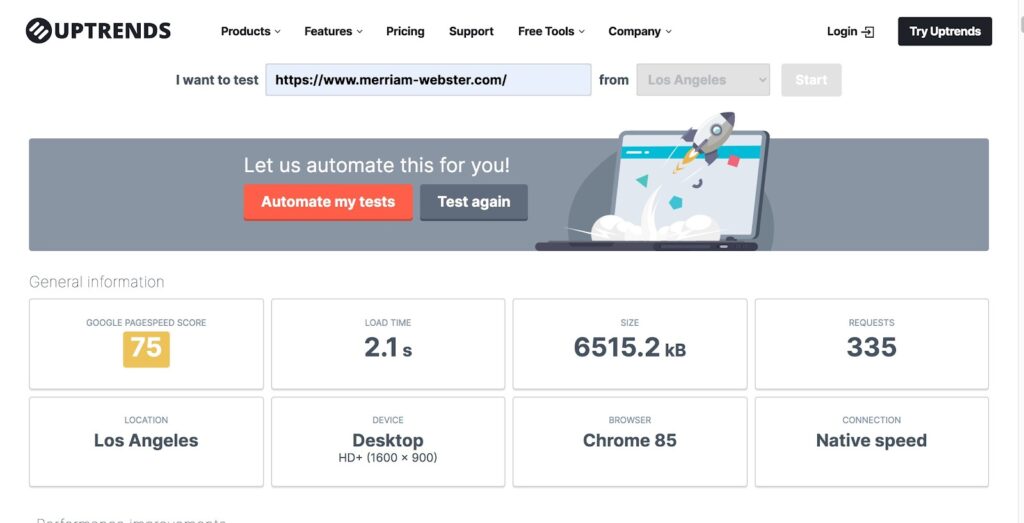 These three sections show your performance improvements, request waterfall, and waterfall chart.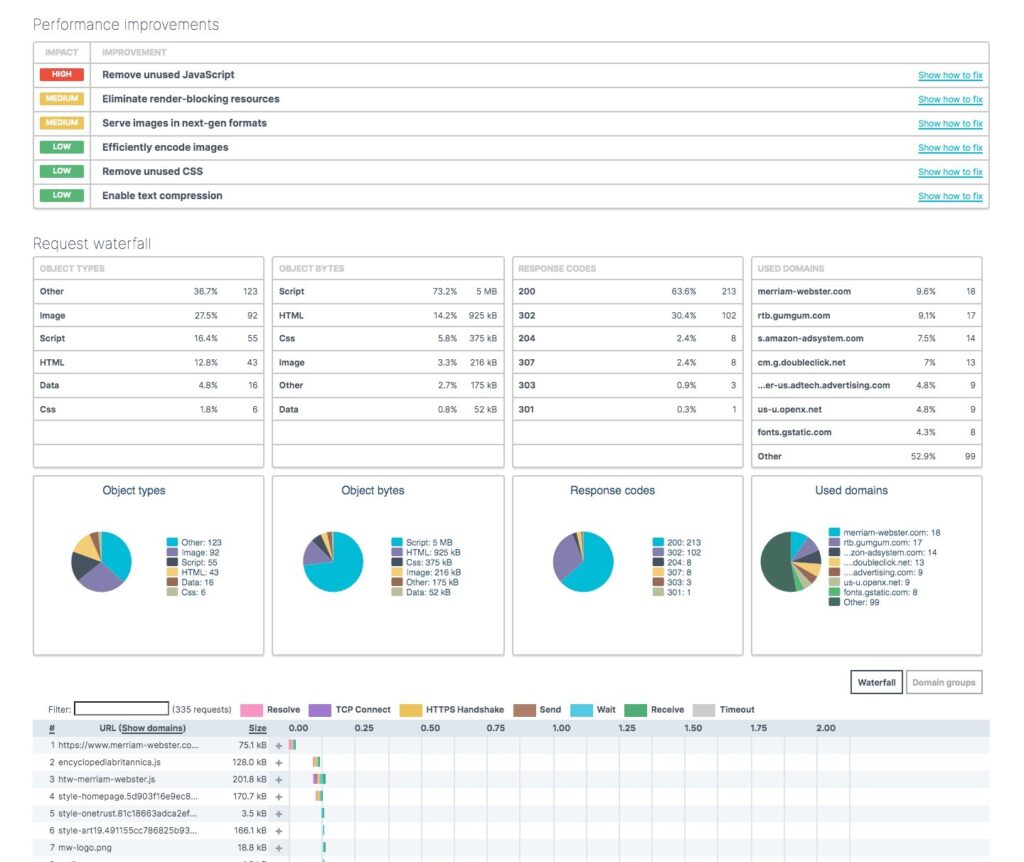 Using the tool can be overwhelming for non-technical marketers. However, knowing just the general information and performance improvements will already help optimize your page speed.
4. SEO Site Checkup
SEO SiteCheckup is an online website SEO checker that's part of a set of SEO tools. However, the SiteCheckup tool is available for free on their site. 
When you enter your domain, it gives an overall site score and shows you the number of links that passed or failed the site check.
Aside from this, the result shows a long list of common SEO issues and tells if you have your page optimized based on these issues. It also offers recommendations to improve them.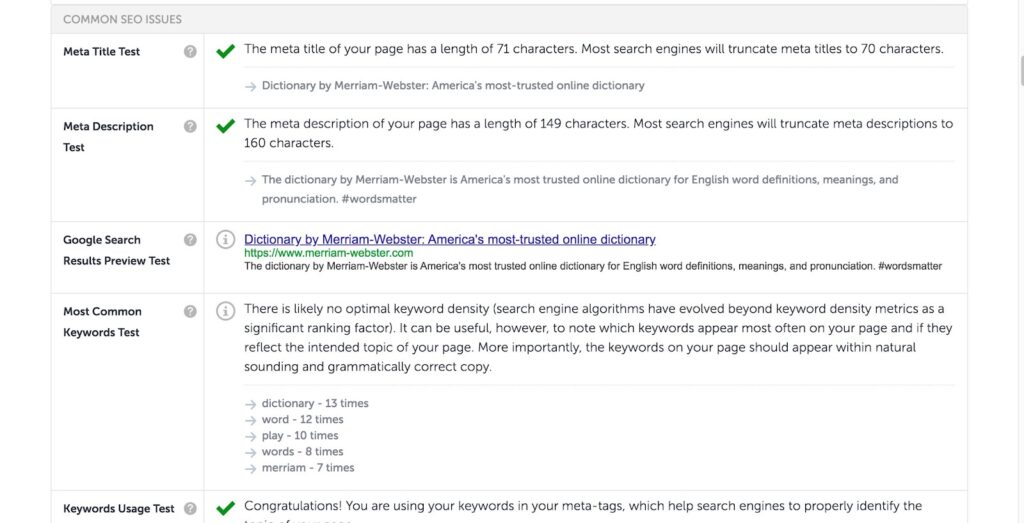 However, you need to create an account and start a trial period to view your complete result. Additionally, the site only gives one free review, and you need to create an account afterward.
The site is useful if you only need to check your website once.
5. Ionos
Ionos' Website Checker analyzes four elements in your website specifically your website presentation, speed, security, and visibility.
As with others, the tool also offers tips on improving your pages to increase your user experience and SEO ranking.
After entering your website, the results show a score for the overall results and each element.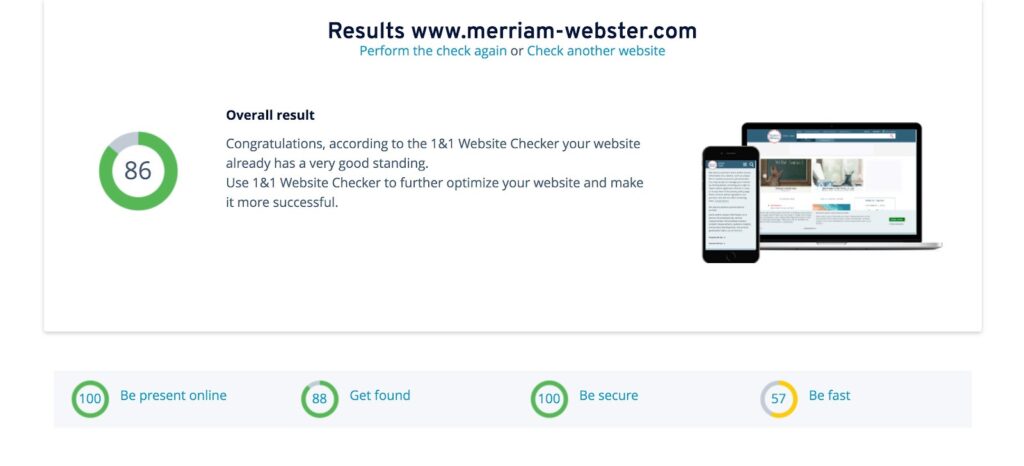 When you scroll down, each element shows you which aspects have no issues or requires an action to fix.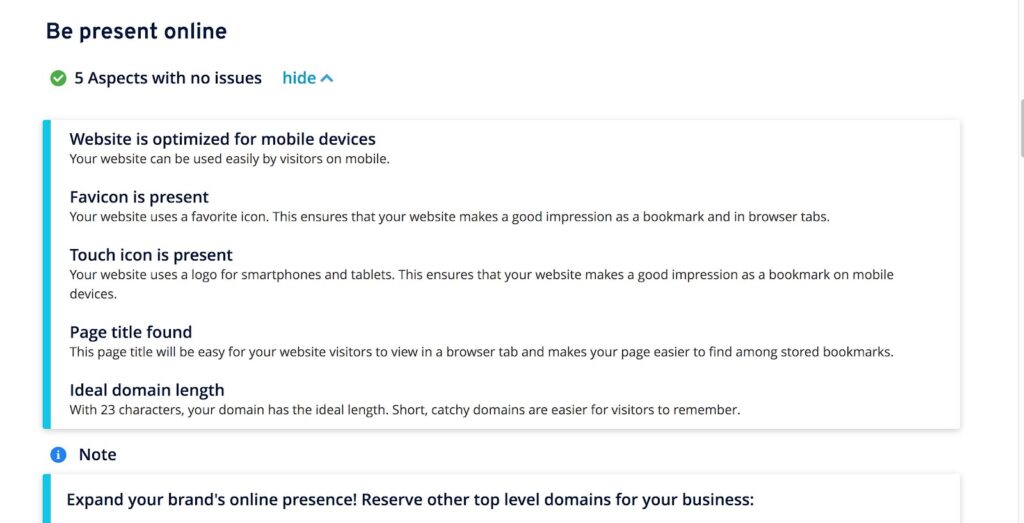 According to their site, the tool uses the site's source code to analyze the four elements. However, rest assured that the site does not analyze your data.
6. Pingdom
Pingdom is a popular website seo checker tool for page speed. 
The report provides a quick summary according to the website's performance grade, page size, load time, and the number of requests. It breaks down the results further as you go through the report.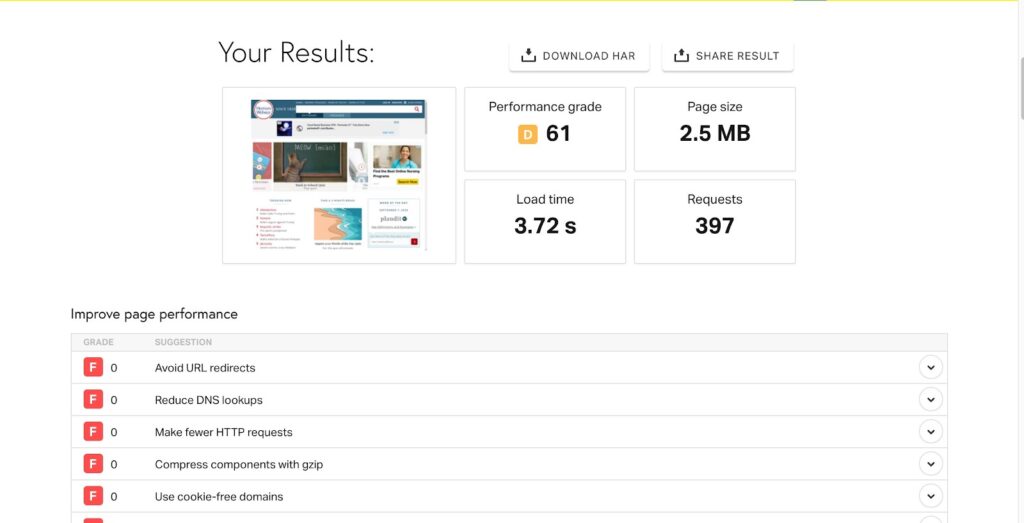 The results also give a detailed list of the page size according to the content type, requests by content type, page size by domain, and requests by domain.
Overall, the report provides a good overview of your page speed. Moreover, it also includes details such as size per domain, size analysis, and the number of requests per domain, among others.
7. Online Broken Link Checker
Compared to other tools on the list, the Online Broken Link Checker focuses on finding broken links.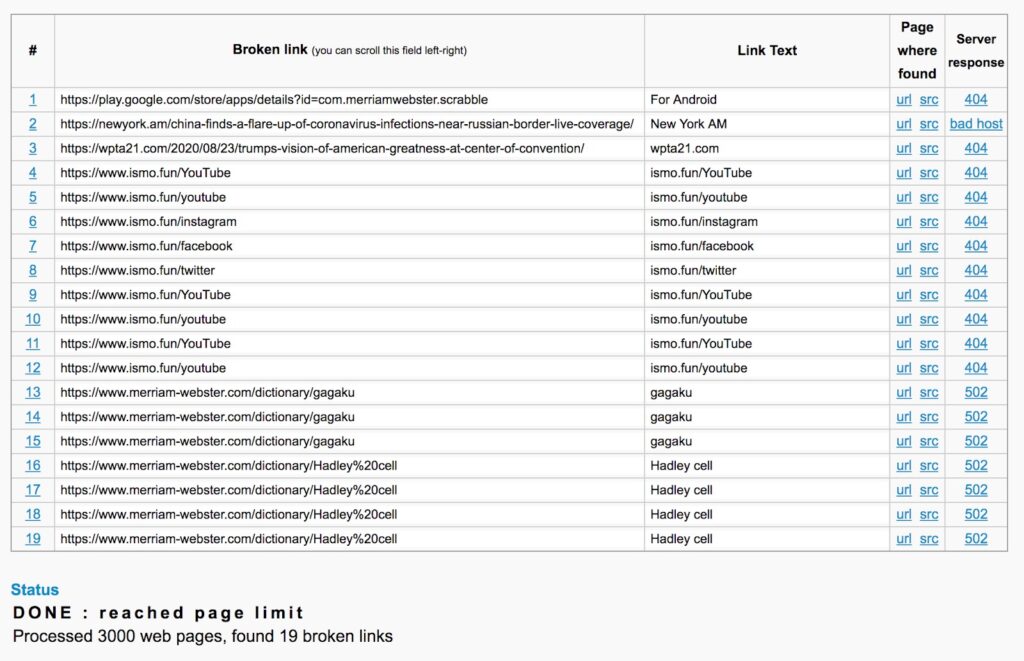 Aside from this, the results tell you where to find these links in your HTML code. This feature makes it quick and convenient for marketers and web developers to pinpoint and fix these links.
As website grows, it becomes difficult to manage and keep track of all your site links. To keep your website and SEO in top shape, use the tool to find and fix broken links.
Improve your user experience
Ultimately, the following tools will improve how your users engage with your website. The more engaged they are, more they stay and interact with your site.
In turn, this increases your site traffic and page duration which contributes to a higher SEO ranking.
Test your website regularly to maintain a good SEO standing and user experience.