For online shops created in WordPress, WooCommerce is by far the most popular shopping cart plugin available. It provides a wide variety of helpful features that can improve the store's appearance and increase sales. Many developers have created plugins that are designed to function only with WooCommerce. Picking the greatest ones possible is quite necessary in order to set up an effective shop.
When calculating the shipping costs of physical goods, it is easy for there to be a large number of factors, all of which can rapidly become quite frustrating and complicated. Because of this, I made a list of the top WooCommerce shipping plugins to ensure that the process runs as smoothly as possible.
The first item on our list is WooCommerce Table Rate Shipping, which also happens to be my personal favorite. This plugin will solve all of your problems that are associated with shipping in a single, convenient location.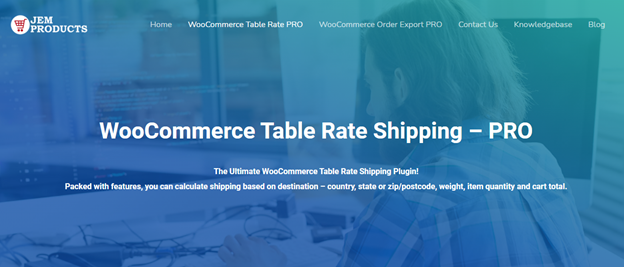 The price of shipping is determined by a number of factors, the most important of which are the destination of the goods and the quantity of that product that is being transported. This continues all the way through to figure out how much the delivery will cost based just on the quantity or weight of the package.
Now that the data are in place, it is time to put more emphasis on marketing. The manner in which shipping options are provided can have a significant impact not only on conversion rates but also on sales and other metrics connected to profitability.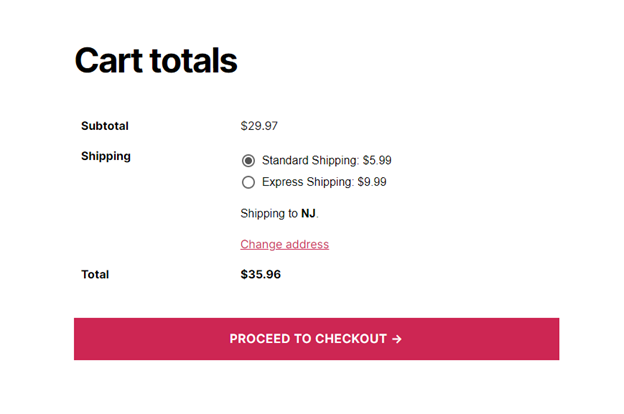 It's possible that you want to conceal certain aspects from certain of your consumers in order to protect their privacy. This is made possible by the capability of quickly concealing transportation methods. Using WooCommerce Table Rate Shipping, you can quickly and easily build several shipping classes that are based on the zones and rates used by your shipping provider.
In certain situations, you might even defer to the judgment of your customers and let them make the final choice. When a customer is checking out, you can use this plugin to present them with a number of different shipping options. You may also wish to add handling costs using this plugin, and the number of such fees will depend on the size of the goods.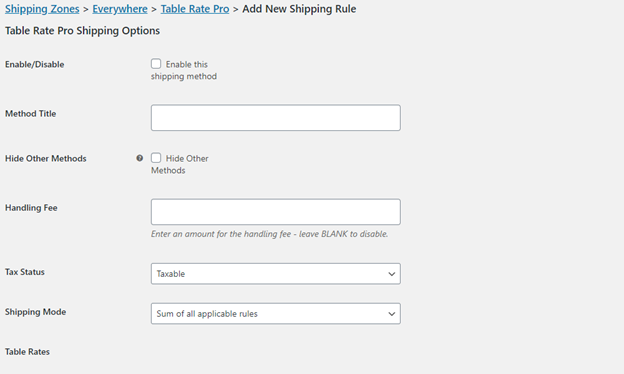 The benefits that WooCommerce Table Rate Shipping can bring to your store are discussed in this post, although only to a limited extent. Before settling on the system that you wish to utilize, it is important to give considerable thought to the several choices you have. No matter what it is, I have complete faith that this plugin will provide the required functionalities!
If problems with the speed and stability of your website have been brought to your notice, you may want to investigate whether or not there is a solution to the problem. The plugin that is provided by WooCommerce itself comes in at number two on my list of recommendations. Your hosting provider will have to deal with less work due to this feature because it will transfer all of the demanding workloads to a server outside your network.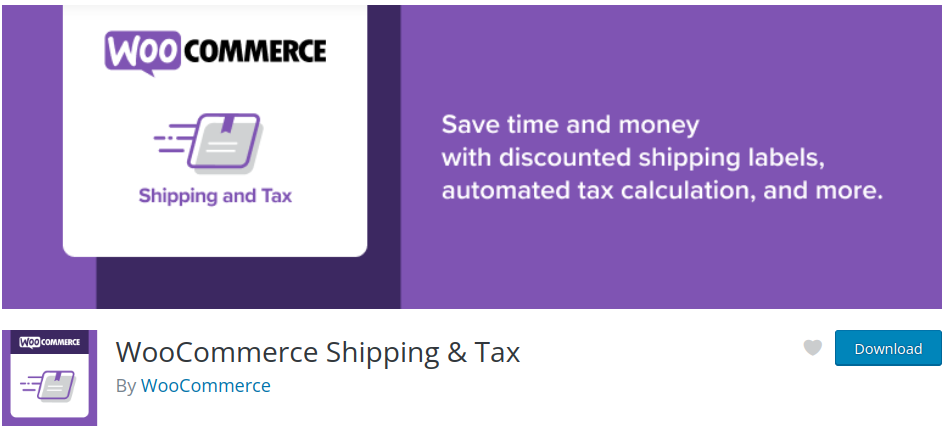 If you use the services that are offered by either USPS or DHL, then installing this plugin will make it very easy for you to print shipping labels. Having to deal with one's taxes is sometimes a real pain in the neck. You will be able to automatically compute the tax that has to be applied to particular orders with the assistance of this plugin and then provide that information to the user while they are in the process of checking out.
Easy Table Rate is a plugin that makes it simple to configure a shipping system on your WooCommerce store and is packed with a variety of useful features. You can determine the expenses of shipping based on the destinations or the weight and price of the items.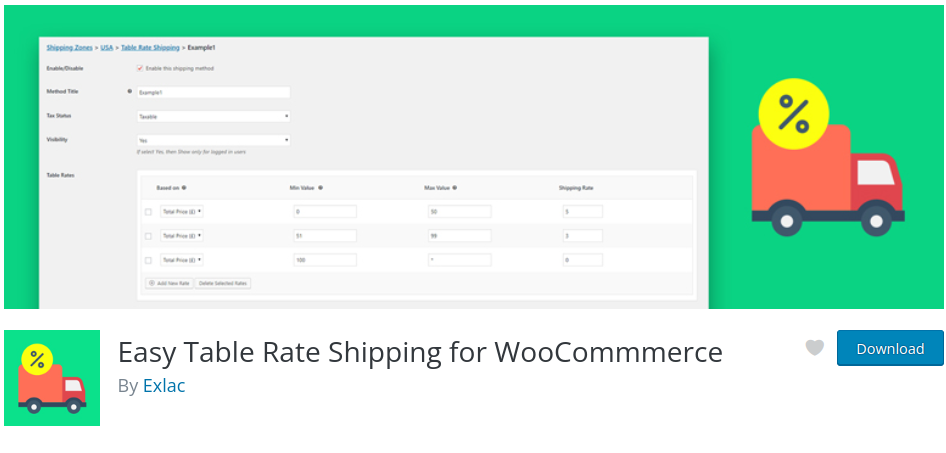 This plugin allows you to provide a variety of shipping ways to customers who have already logged in, which is a useful feature. You will have the ability to set varying prices for repeat customers using this method. This plugin, which is ready for translation, could help you overcome some problems if your store supports more than one language.
There are some stores that provide free delivery options for their clients. This is sometimes the result of low local or national delivery costs, and other times it is simply the result of yet another marketing gimmick. This functionality, which is not included by default in WooCommerce, can be obtained through the use of a plugin.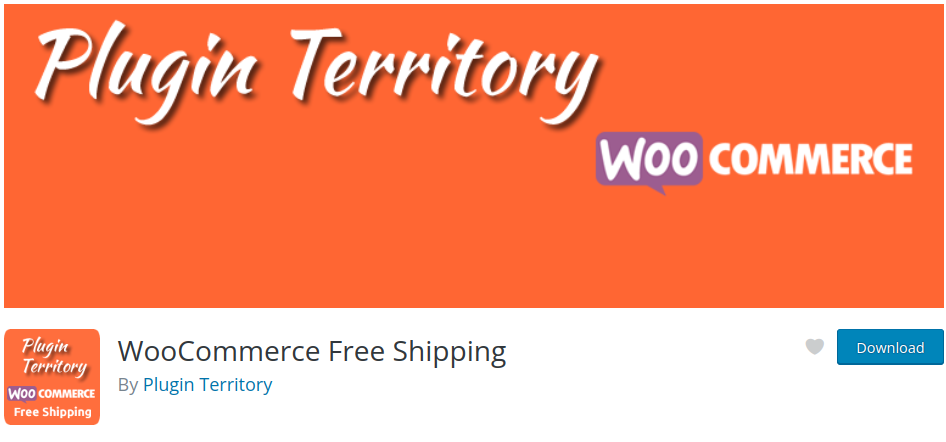 You also have the option to modify the terms for free shipping. Perhaps you want customers to purchase three of your products rather than two of them. Using this plugin, you will be able to create a bespoke message that will advise to users that they spend a little bit more to receive free delivery.
Flat Rate Shipping is typically more appropriate for deliveries that are made locally or nationally and do not depend on the total distance that the item will travel. With the help of this plugin, you'll be able to determine a single, all-inclusive price for the shipment of orders, regardless of any other factors, such as location, category, or number.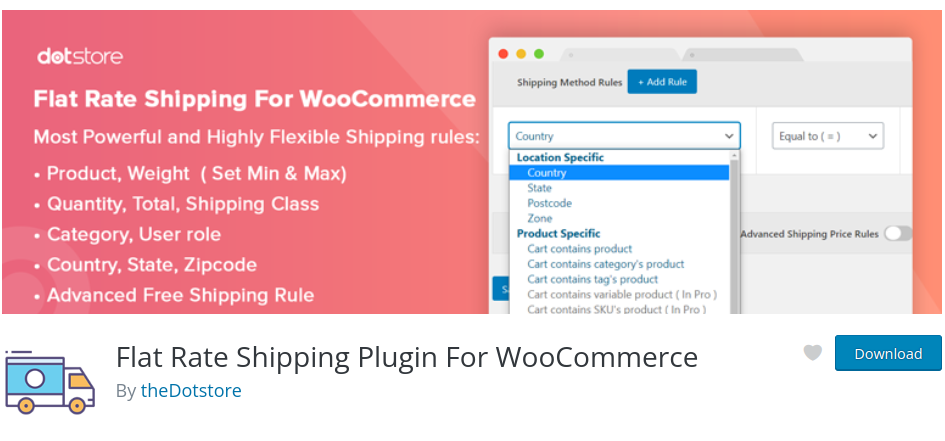 The primary objective of this plugin is to enhance marketing efforts and encourage customers to purchase a greater variety of products by providing a wide variety of options for configuring the flat rate delivery. Bear in mind that if you ship overseas, the final price will almost never exactly equal the cost of shipping. If, on the other hand, you wish to incorporate such a function on your website, you always have the option to conceal the flat rate shipping fees inside the price of the goods.
Conclusion
It frequently happens that business owners are completely oblivious to the fact that some of the sales they make result in a loss of money. I strongly advise making use of the WooCommerce Table Rate Shipping plugin as a solution to this problem. It provides everything you might possibly require to ensure that your customers have the greatest possible experience and that you maintain a high level of profitability.