Screen record with sound: Gone are the days when computers were used only by programmers, professionals, researchers, scientists and technicians. The development and advancements in the field of technology have brought these wonderful devices to so many homes worldwide. They have become such an innate part of our lives now that we cannot even begin to imagine our world without them. Since the application of these devices increased, the demand for the flexibility of their operations grew too.
Screen record with sound became a crucial part of saving information. Now you may not be doing it too often but there are people and their jobs are entirely based on it or around it. Now they can be Vloggers, gamers, studio professionals, artists, video editors, photo editors and the list goes on. But even after so much demand, there is only a handful of software that actually do the job and that too with promised quality. One of the best and the most used apps in the industry for screen record with sound is TweakShot by Tweaking Technologies. Have a look:
TweakShot by Tweaking Technologies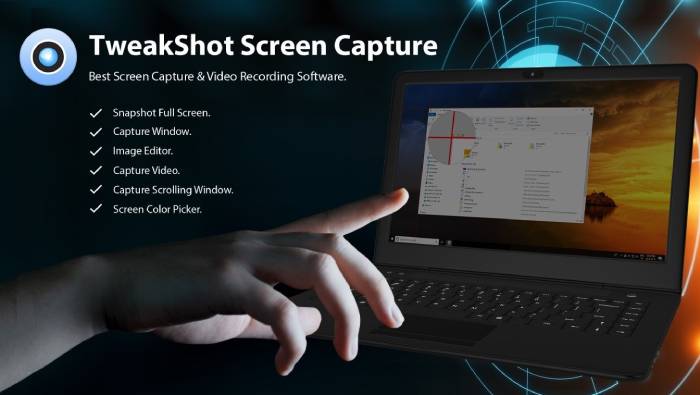 Often when you try to record screens the apps don't record sound as well. They are just not created for that. Recording sounds with a screen can be quite crucial for people who actually need it. And if you want to record an office meeting for later or for someone else then too, it becomes necessary. Some apps do provide the feature but the quality decreases and so the content becomes useless. TweakShot, on the other hand, offers audio and video recording in HD. So whenever you are trying to get your work done, you can get quality content with this incredible application. And not just recording, this application has lots of features which I am going to discuss below.
1. Custom ScreenShot
This app is able to capture screenshots at any given screen while preserving quality of the display. There are many multiple options for you to choose. You can either take a screenshot of the full screen, a particular window, selected area, etc. If you want to capture a webpage, you can even take a screenshot of a rolling page. All of this can be done with single click.
2. Photo Editor
Not just capturing the screens but with this app you can also choose a color from anywhere on the screen and apply on the screenshot or the image. There are other options for editing photos and images as well like you can crop, highlight photos or selected parts, resizing etc. There is also an option of adding annotations to the images if you wish to. So if you get this application you also get an integrated photo editor which you can use to edit images on your system.
3. Innovative User Interface
The interface chosen by the developers is unique and never seen before. All you will get to see on your screen is a small button shaped icon on which you can click and it will pop up a tray of options. Sounds pretty neat, right? Though if you want to edit images then after you have selected the image, the application will open a separate window through which you can easily make the desired changes and get more amazing options.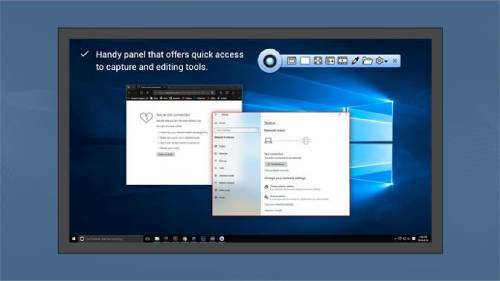 4. Compatibility
This program is small and quite compatible with multiple versions of Windows operating system. It has been specifically designed to work on old computers with low computing power to not create any kind of obstruction or produce lag.
5. Screen Recording
Of course, this program is quite popular and widely used for this feature alone. As discussed above, not a lot of apps are able to record screen in HD while also recording audio created in the environment. So if you want to create anything from a video game vlog, business presentation to cooking class tutorial. This versatile application can help you to achieve it all.
So these are some of the features of TweakShot that I wanted to share with you. The incredible application is ready to download from here: Download. It also comes with a free trial and also with a 60 days money back guarantee. So what are you waiting for, download TweakShot now and take a test drive.
Hope it helps.
Thanks for reading!