If 2020 were any other year, retailers would have been expecting tremendous challenges due to the Retailing Apocalypse's continuation. Today, the pandemic is not only contributing to the steady decline of retail businesses but accelerating the demise of many small and medium enterprises too. 
The global economy is facing a bleak present and a very uncertain future. On top of that, consumers are holding on to their money, which sharply halts spending. Businesses, especially brick-and-mortar stores, are barely keeping their heads above water.
However, there may be a way for retailers to fight back. Experts like Tai Lopez are looking to turn failing retailers into online success stories. This article covers the secrets that will unlock retailing success even during difficult times. But first, a quick recap of the current state of retailing during the time of the pandemic.
The Current State of Retailing
Uncertainty will be constant within the next 12 months. Aside from the pandemic, a possible global recession is looming. On top of that, tariff tensions may potentially lead to fallout. And, the first ones to feel the early blow are the retailers.
While there are countless challenges to expect, businesses need to take note of the two major hurdles in the coming years:
Changing Consumer Expectations
Even before the pandemic, consumer expectations were changing dramatically. Due to the rapid innovations in technology, they now expect outstanding customer service and faster product delivery. They also care about their overall purchasing and consuming experience beyond the prices of goods.
The recent social transformation is also contributing to this growing change in consumer mindset. Millennials and Gen Z prioritize community and connection. They are less likely to seek out brands and products unless it gains the stamp of approval from their peers. As the younger generation matures into their prime spending years, retail businesses notice their distinct purchasing behavior.
Furthermore, e-commerce appears to be the go-to destination of entrepreneurs and consumers alike. The rising popularity of mobile devices is making online shopping a seamless experience. And who can forget the lockdowns forcing even those who are averse to new technology to shift their retail activities on their screens?
At the center of these changes is convenience, which has been consumers' motivation since the rise of retailing decades ago. However, it is taking a human-centered form. Many customers are looking for positive buying experiences that simplify their life. Instead of focusing on the act of purchasing, they are now more interested in the act of using products.
Continuous Slow Growth
If you ask any business or economics expert about the next few years' outlooks, it is likely that they cannot give you a straightforward answer. The pre-pandemic world already expected slow spending growth in 2020. This is expected to extend for a few more years into the future as consumers focus on rebuilding and protecting their savings.
Moving forward, retail companies should consider the three challenges:
The continuation and escalation of trade tensions, especially between economic giants, will negatively affect employment and growth,
Disposable income will continue to decrease.
Increasing competitiveness in the labor market will affect potential wage growth.
Secrets to Successful Retailing
While the future of retailing is uncertain at best, this does not mean an end to many businesses. The coming years present an opportunity to overhaul traditional business models. Certainly, in terms of growth is still far, entrepreneurs should be ready to embrace the following secrets to ensure successful retailing:
E-Commerce is Now
If there's a lesson that the pandemic highlights is that e-commerce is not only the future, it is now. Some of the best examples are Amazon and Alibaba. However, online retailing exists in all models, from business-to-consumer (B2C) to consumer-to-administration (C2A).
Entrepreneurs gravitate towards e-commerce due to its wider reach beyond physical location. These days, people go online for just about everything, including shopping. And with limited mobility in the following years, e-commerce will be growing steadily.
Even with the effects of COVID-19, global retail e-commerce sales are expected to grow up to US$6.5 billion by 2023.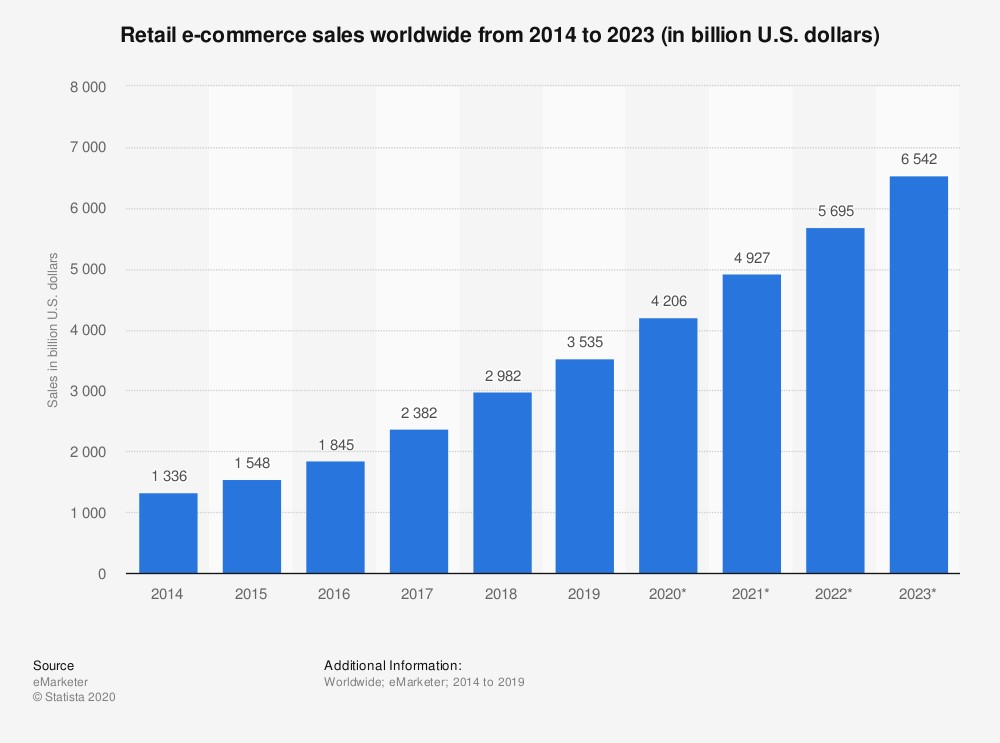 Retail giants that are slow to adopt the technology are some of the victims of the Retail Apocalypse. Pier 1 Imports, Victoria's Secrets, JCPenney, Forever 21, and many recognizable brands are suffering from shifting consumer behavior. However, success stories are still possible amidst these challenges.
Modell's Sporting Goods is an American retail staple in sporting goods apparel. While it is one of the most recognizable brands in the country, it has experienced declining sales in recent years. However, Tai Lopez is aiming to boost the retail industry by reimagining these brands through e-commerce. By bringing established names to customers, this retail-giants-in-peril may just survive and even thrive within the next few years.
Interaction as a Marketing Model
Modern consumers value their connection with brands. As with their community, they often interact with these retailers using social media through their mobile devices. Nurturing customer relationships through these channels create an authenticity that attracts younger customers. These marketing campaigns include partnering with social media influencers, among others.
For example, Gucci partnered with photographer Petra Collins and singer Harry Styles; both have millions of followers on different platforms. Through collaborations and inclusive advertisements, as well as concrete steps towards becoming sustainable, the luxury brand is gaining the trust of Gen Z and Millennial consumers.
Creating Community Through Experience
The rising consumer generation values its community more than ever. Beyond the products and brands, they care about connections with people and what goes behind each operation. Customers love to shop where they can engage with their friends and even the store associates. Since these are their community, they care about businesses that treat their customers and employees well.
For instance, the Pop-In@Nordstrom series partners the retail brand with emerging e-commerce brands looking to break into a brick-and-mortar business. The intimate experience of a pop-up store along with relationships with independent brands establishes Nordstrom as a good partner and a member of the consumer community. And with it comes loyalty among young shoppers.
Appealing to Both Ends of Customer Spectrum
Engaging young consumers is the key to the survival of traditional retailers. That includes developing customer relations through personalized moments and experiences. On top of that, they should align with modern values that drive the younger generation. Establishing an authentic brand identity creates stronger ties with these new shoppers.
On the other hand, these brands should not forget their baby boomer and Gen X customers. After all, these consumers still have the purchasing power that can match the Millenials and Gen Zs. Furthermore, the market for older customers is slowly expanding, and retailers should adapt to their needs.
Balancing these two ends of the consumer spectrum is not only the secret to successful retaining but ensures longevity for the brands.