Are you experiencing issues with your eCommerce store's shipping settings? Every owner of an eCommerce business wants to give their consumers the best possible shopping experience. Starting with the website layout, the scope of the merchandise you offer, and the customers getting their orders on time.
One of the most challenging components of managing an eCommerce company is navigating the shipping procedure. To safely deliver products that customers have ordered through your website to their delivery address, you must ensure that every step of the process is planned and executed to perfection.
Therefore, every small business owner has to set up unique shipping rules for their store, whether that be extra handling fees or shipping by weight. You won't be able to send your products to clients without a shipping method. It is, therefore, vital to make sure your shipping options are not confusing your customers. WooCommerce Table Rate Shipping PRO is the best plugin for the job. So, let's see what it can do.
WooCommerce Table Rate Shipping
Unlike other business websites, WooCommerce makes delivery one of the focal points of the website in control of the business. But given that WooCommerce, by default, is relatively basic, one issue you can run into is a lack of customization and more advanced rules. However, just like anything else WordPress-related, plugins come to the rescue. We'd like to introduce you to the WooCommerce Table Rate Shipping – PRO plugin. You can use it to create various shipping methods that benefit both you and your customers in the grand scheme of things.
Additionally, it enables users to create custom, comprehensive shipping quotes. The best part is that you can adjust the costs to suit your requirements and expectations. But, this fantastic plugin doesn't stop there. It has a lot of handy features that will simplify and speed up your work. One of these features makes it possible for the users to create elaborate shipping cost rules.
You can start and run a successful and profitable business using this plugin to configure premium shipping rates. They will assist you with any additional fees you could generally incur when handling goods of any kind. As you can see, the WooCommerce Table Rate Shipping – PRO plugin is quite helpful and transforms your shipping strategy.
So, let's see how it works.
Create a shipping zone
The first step is downloading, installing, and activating the plugin because WooCommerce does not already include this capability. Open WooCommerce Table Rate Shipping – PRO. After that is finished, begin configuring the rule. Set a shipping zone first; this is often done by country, allowing you to have a different zone for each destination you ship to.

Zones can be added to any number; customers will only see the options that apply to their address. Therefore, select "Add shipping zone," give it a name, and specify the zone's areas (limiting it to a particular ZIP or postcode).
Click "Add New Shipping Method" once that is finished. Since only methods that support the selected zones are given, you can choose to customize the delivery method here without worrying if it is applicable. Add it using the Table Rate Pro shipping method.
Shipping zone fees and basic settings
The next step is to enter your shipping methods after choosing your shipment zone. Select "Table Rate Pro" as your shipping method by clicking the "Add Shipping Method" button, then wait for the pop-up to appear.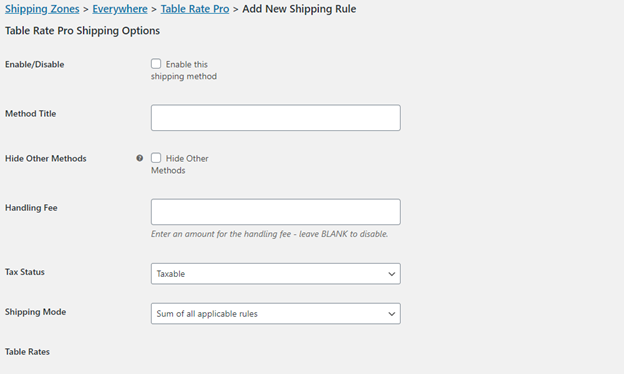 When you're finished, make sure to click the "Enable" option, or the settings you made won't take effect. The default settings, including adding a method title, hiding it from logged-out users, adding a handling fee, and making the shipments taxable or non-taxable, are available when you select "Edit." These are all rather simple, and there really isn't much more we could say about them, so just set them up as you see fit and move on.
Advanced Settings
Selecting the shipping class you want is the first thing you'll have to do. Additionally, it's important to note that you can apply shipping classes to a collection of particular objects. Additionally, you can utilize them to assign varied prices to various product classes. So, to create a shipping rule, simply choose the product class you want the rule to apply to and then set up the rest of the paraments.
With this plugin, you'll be able to set up shipping rules based on product value, per item, and per oz. For all of these, you will have to add a base amount and then the extra fee you plan on adding. So, let's say you set the base amount at $5 and charge $2 per item. Should someone purchase two products from your store, they'll be paying the base amount of $5 plus an additional $4($2 for each item).
Final Thoughts
Running an online store is a tricky business, and setting up a working system of deliveries is often one of the biggest hurdles. With WooCommerce Table Rate Shipping, this doesn't have to be the case.