Screen Time Limit App: In the current era, children and teens are growing up in the internet world. They are occupied with all forms of digital devices including smartphones, television, laptops, and tablets. The media can play an influential role in the life of the kids such as what they learn, how they behave and what they think.
It is estimated that 75% of teens own a smartphone. Kids can access any type of content on the internet through television, mobile apps, and gaming. They are all indulged in unlimited content and can't stay away from screens. Here are some of the benefits of limiting screen time limit app in kids.
Control of Obesity
Obesity is growing at a much greater pace than before. Excessive screen time on laptops, smartphones, and tablets can increase the risk of obesity. Teens who watch more than 5 hours of television per day are five times more likely to gain obesity as compared to teens who watch television for two hours. Watching television more than 1.5 hours daily can lead to obesity in children from age 4 to 9. Teenagers and children are more likely to eat snacks while watching screens. Make sure that you cut down the screen time in kids to help control obesity.
Sleep Problems
Media use can result in sleep disruption. Teens and children who spend more time on social media over their smartphone can lead to greater risks of sleep problems. Exposure to light and stimulating content from screens can delay or disrupt sleep and have negative effects during homework and other productive activities. Make sure that your kid's room is completely device-free so that they can have proper sleep during the night. Moreover, by cutting the screen time limit app can lower the risks of depression and anxiety among kids and teens. Keep track of your child's activities during the night as well as day to help them grow better.
Prevent from Cyberbullying and Sexting
Sexting is gaining massive traction among teens and kids. If you don't allow your kids to use screens for a longer period, they are less likely to involve in sexting. Moreover, cyberbullying is also very common nowadays. For instance, many social media apps are highly vulnerable to kid's security and privacy. Moreover, if you take control of your kid's screen time, your kid would be lesser victims of cyberbullying and sexting. Check your child's phone from time to time in order to ensure the security and privacy of kids.
Control Screen Time using the Screen Time Limit App
If you have taken every measure to cut screen time in kids, but have not to yield fruitful results, the best approach is to install Screen Time Limit app like FamilyTime.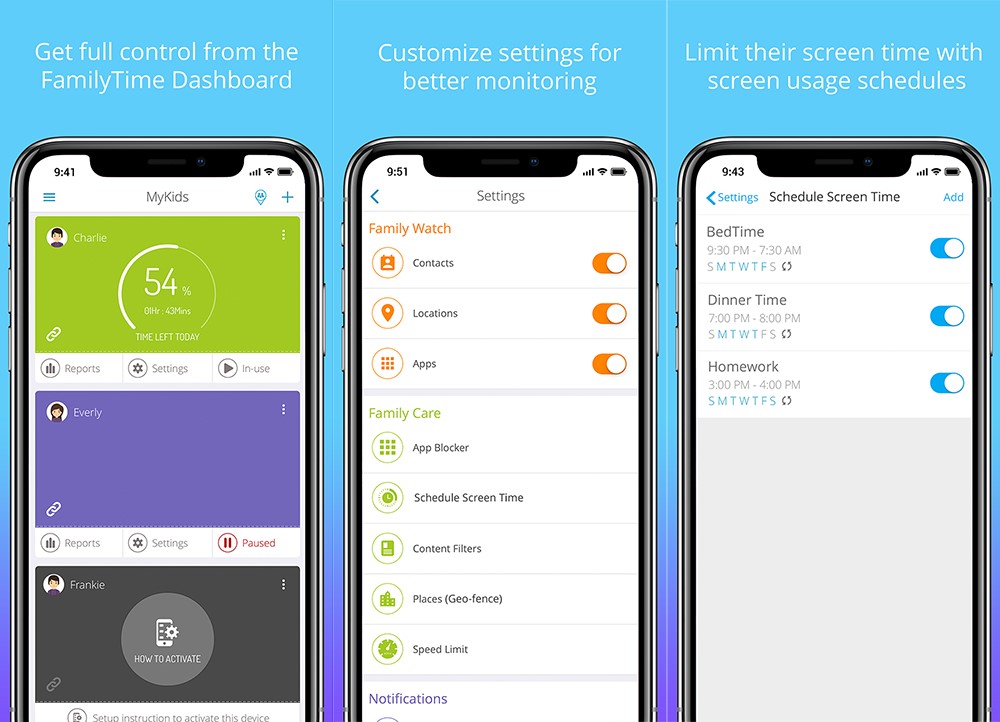 The app allows you to have better watch over kid's device and limit their screen time. Moreover, you can also cut the screen addiction by installing this app. Some of the other notable features include:
Limit Screen time on both android and iOS devices
SMS Monitoring
SOS Panic Alerts
Internet web filters to control inappropriate content