It may often happen to you that the error message insufficient disk space prompts when you're operating computer. According to our survey, numerous people have this experience: when they are trying to copy a file or a folder to someplace, an Error Copying File or Folder will appear: There is insufficient disk space to complete operation. As a result, they couldn't accomplish the operation unless the problem is solved.
In the following parts, I'll offer you some methods to help you fix insufficient disk space error. If you're suffering from this issue, please read the detailed steps carefully.
What Is the Meaning of Not Enough Disk Space
What does insufficient disk space mean? Literally speaking, insufficient disk space indicates the free space left on the target drive is not enough to accomplish the operation on Windows 10 (or other OSs). To put it simply, the operation needs more space than you have now.
For example, you may receive the prompt, which informs insufficient space on the disk to accomplish the operation when you are trying to changing disk layout in Disk Management, such as extending or shrinking a partition.
In this circumstance, it indicates you are not able to extend or shrink the partition unless you have fixed the problem of insufficient disk space. Thus, it is time to make use of a third-party partition manager to resize a disk partition. MiniTool Partition Wizard is a nice candidate.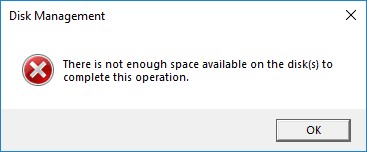 How to Extend Partition with Partition Wizard
Step 1. Open this software to enter main interface.
Step 2. Select the partition (that needs extending) and click Extend Partition on the left sidebar.
Step 3. Choose a partition or unallocated space you want to take free space from the drop-down list.
Step 4. On the same window, drag the button to adjust the free space you need to take. Click OK when a decision is made.
Step 5. Hit Apply on the upper left of the main interface to execute the change.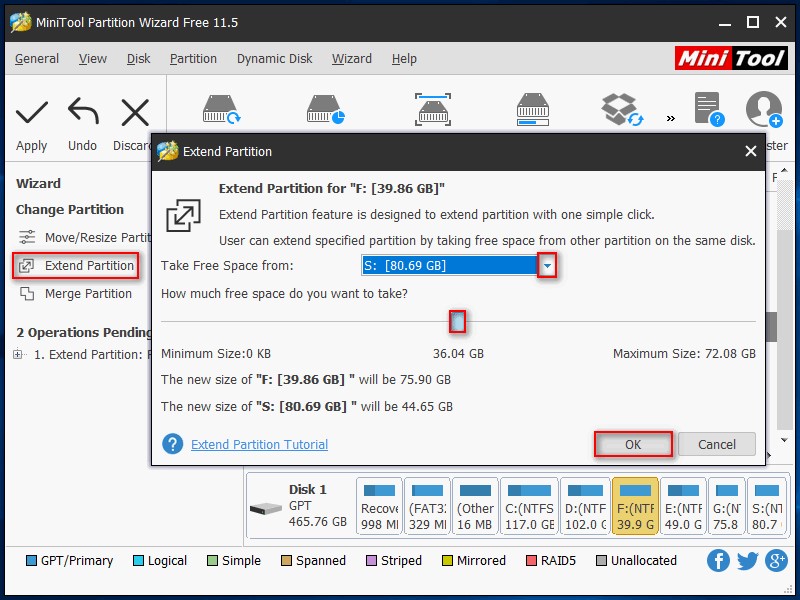 Usually, the change will be performed in seconds. Thus, there is enough free space on the drive (or partition), on which you intend to perform the particular operation. You can go to operate it now.
When talking about extending partition, shrinking partition can be proposed naturally. Here, I'd like to show you a brief demonstration on how to shrink partition with Partition Wizard.
How to Shrink a Partition:
Just like extending partition, the process of shrinking partition is also very easy.
Select the partition (that needs to be shrunk) and click Move/Resize Partition in the left sidebar.
Click the triangles on both sides to decide how much free space is going to be released in this partition. And click OK.
Hit Apply in the main interface to execute the change.
Fixes to Insufficient Disk Space on Windows
However, it will be puzzled that you receive the error message of insufficient disk space while there is a lot of the free space left in the disk (that is being operated) actually. Except for local disk, some people even reported the same problem occurred on external hard drive, USB drive and memory card.
Why did this happen? The main causes include: misjudgment of antivirus app, file corruption and problematic device drivers. In the next section, I will share some practical solutions to error there is not enough disk space thoroughly.
Fix One: Delete Useless Files
When there is not enough space on the disk, the easiest way is to delete unnecessary files to spare more free space to use. This is the most common solution.
Fix Two: Run Disk Cleanup
You can use the Disk Cleanup to remove temporary files:
1. Click Start to find and expand Windows Administrative Tools.
2. Choose Disk Cleanup.
3. Select drive (that needs to be cleaned) and click OK.
4. Wait until the calculation ends. Pick out the files needing to be deleted.
5. Click OK to finish the process.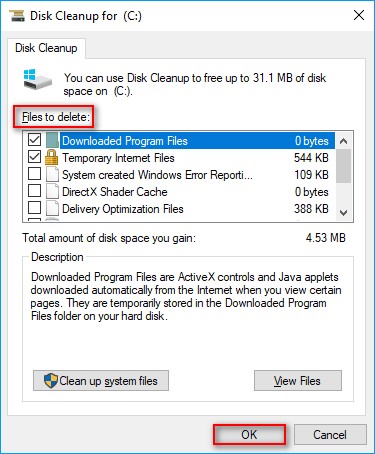 Fix Three: Clean Boot
This action is aimed to reduce the apps conflicts that could cause the error "There is insufficient disk space to complete operation".
Click Start. Locate Windows Administrative Tools folder and expand it.
Choose System Configuration and shift to Service tab.
Make Tick on the Hide all Microsoft services, and click on the Disable all.
In Startup tab, hit Open Task Manager.
Check the list and shut Task Manager.
Hit OK. Then, go to reboot your computer.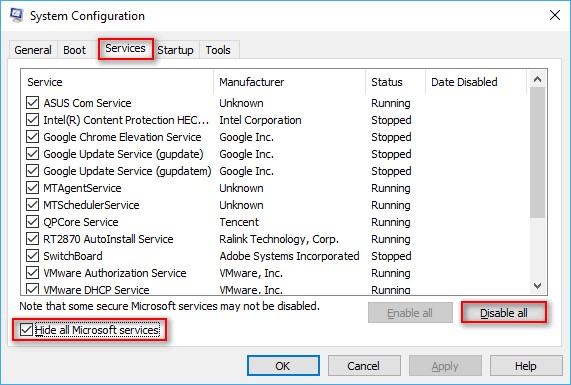 Besides the methods above, there are other ways that you can try to solve insufficient disk space error:
① Check File Allocation Table
② Format the problematic partition to NTFS
③ Clean %temp% Folder
④ Reboot computer
Final Words
In daily work, the error message that there is insufficient disk space happens frequently when copying a file or folder. In fact, it is not that difficult to deal with it. Reading here, we hope you have an idea how to eliminate the error on your own. Select one suitable to have a try. Good luck to you.
Also read next: Fix Error Boot Configuration Data File Is Missing