Google Drive is one of most used cloud solutions to backup your data in a secure way. It is one of safest ways to protect your sensitive data and keep it away from the reach of others. A majority of people use space on Google Drive to upload their data, however, there are instances when you try to upload data on your Google Drive and you get the Google Drive Waiting to Upload error.
Google offers each Google account 15 GB of Google drive free space. However, it is to be noted that 15 GB includes the amount of space occupied by your Gmail account consisting of the Drive, emails, attachments, as well as Google Photos.
So if your Gmail account is your primary email account and you frequently backup data on Google Drive it is evident that the space on Google Drive will fill frequently and that you will have to free space on Google Drive on a regular basis.
Let's read below and look for the best solutions to restore chunks of space to free the Google Drive Storage limit.
How to Free up Storage Space on Google Drive:
This includes five steps to free space on Google Drive.
1. Identify The Problem:
As known the space occupied on Google Drive consists of the data uploaded on Drive, emails, attachments, etc you first need to identify which of these components are eating up the maximum space.
This can be identified by navigating to the Google Drive Storage Page. To do so:
Open the Gmail account.
From the top-right corner, click on the gear-shaped icon known as Settings.
From the Settings page, scroll down to the bottom and locate the Manage button under the Storage.
As soon as you click on option, you will be redirected to a new page that shows the storage occupied by different categories in the form of a Pie chart.
This will help you to get clear idea of what category is eating up the maximum space.
You can also purchase additional space on Google Drive from here.
2. What Things Counts Google Drive Storage Space:
Now that you know the bifurcation of the space occupied on Google Drive and you need to free space on Google Drive, do not start deleting stuff randomly.
It is important to know what counts space on Google. Any Google Drive docs, sheets, or documents shared with you on Google Drive does not add to the storage space.
If we talk about Gmail, images over 2,048×2,048 pixels and larger videos of 15 minutes or more counts and adds to the Google Drive storage limit.
3. Clean The Google Drive:
The third step is to know what to delete and what not to. To do so,
Open the Google drive of your Gmail account and arrange the thumbnail in the ListView format. This option is present on top-right corner of the Google Drive.

Once you have the thumbnails in the Grid pattern, you can sort the files based on Last Modified, Date, File Size, Last opened by me.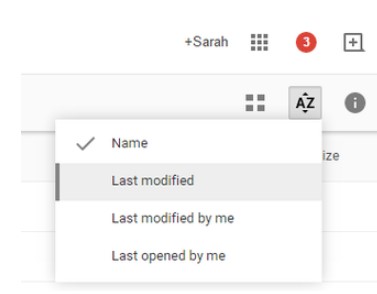 From the bottom of the left panel, look for the option named Storage. This gives you the break-down of the space occupied by Email and Photos.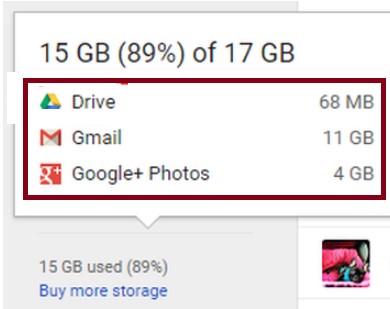 Sort the files by File Size and then look for the files that occupy the largest space. If they are unnecessary, simply delete them.
If you have a PDF document, convert them to Google Docs, since PDF files count to the space occupied.
Once you have deleted the old and large files, PDF files you converted to Google Docs, navigate to the Trash and empty the Trash to restore Google Drive Space.
4. Manage Google Photos:
Google Photos includes all the photos that you save on Google Drive as well as the pictures that you save in form of an automatic backup from your smartphone. We usually tend to simply backup the photos, not knowing how much space they occupy on the Google Drive.
To free space on Google Drive, all you need to do is navigate to Google Photos and then look for the photos you wish to delete.
To delete the photos, and checkmark all the images you want to delete and then click on the Delete button to delete them.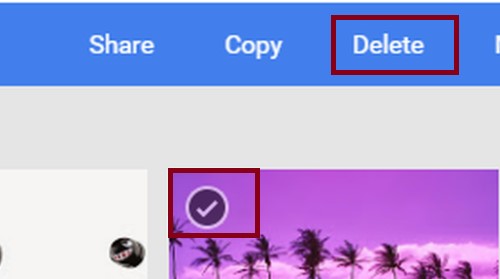 You can also choose not to backup high-resolution photos or convert them to low-resolution images and then save them to Google Drive.
Doing so will restore precious Google Drive Free space.
5. Purge the Gmail Account:
Now that we have deleted unwanted things from Google Drive as well as removed Google Photos that are not required, the next step is to keep a check on your Gmail account.
To free up space on Gmail, look for the email that has large attachments, files, newsletters, spam emails and delete them in order to recover Google Drive free space.
So, guys there were the simple hacks you can use to restore precious storage space from your Google Account.
Also read next: How much does Google know about you?