Enable Dark Mode in Windows 10: Nowadays it's almost difficult to keep away from screens. Working on the laptop the entire day, cell phones during free time, iPads on the drive, and get hooked to the TVs during your Netflix nights. This long screen time puts a lot of strain on our eyes and causes a lot of problems. For the sake of it, Dark Mode is the way out to protect your eyes.
MacOS, iOS, Android and Microsoft Windows, all the platforms have introduced the Dark Mode settings that you can configure. Switching between Dark Mode and Light Mode is trending nowadays. Even Google and other browsing platforms also came up with Dark Mode concept as per the trend. Most of the apps have this functionality to switch between Dark and Light Modes.
Benefits of Dark Mode
There are a lot of benefits of switching to the Dark Mode in Windows 10. A few of them are listed here.
· Reduced strain on your eyes
· Saves battery life and gives long-lasting performance
· Improves system performance while using reduced system resources
· Gives a new feel to your old computer
·         Makes it look stylish and trendy
You can switch to Dark Mode as your default appearance for Windows 10 operating system, along with some Windows applications. Some of the applications don't imply dark mode, for example, Task Manager, Run Command Window, Control Panel, Etc.
Which Windows Apps Are Affected?
Changing the themes in Windows 10 influences menu colours and a few of the Windows applications, for example, File Explorer and the Settings menu. Other applications that are affected with this change are Movies and TV, Alarms and Clock, Camera, Calculator, Mail, Calendar, Maps, Microsoft Store, Messages, Photos, People, Sticky Notes, 3D Viewer, Tips, Remote Desktop, Weather, Voice Recorder, Windows Security, Xbox Game Bar, Xbox Console Companion, and Your Phone.
There are some third-party apps that also adopt its skin from Windows theme settings. They also convert their appearance if Dark Mode in Windows 10 is activated.
"Please Note: If you wish, you can also use Windows Themes to give colours to your old dull screens and bring them back alive. There are thousands of Windows themes available on Microsoft store and other web portals."
How to Enable Dark Mode
You may have changed the background colour or the image however may not have noticed the Dark Mode settings. If you are unaware, how to enable Dark Mode, below steps will help you to configure Dark Mode in Windows 10.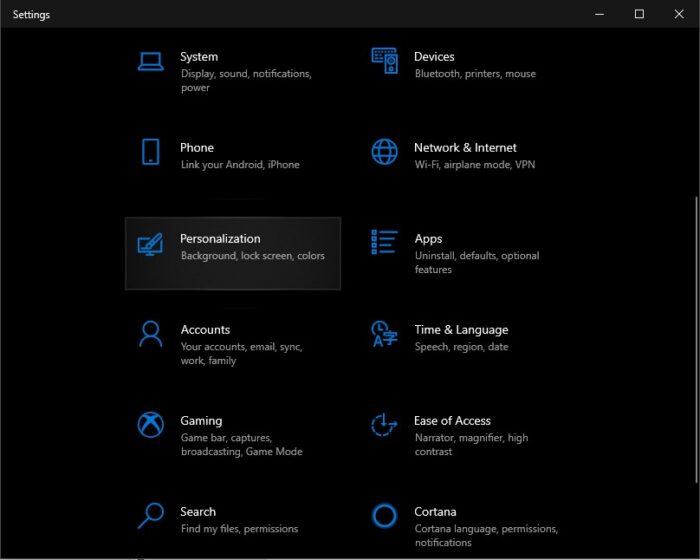 Step 1. Click on the 'Start' button and then click on the Gear Icon to go to Windows 10 Settings. You can also right-click on the 'Start' button and click on the 'Settings' option.
Step 2. Select the 'Personalization' option from the 'Settings' menu that looks like a paintbrush on the computer screen.
Step 3. Click on the 'Colours' option in the left-hand side list in the new window.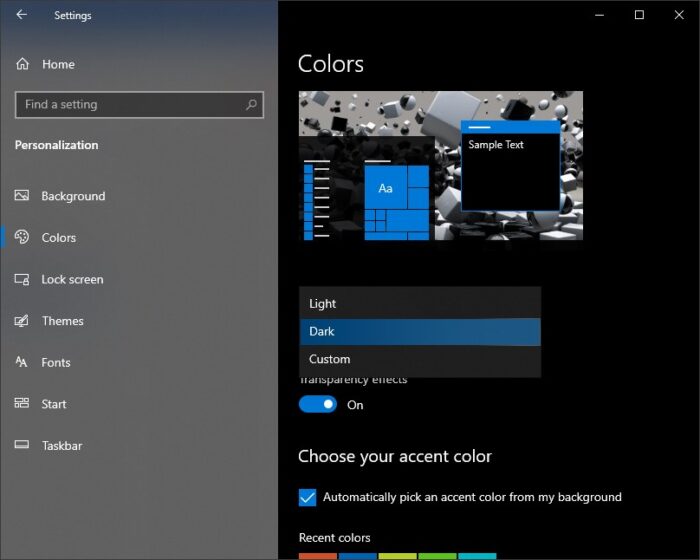 Step 4. Scroll down the page on the right and look for the 'Choose Your Colour' option. You will find Light, Dark or Custom options to set as default Windows theme. Select Dark to apply and enable Dark Mode on Windows 10.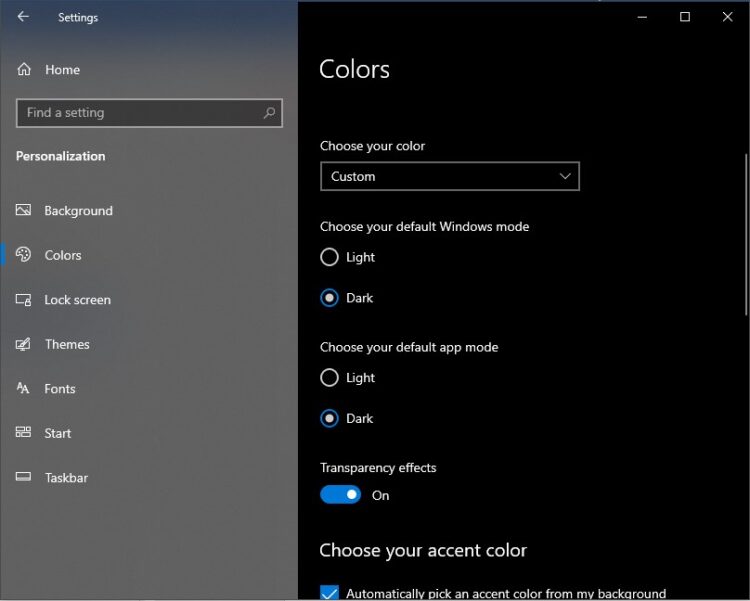 Step 5. This step is optional but will give grace to your settings. After converting your default Windows mode and default App mode, you can also turn ON the Transparency Effects. This will apply the colour from your background to your front windows.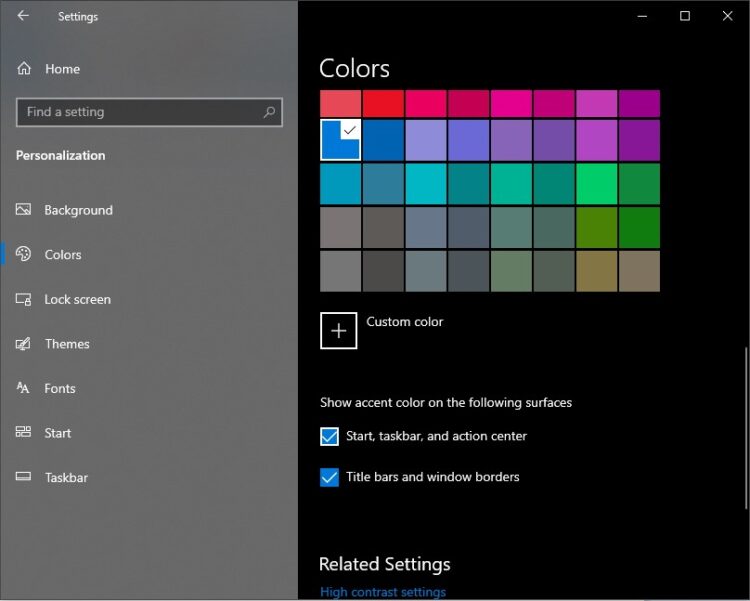 Step 6. If you don't want any transparency effects, you can also select an Accent colour from the shades available or make your personalized custom shade. Put a checkmark on 'Show accent colour on the following surface' option to apply the effects on Start Menu, Task Bar, Action Center, Title Bars and Window Borders.
"Please Note: If you have applied any Windows 10 Theme on the computer, it will lose its effects after enabling Dark Mode in the colour scheme."
Dark Mode on MS Office Tools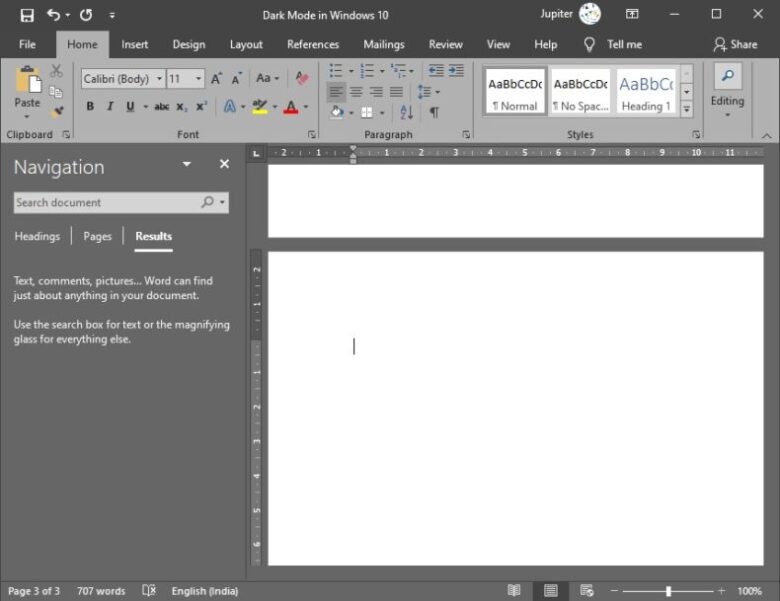 You can also activate Dark Mode on MS Office as working professionals spend most of their time on productive apps. To apply Dark Mode on MS Office, open a Word document, click on the File menu on the top left corner followed by the 'Account' option at the bottom.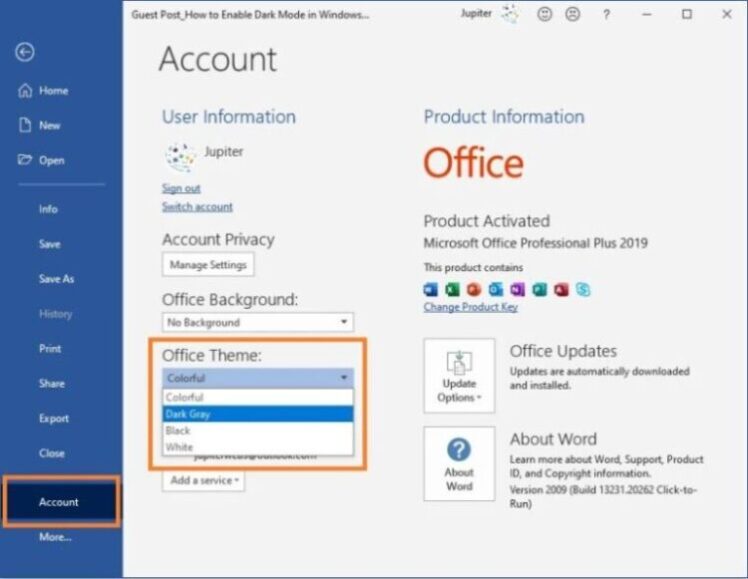 You'll find the heading like Office Background, Office Theme to change from colourful, dark grey, black or white. Select one and go back to preview changes.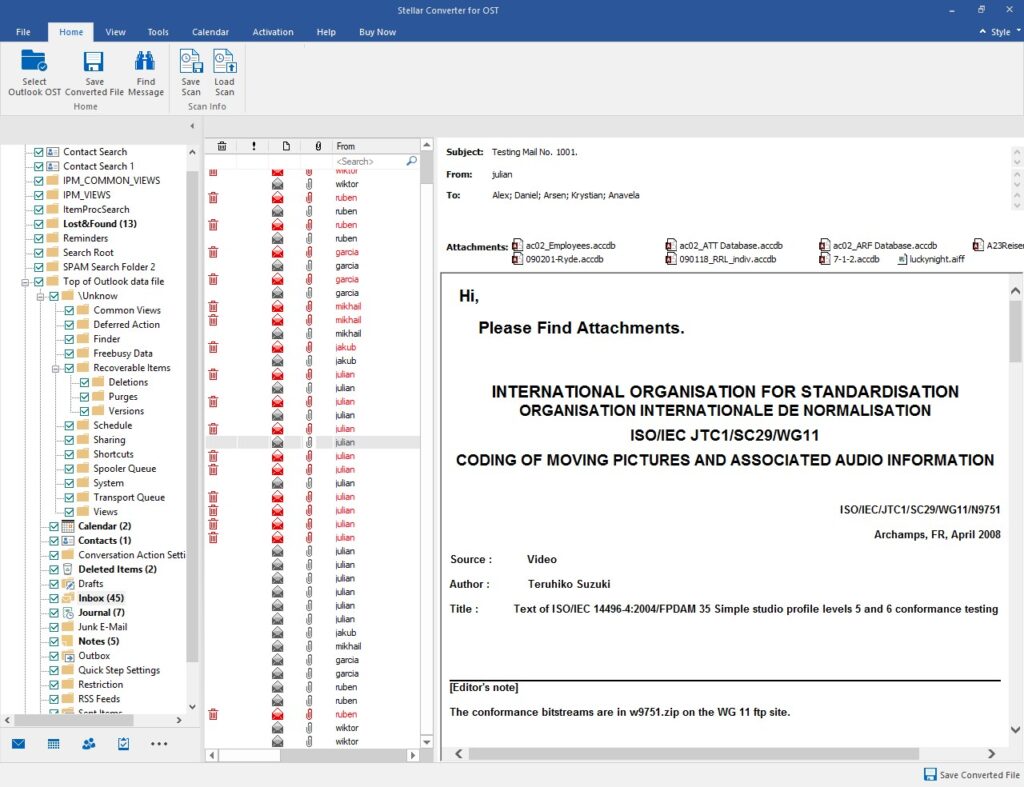 There is another way to switch between Windows Dark and Light Modes. Open any of the office apps like MS Word/Excel/PowerPoint/Outlook and click on the File menu. Click on the 'Options' button on the bottom left corner of the screen. A new window will open with the General Tab on the top left corner. Scroll down the page and look for 'Personalize your copy of Microsoft Office.' Here you can change your office background and office themes.
Wrapping Up
If they say, change is for good, they are right! This article is on how to enable Dark Mode is a great help for you to apply Dark Mode in Windows 10 or change the default Windows theme for new looks. Also, Dark Mode will save your battery life and offer enhanced productivity from your old windows computer. If you aren't bothered about performance, at least take care of your eyes with Dark Mode theme.
Read next: How to Enable snapchat dark mode on Android and ios