Can you have Snapchat dark mode on iPhone and Android in 2020? Dark modes / night modes can help on smartphones and within different apps when scrolling through messages at night, or if you are simply looking for a different visual style for your phone instead of the typical white background. Read out to find out how to get Snapchat's dark mode in 2020 on iPhone and Android.
It is common for people to experience eye strain when using their phones at night. Not only that, but the strong blue light from screens can make it difficult to sleep, cause headaches, and more. To overcome this, many apps, websites, and smart devices offer dark mode as an alternative.
Learn how to get dark mode Snapchat on iPhone and how to get Dark Mode snapchat on Android below.
How to get Snapchat Dark Mode on iPhone
Unfortunately, there is no official night mode / night mode in Snapchat on the iPhone. However, there are the two ways in which you can activate some kind of dark mode on Snapchat on your iPhone, including mirroring the colors of your iPhone. However, other technology requires your iPhone to be jailbroken, which we do not support. Do this at your own risk.
To get dark mode snapchat on your iPhone in 2020, follow these steps:
Turn on Invert Colors (it might make the app look a little weird)
Head over to settings
General
Accessibility
Display adaptations
Inverted colors
Choose between "smart invert" and "classic invert"
The inverted color will reflect the colors in all apps, not just Snapchat
The "white point reduction" should make viewing easier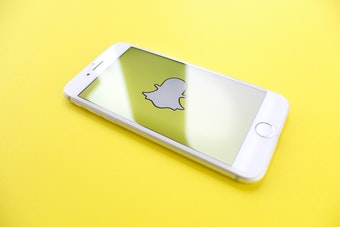 We hope your app development team will add the official dark mode to iPhone sooner rather than later. For now, you can follow the above steps to invert the colors and get the best alternative that does not violate Apple's iOS Terms of Service.
How to get Snapchat Dark Mode on Android
There is no official dark mode / night mode on app on Android, but you can get the way of dark mode on app on your Android device in 2020 by downloading third-party apps that modifies the app experience. However, please note that you download any third-party applications at your own risk.
To get dark mode snapchat on Android, you can download third-party apps:
Download and install Substratum
Go to the app and choose the theme you want to use.
Download and install Blue Light Filter
It helps reduce the blue light on your phone, making it easier to use and read in the dark.
Set your phone to night mode (it won't make everything dark the way you want it)
Activate dark mode in Android 10
Settings
Display
Dark appearance
Turn on or off
Hopefully, enabling a system-wide dark mode on your Android 10 smartphone will replace the white backgrounds in Snapchat with the black, which basically forces the dark mode on the app. However, as with the iPhone's dark mode, it might spoil Snapchat's appearance. It's also worth noting that downloading third-party apps to mod Snapchat in any way can lead to the app being blocked.
For both iPhone and Android versions of app, although you can activate some kind of dark mode / night mode through the above methods, we recommend that you wait for an official function to be added to the app. You can activate night mode / screen dimmer via phone on most smartphones which reduces the amount of blue light on the screen at the moment. We hope dark mode will be officially added to app sooner rather than later.
Also know about: Best Invisible Keylogger App for Android