An infrared thermometer (IR) is a handy tool for measuring the temperature of surfaces that are hazardous, fragile or hard to get to. The IR temperature gun has increased safety in a range of industries allowing workers to take temperatures from a secure point, as well as avoiding contamination or damage to the surface.
The IR thermometer works by measuring both infrared radiation and the emissivity value of a surface, which is then converted into a digital reading. Though each model has its own features, essentially it involves pointing the laser beam at the surface and reading the temperature.
Infrared Radiation
Infrared radiation is invisible to the human eye but is felt as heat. Emissivity is the measurement of how reflective a surface is, or how much a surface can emit energy as infrared radiation.
An important factor in using an infrared thermometer is the distance-to-spot ratio which is the size of the area of the surface compared to the distance of the spot to be measured from the temperature gun. Knowing this ratio will help ensure accuracy in the reading by avoiding taking a measurement in the wrong place. 
Each IR thermometer comes with specifications suitable for the purpose it will be used for.
For example for general laboratory or industrial applications your thermometer will have a distance to spot ratio of 1:1, and a temperature measurement range of -33°c to 110°c. For more complex environments such as food production facilities, specific industrial applications and laboratory use you might choose a temperature gun with a distance to spot ratio of 12:1, adjustable emissivity 0.1 to 1.0 and a temperature range of -50°c to 650°c.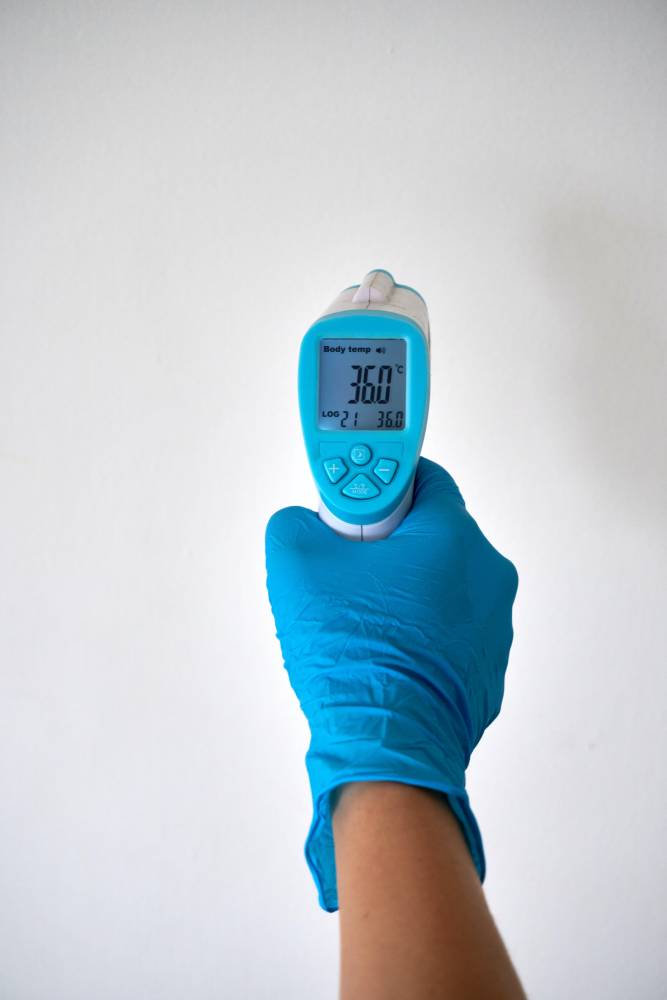 Industry Uses
IR thermometers are used widely in a range of industries to allow high level preventative maintenance in safe conditions, thereby avoiding lengthy repairs which affect productivity. In the food industry hygiene and food safe conditions are established with a quick spot temperature measurement.
An IR thermometer can be used to detect temperature fluctuations in supply power connections and circuit breakers, engines, loose connectors, battery banks and power panel terminations. Temperature monitoring can predict potential equipment failure by picking up spikes in heat. Temperature change can indicate developing problems in many types of equipment, from ovens and boilers to freezers, and allow technicians to quickly detect hot spots.
In the food industry, the point and shoot thermometer can instantly measure the surface temperature of your cookware or grill plates, precisely gauge temperature and commit to a non-contact process with food to eliminate the risk of cross-contamination. In a commercial kitchen the IR is a quick and safe way of measuring cooking oil temperatures, getting a fast read on the temperature of simmering milk, soups or sauces, as well as preventing food spoiling in bain maries. Many models scan and store your data, and include data logging and a recall function.
By easing the task of measuring temperature in industries that involve delicate componentry, unsafe conditions, dense items such as frozen food, and moving surfaces and hard to reach equipment, purchasing the Infrared Thermometer can save costs, time and improve productivity across the company.