Windows operating system has improved a lot in the past few years and can alarm you whenever you try to save the same file with the same file name in the same folder. But what if you save the same file in a different folder? It doesn't warn you and simply saves the file.
These duplicate files do nothing but use your valuable disk space increase clutter on your hard drive. This clutter slows down your PC performance and makes it difficult to find the most recent and updated file. When it comes to finding the right version of the file of file with the most recent changes, you face a hard time searching the appropriate file or at times delete the recent one instead. Here are the few fixes that you can try to avoid such situations.
Why Should You Delete Duplicates?
Duplicate files are more of junk files and occupy a lot of space on your hard drive. It hampers your system performance by utilizing a lot of system resources.
· If you delete duplicate file, you can regain precious space accrued on your hard drive.
· Duplicate file finder can reduce the need for creating multiple backups.
· If you constantly remove duplicate files, you can enhance your search efficiency.
· Lessor duplicate files will enhance the system performance and give you the optimum output.
Delete Duplicate File Using Duplicate Files Fixer
Deleting duplicate files using Duplicate Files Fixer is one easy method to remove duplicate files. Duplicate Files Fixer is loaded with a strong search engine to find duplicate files in no time and remove them in a single click.
Once you run the scan, you will be amazed to learn the count of file clones on your system. The search engine is robust enough to accurately identify duplicate files from your computer and all other external storage sources. You can also customize the scanning criteria with folder exclusion feature and exclude system folders or drives to get accurate results.
Duplicate Files Fixer creates a backup of all the files before it actually removes duplicate files. The process is swift and accurate and takes no time to accurately identify and delete duplicate files.
How 'Duplicate Files Fixer' Works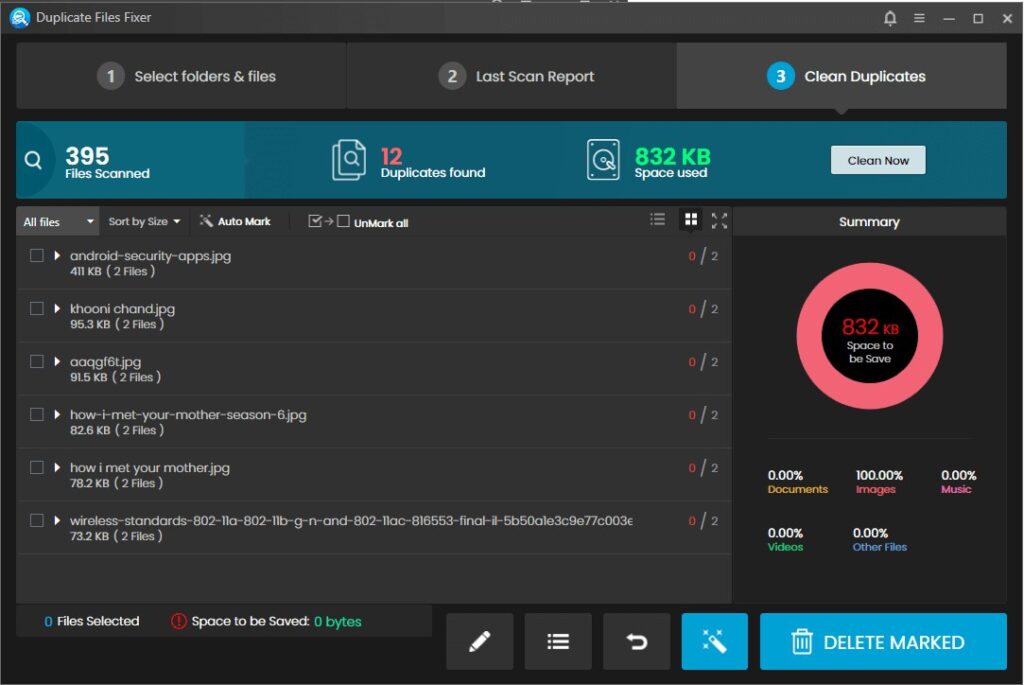 Step 1: Download, install Duplicate Files Fixer on your System from the official website.
Step 2: Open the console and add the files and folders that you wish to scan.
Step 3: Click on the 'Scan' button to initiate the scanning process.
Step 4: It will find duplicates and preview the list of found duplicate files.
Step 5: you can Auto-mark or manually select the duplicate files found in the search results.
Step 6: Click on the 'Delete Marked' button to confirm the selection.
Step 7: It will automatically take a backup of selected files and delete duplicate file in no time.
Delete Duplicate File Using Windows Explorer
Unfortunately, the Windows operating system doesn't have any built-in tool that can find and remove duplicate files. All you can do is to find and remove duplicate files manually using Windows Explorer. This process of deleting duplicate files is not so friendly and accurate and you might consider using one of the easy duplicate finders to furnish the task.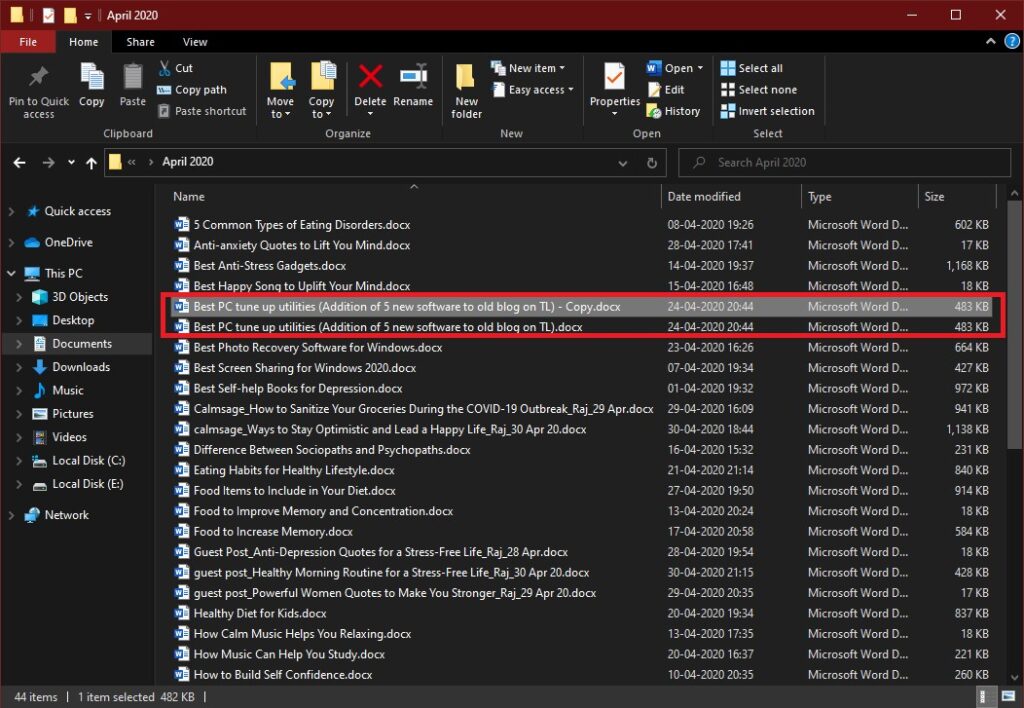 Step 1. Go to Windows File Explorer and search for the duplicate files through various ways.
Step 2. Open folders like Documents, Pictures, Desktop, Videos and sort files with the name. If you find files with the same name or (Copy) written in front of any files, check if they are of the same size and file format. Remove the oldest one.
Step 3. Now in the same folder, sort files with the size and check for files with the same size or (Copy) written in front of similar sized files. Remove the oldest one.
Step 4. The next step is to sort files by (Date Modified). Sort files with the same date and examine if they share the same name or share the same download date.
When you try to find duplicate files with this manual process, you may not find all of them as they can be stored in different folders. This manual process will only sort files in the same folder. Only a duplicate file finder for Windows can find duplicate files in different folders and eliminate them from the drive.
Things to Keep in Mind While Removing Duplicate Files
While finding and removing duplicate files manually, there are certain precautions that you need to take care of. If you accidentally delete an important file, it may be lost forever or deleting a system file may lead you to a no boot situation.
· Don't delete duplicate system files even if you find them in different folders. Deleting system file may halt your computer and lead to no boot situation. You can only delete personal files like documents, music, photos, videos, movies, or downloaded setup files.
· If you are using Duplicate Files Fixer to delete duplicate file, ensure that it is set to automatically ignore system folders during the search process. Freeware applications are not sensible enough and configured to automatically ignore system files.
· Before deleting any duplicate file, always check the preview of the files. Without previewing the file, you may end up deleting some of the important files from your computer.
Summing Up
Duplicate cleaners are one of the greatest software that you must have on your system to delete duplicate files and keep your system clutter-free. By removing duplicate files, your system can start performing as good as new and you regain access to a lot of valuable space on your hard drive. Duplicate Files Fixer is one of the finest duplicate file finders that you can use on Windows 10 and earlier versions.