ERP-enabled systems are the future of businesses! Technology-enabled systems have contributed to the evolution of businesses. The market for every segment is competitive with the rising expectation levels of the customers. This pushes small, medium, and large size enterprises to efficiently put their resources to use. A crucial fact to the situation is that all the operations be streamlined to minimize wastage of resources and maximize output. This is the essence of modern-day business practice. 
By now, you must be looking at which ERP software would be the best for your business. How about we introduce you to the best ERP tools to manage your business operations? Sounds great, isn't it? But before that, let us understand what an ERP tool is?
What is an ERP tool?
ERP tool is integrated system software that helps store information or manages a vast database that assists businesses in real-time operations. These are the software to automate processes to maximize profits. 
Top 10 ERP tools to manage business operations.
Here is list of top 10 ERP tools to manage business operations:
1. eResource Scheduler
eResource Scheduler is the ERP software which is used by several companies listed in Fortune 500. It is an apt software for effective team planning that also hosts features of reporting, scheduling, and financial processes. This is a cloud based software that facilitates identification and scheduling of resources against projects. The ERP software comes with an easy drag and drop feature.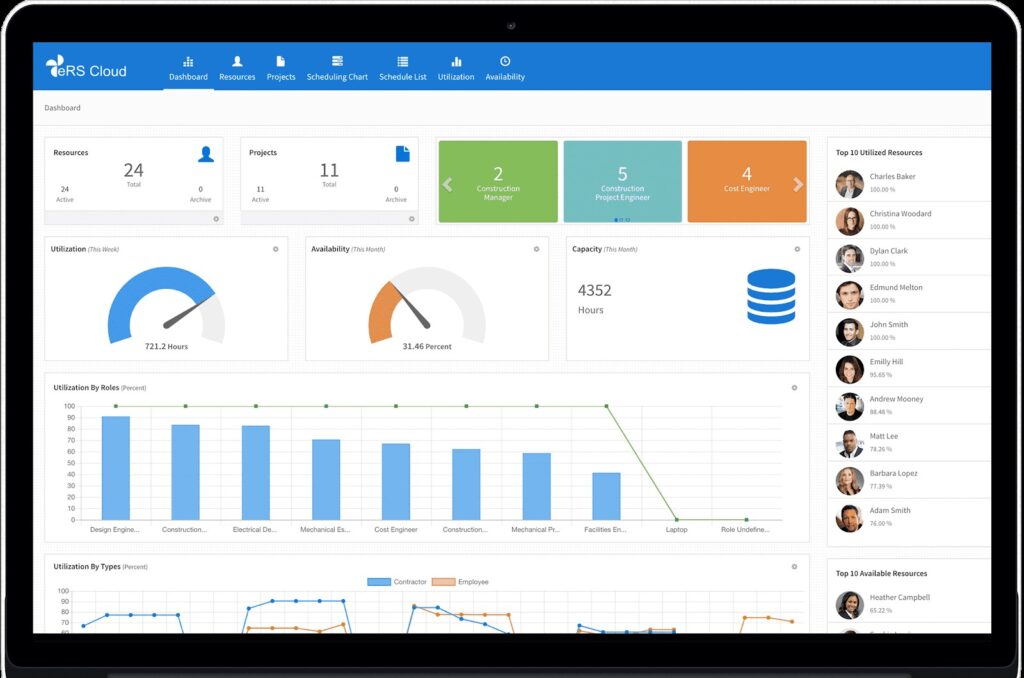 Benefits:
Helps maximize resource utilization with powerful reports.
Configurable resource reports with color coding making it fast to read the data.
Helps maintain data confidentiality. Allows precise level of access for every user.
Important information available on Dashboard.
Enables multiple projects as well as multiple resource management.
2. Netsuite ERP
Netsuite ERP benefits businesses to manage inventory, host e-commerce, track the financial status and maintain customer relationship management. It is an online software facility to manage all business processes from one end. Netsuite also helps companies with Professional Service Automation to accurately plan, execute, and track the projects.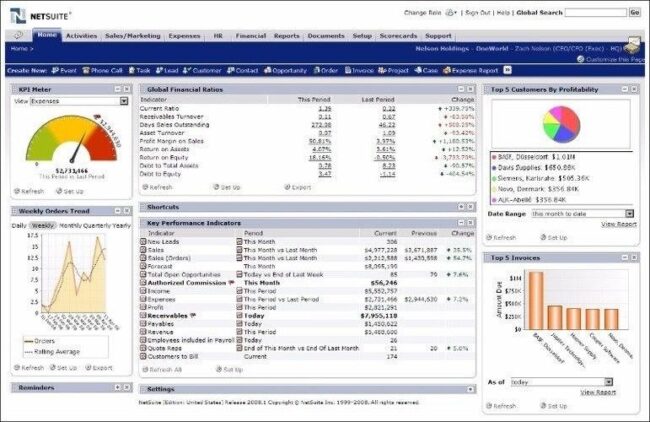 Benefits:
Lowers the operating costs as it is powered by Cloud making everything online.
Unifies marketing, merchandising, inventory, financials, and support.
Helps to deliver fast leaving companies to focus on scalable growth.
3. Sage Intacct
Another software that offers perfect solutions to mid-sized or small companies is Sage Intacct with 14000 customers across the globe. It aids a business to manage its financial and accounting activities. Sage Intacct scored the highest reviews as a financial ERP tool.
It allows the enterprises in powerful automation of complex processes along with the multi-dimensional data analysis. Sage Intacct supports better payroll management, customization, inventory management, order management, and security.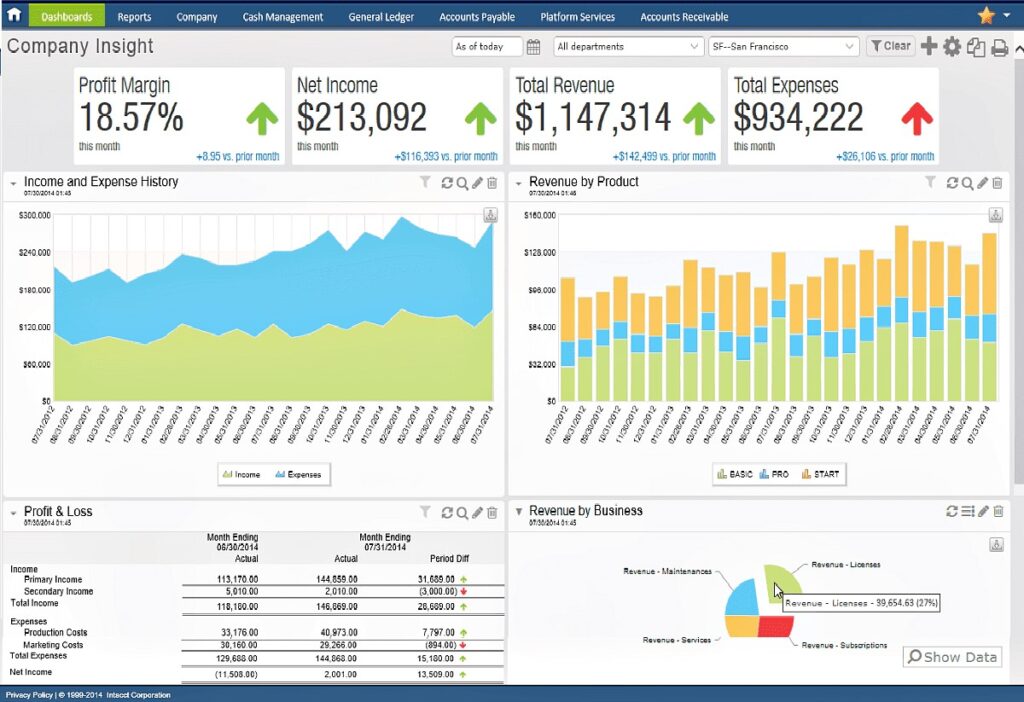 Benefits:
Allows multiple systems to integrate and automate information.
Easy adaptability to other cloud services like Salesforce, ADP, and more.
4.SYSPRO ERP
SYSPRO is making operations easy for distributors and manufacturers. More than 15,000 companies across 60 countries are using it. SYSPRO ERP can be easily deployed through a hybrid model, on-premise, or on the cloud. It is a solution for inventory to accounting, and from supply chain to customer relationship management.
SYSPRO can help in cost control, streamline processes, increase productivity, and generate real-time analysis.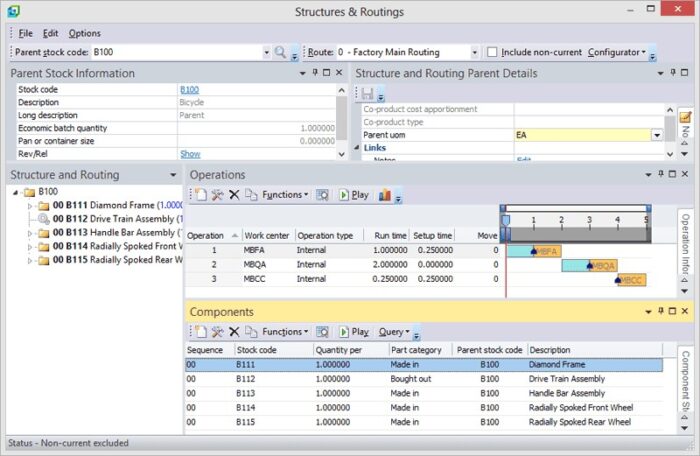 Benefits: 
Improved system management in the SYSPRO point of sales.
Easy management of digital tax.
Increased security measures.
Enhanced traceability for manufacturers.
5. Microsoft Dynamics
Microsoft Dynamics is for industries like retail, manufacturing, finance, and others. Nearly 20,000 companies across the globe use ERP software. It is a highly customizable and scalable ERP software that provides extensive automation. Businesses can be secured with server-to-server authentication for enhanced data security. Microsoft Dynamics allows companies to have actionable insights and robust reports.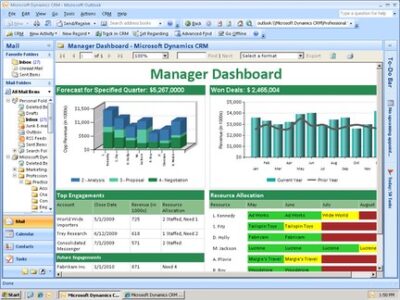 Benefits:
 Easy wide integration with Outlook, Lync, Word, and Sharepoint.
Allows you to analyze the results of your marketing campaign.
6. Odoo
Odoo is an all-in-one ERP software solution for CRM, project management, inventory, and warehouse management. The double-entry inventory system aids to trace the product from manufacture to sale point. Quality checks, secured customer data, and easy access to workforce information are possible on the same platform. It can be deployed on the cloud, through the Odoo cloud platform, or on-premise.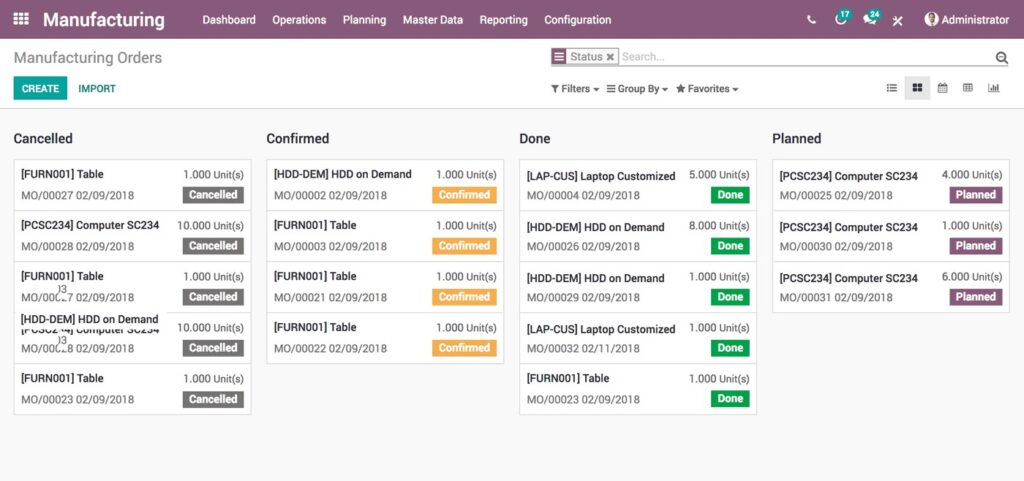 Benefits:
Multi-language customer support system.
Wide range of integrations with FedEx, eBay, VoIP.
Automated invoicing procedure.
7. Infor.
Infor is a cloud-based ERP software for healthcare, manufacturing, and retail industries which is built on the powerful Coleman AI platform. It allows businesses to visualize analytical results through large amounts of multi-dimensional data. Workforce planning gets a lot easier, preventing a shortage of workers. Use Infor. to maximize reliability and performance of assets, predict failure, and carry out preventive actions. You can get this deployed both in the cloud or on-premise hosting.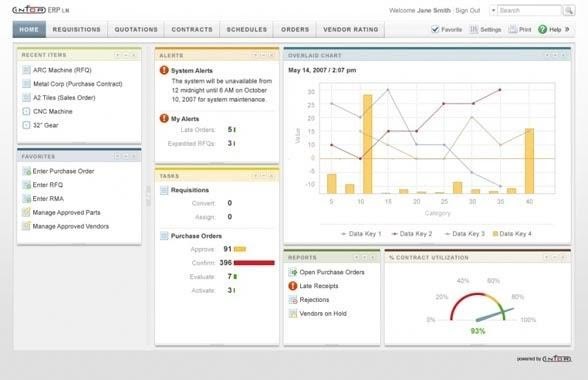 Benefits: 
Compatible with all devices like mobile phones, tablets, etc.
Multi-language platform.
Allows collaboration between business units.
8. SAP Business One
SAP Business One is the perfect ERP software for small businesses. It provides complete control of all the aspects of operations. Nearly, there are 1,00,000 users of this ERP software solution. It helps to enhance profitability, reduce errors, and improve margins. Small business owners can monitor the entire sales process along with the detailed report. The ERP software can be deployed through Mobile, cloud, or on-premise.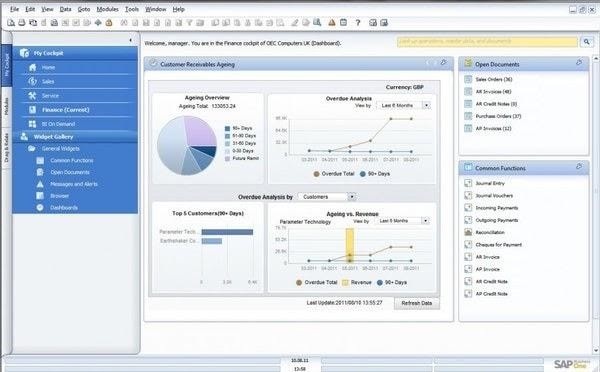 Benefits:
24/7 support to resolve critical issues.
Wide range of integration with Hybrid Cloud, MuleSoft, Dell Boomi.
Reduce duplicate costs.
9. Workday
Aimed for medium and large enterprises, Workforce ERP is focused on financial management and human capital management. The idea of the software is to provide holistic management for accounting, audit, financial planning, expenses, and inventory. Businesses can also control talent management, workforce planning, payroll management, and more.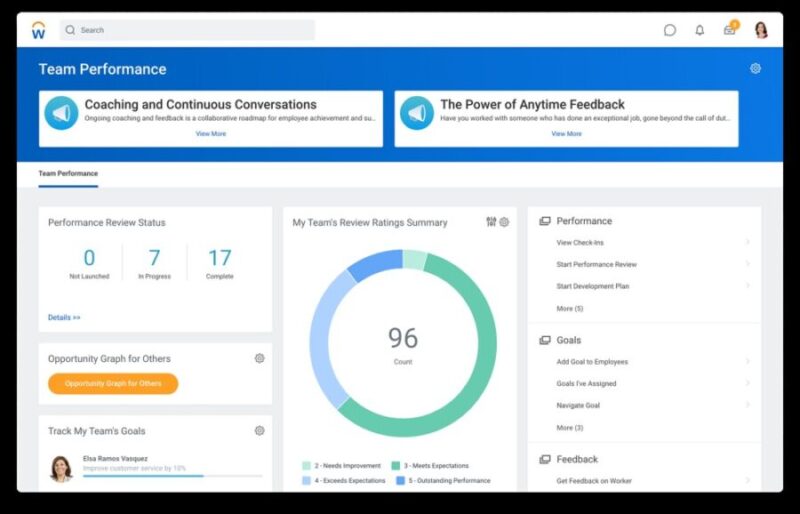 Workday ERP for human asset management.
Benefits:
Online support on phone and email available.
Excellent data security protocols for data integrity.
Provide TP integrations.
User-friendly interface.
10. Scoro
Scoro is the ERP solution developed for small to medium enterprises which belonged to sectors of advertising, information technology, and consulting. It stores all information and core features to assist business operations. Any employee can access the entire database anytime. Other than this, using Scoro the companies can track the team's productivity, project status, and customer information.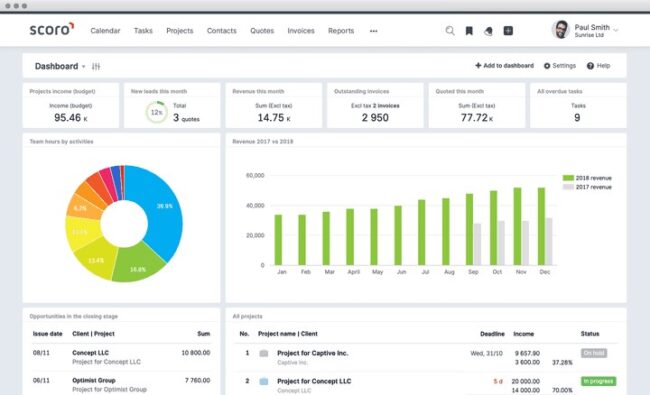 Benefits:
Saves switching time between individual software.
Less time to train people and deploy them on real business needs.
Conclusion
Deploying humans and machines can help businesses attain their targets. But for flawless performance and thriving results, businesses need ERP software. If you are planning to deploy ERP software, here are the facts to back your decisions. ERP software helps to :
Increase efficiency and productivity. 
Best utilize the existing resources. 
Give businesses a competitive edge.
Save money for future investments and expansions.
Improve planning.
Also read: Top Business Benefits of ERP Testing