Customer engagement is vital for the success of any business. As the name suggests, customer engagement involves the interaction initiated by a business to reach out to new and existing customers. Implementing a customer engagement strategy will make it very easy for a business to build trust, commit to excellence, and provide better communication to their customers.
Businesses, regardless of the size, should prioritize engaging with their customers online. Even if your business is already a household name, you should continue to engage with your customers online to ensure that they remain loyal to you. Customer engagement is also crucial for small-scale or new businesses, as these can be their edge to stand out from the competition.
Here are some ways for you to engage with your customers online:
1. Respond To Feedback Or Reviews
Individuals from different parts of world are now becoming more dependent on the World Wide Web. Whenever they think about buying a new product, for example, they would check feedback and reviews from other people to know more about the product. The information they can access online can influence their decisions and set their expectations.
How feedback and reviews affect customers is also one of the reasons why businesses would outsource pros, such as Nextdoor Recommendations, to improve their feedback and ratings online.
For you to maximize feedback and reviews, use them to engage with your customers. If customers expressed how happy they were with your products or services, thank them for their patronage and encourage them to stay loyal to your brand. Conversely, if some of your customers used online platforms to let you know how they were dissatisfied with your offerings, do not ignore these. Instead, apologize and offer freebies or discounts for their next purchase. This is a great way of rebuilding and fostering relationships with your customers.
Addressing any concerns left by your previous customers is like hitting two birds with one stone. This gesture will make your existing customers feel valued because you actually took the time to respond to their queries, even if these were negative. This can also help your business create a very positive brand, especially to the eyes of individuals who are yet to transact with you.
2. Build A Community or Group
According to statistics, there are over 3.80 billion social media users as of January 2020, and this number is expected to increase as technology becomes more prevalent. Regardless of who your target audience is, for sure, these individuals are also part of the population who regularly uses social media.
Another way to engage with your customers online is to build a community or group in any of these social media channels. For example, if your business sells electronic gadgets online, you can create a Facebook group and advertise exclusive deals through the platform. You can also encourage customers to post their purchases on the group and start interacting with them. Treat them as your friends–like their posts and start conversations in these communities and groups.
The exclusivity of these platforms will make your customers feel valued, especially if you will utilize these to constantly communicate with them and excite them with new deals.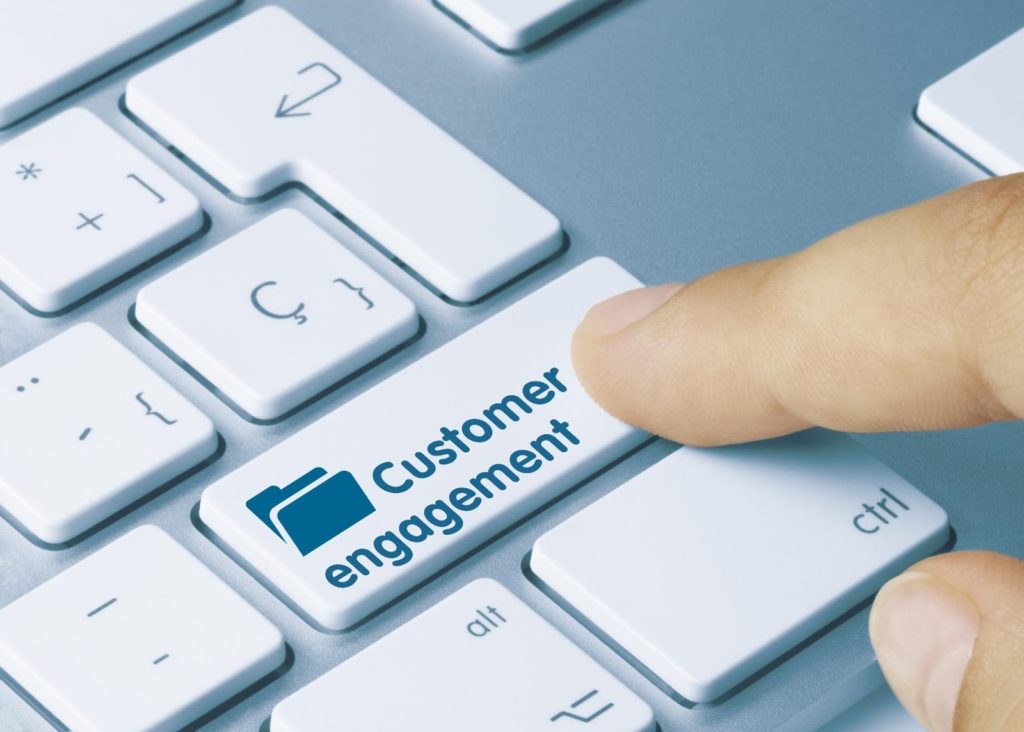 Although creating communities and groups in social media platforms is free, avoid making too many at a time. Having too many communities and groups to maintain can usually lead to stale content and unanswered queries. This is especially true if you do not have a specific team that will handle the customer engagement strategies of the business.
If you're planning to use online communities and groups in different social media platforms as part of your customer engagement strategy, be careful on how many you're going to create.
Ideally, you should not have more than two online groups and communities to ensure that you can regularly update the content on the platforms and answer all of the queries sent by your members.
3. Embrace The Power Of Listening
Your relationship with your customers will never foster if you do not know how to listen to them. If you do not consider what they want and how much they can afford, it'll be challenging for your business to create products and services for a specific audience.
Aside from the product development stage, are you aware that active listening also plays a vital role in your customer engagement efforts? Do you know that merely listening to your customers through different online platforms is already a great way for your business to engage with them?
For you to embrace the power of listening, and effectively engage with your customers, go through different online platforms and see how the online community is talking about your business. Are they happy about your offerings? Or, are they looking for better customer service? If it's the latter, take note of other details the online user might have and use this comment for your business to improve moving forward. Look for other comments left by online users about your business and assess if you can improve these areas.
More often than not, your customers do not have the guts to personally reach out to your business and tell you their concerns, which is why they would opt to talk to their friends and family about these online.
Engaging with your customers will require you to make them the center of your business, and listening to their comments, regardless if they're negative or positive, is an excellent way of achieving this goal.
4. Make Your Customers Part Of The Team
You'll have to work with a lot of people to ensure that your business continues to thrive. If you're a business owner, you have to work with individuals who will take care of your marketing, accounting, and legal needs. But, are you aware that you can also let customers work as if they are part of your team? Do you know that doing this is actually a great customer engagement strategy?
Human beings love to feel appreciated, and you can easily make your customers feel this way if you make them part of your team, even just virtually. If a customer mentioned your business in their Instagram account because they launched their mom and pop store using your products, boost their reach by promoting their page on your business account. You can also showcase one or two of your most loyal customers each month.
If you have been operating in the industry for a long period of time and is about to celebrate an anniversary, celebrate with your customers by offering them exclusive discounts or inviting them to a thanksgiving party.
These gestures will surely make your customers feel like they belong to your business. How you show appreciation to their efforts will surely convince them to continue doing business with you and entice their friends and family members to do the same as well.
5. Post Valuable Content Regularly
Different businesses can offer the same or similar products or services. Regardless of how unique or innovative your offerings are, more often than not, other businesses have sold these for years. If you want to stand out from the competition and engage with your customers at the same time, pay attention to the quality and frequency of the content that you post online. You should never publish online content just for the sake of it. You should make the most out of your content by using them to trigger an emotional response from your customers.
If your business sells makeup for women, for example, the content you post online should provide information on how your products can improve your customers' lives. Can these makeups improve your customers' self-esteem? Will wearing your products make it easy for them to socialize with other people? If you answered "yes" to both of these questions, highlight those points in the content you publish online. Avoid posting content that is only directed to sell products and services; you should put yourself in the shoes of your customers and determine what type of content they will find valuable.
Speaking their language through the content you post online will surely help you create or maintain positive relationships with them. Plus, utilizing your online content can also become your ticket to becoming an authority in the business arena.
6. Make Your Marketing More Human
The advent of technology has made it convenient for businesses to operate. Today, there are now apps and software that automate the daily tasks, allowing staff to save more time and become more productive. However, automation can also have adverse effects on the business, especially when it comes to your customer engagement efforts. Automation can make your strategies less more personal, and can become the reason why your customers will eventually disconnect with you. Customers won't continue patronizing a business if they are only treated like any other customers.
Steer clear from this direction by making your marketing more human. Although it can be tempting to use marketing templates or copy marketing bandwagons, don't do it. On the contrary, you should only implement marketing strategies that perfectly suit the vision and culture of your business. You can do this by motivating your employees to publish and share content made by your business and publish behind-the-scenes content of your employees.
The more relatable your marketing strategies are, the easier it'll be for you to engage with your customers. This works because marketing strategies that feel and look authentic will encourage your customers to form an emotional connection with your business.
7. Personalize Your Customer Service
As mentioned, the key to engaging with your customers is to make them the focus of your business. Your products and services should be formulated based on the needs and budget of your customers. Offering products and services that satisfy the demands of your customers will make it very easy for you to earn profits.
However, as a business continues to grow, it'll be hard for you to keep track of all your customers. When this happens, you'll end up seeing them as faceless individuals instead of treating them as unique customers. Make sure that this doesn't happen by personalizing your customer service. This is a vital part of your customer engagement strategy because the quality of your customer service can speak a lot about how you value your customers.
To make this process easy for you, listed below are some tips on how you can personalize your customer service:
Use their first names: Spend some time to know more about your customers and make sure that you use their first names whenever you're communicating with them. This means that all of the emails and phone calls made by the business should only use the first names of your customers.
Be human: Although it can speed up the process, never encourage your employees to read a script whenever they are answering queries from customers on the phone. This will make your customers feel as if no one is listening to them on the other line.
Encourage your sales reps to be more human to your customers. Sure, they can use a script for reference, but never allow them to read everything, word for word. Customers don't want to transact with a business that has sales reps sounding like robots on the phone.
Create smooth transitions: One general rule to follow if you want to personalize your customer service is to make transaction smooth and easy. Offer different payment schemes and freebies, especially for new customers.
How smooth your transactions are will surely create a very memorable experience for your customers and entice them to transact with your business again in the future.
Know Your Limits
Customer engagement is beneficial for your business, but going overboard with your efforts can also become the reason for your business's downfall. Sending too many emails to your customers in one day can make your business look unprofessional. Do you think your customers will be loyal to you if you bombard their emails with your messages?
When implementing customer engagement strategies, make sure to know when and how to draw the line. Remember, you're doing all of these to foster healthy relationships with your customers, not create a negative impression in their eyes.