Summary: In this Stellar Converter for GroupWise review, we have provided an overview of the software, its use cases, top features, pros and cons, and a final verdict. These details will help you make an informed opinion about this GroupWise to PST converter tool.
Stellar Converter for GroupWise is an advanced utility that can convert GroupWise mailboxes to PST safely and quickly. It can export all items in GroupWise to PST, including emails, attachments, notes, calendars, etc. The utility supports multiple file conversion modes- online, remote, cache, and archive, and also allows the user to convert multiple GroupWise mailboxes simultaneously.
Common scenarios
The following are some common scenarios in which you can use Stellar Converter for GroupWise:
GroupWise to Outlook migration: If you are migrating from GroupWise to Outlook, you can use the software to convert GroupWise to PST files. Since the software directly converts the mailboxes to PST, migration to MS Outlook is seamless.
GroupWise backup: You can use the tool to take backups of your GroupWise mailboxes in different file formats, such as PST, HTML, PDF, RTF, etc.
Sharing emails: You can use the GroupWise to PST converter tool to make email sharing simple. It allows you to export desired GroupWise emails to PST or HTML files in a few clicks. These files can be easily opened on systems that don't have GroupWise installed.
Stellar Converter for GroupWise Features
The following are the main features of the GroupWise to PST software:
Complete GroupWise Conversion
The software converts complete GroupWise mailbox to PST. The data includes emails, attachments, calendars, reminders, notes, tasks, and appointments.
Mailbox Preview
After the software converts GroupWise mailbox, it previews the mailbox contents. All mailbox items are displayed in a tree-view, and you can individually open the folders to check their contents. You can also select the desired items that you want to save to the PST file.
Simple Working
The software makes GroupWise to PST conversion simple with 3 easy-to-follow steps- Select, Convert, and Save. You don't need advanced technical knowledge to use this software, and you can perform GroupWise to Outlook migration without any aid.
Multiple GroupWise Modes Supported
The GroupWise to PST converter allows the user to convert GroupWise mailboxes in different modes- Online, Remote, Archive, and Cache.
Multiple File Formats for Saving GroupWise Data
The software allows you to save the converted data in different formats other than PST. These file formats include HTML, PDF, EML, MSG, and RTF. You also have the option to save GroupWise contacts in a CSV file.
Advanced Filters for Selective Conversion
The application offers advanced filters that you can use to convert and save only specific folders and items. You can filter the mailboxes based on specific date ranges, email addresses, etc. You can also omit emails stored in Deleted Mail and Junk Mail folders.
Extensive Support
The GroupWise to PST software creates PST files that are compatible with most Outlook versions- MS Outlook 2019, 2016, 2013, 2010, 2007, and 2003. The software is also supported by Windows 10, 8.1, 8, 7, Vista & Windows Server 2008, 2003.
System Requirements
Processor: Pentium Class
Operating System: Windows 10, 8.1, 8, 7, Vista & Windows Server 2008, 2003
Memory: Minimum 4 GB (Recommended 8 GB)
Hard Disk: 250 MB of Free Space
How to Use GroupWise to PST Converter Utility?
To use Stellar Converter for GroupWise, follow these steps:
Launch the software and select the appropriate GroupWise mailbox mode- Online, Archive, Cache, and Remote. Then enter your GroupWise credentials.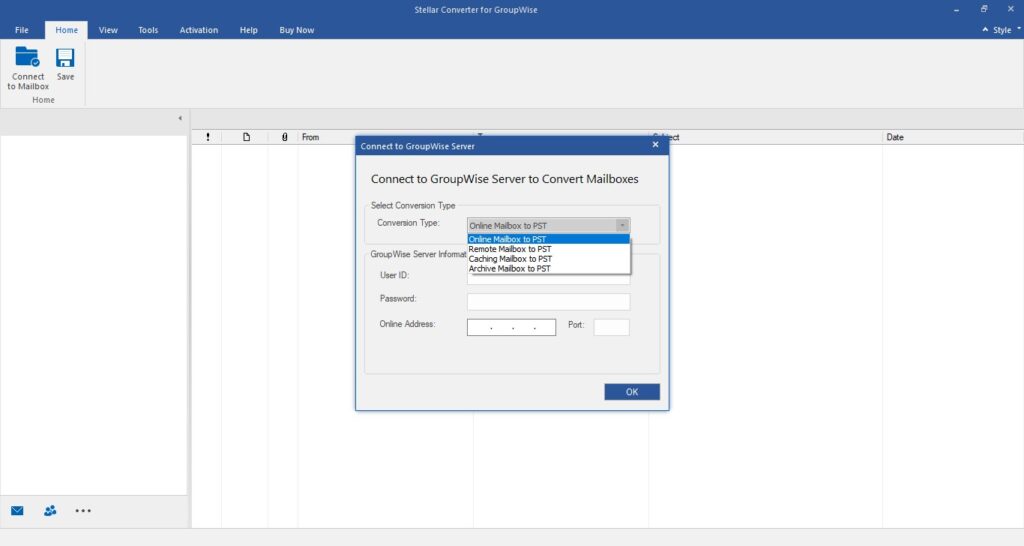 After converting the GroupWise mailbox, the software will display the contents in the preview pane. Select the items you want to save and click the Save button under Home tab.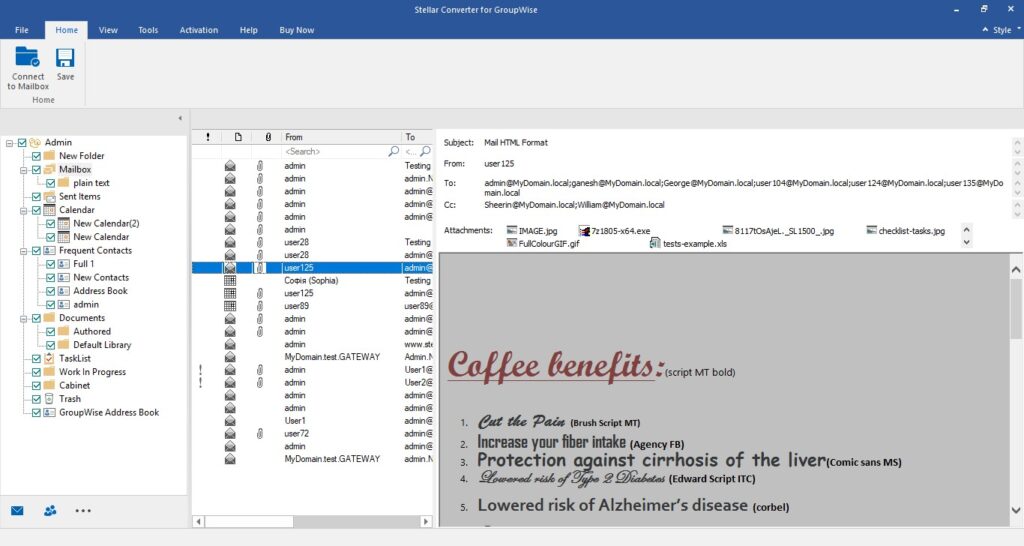 The software will prompt you to choose a file format in which you want to save the mailbox data. You can select PST, MSG, EML, RTF, PDF, and HTML and save the file in the desired location on your system.
Pros
User-friendly interface
Multiple modes for converting GroupWise to PST
GroupWise mailbox preview before saving
Several file formats for saving converted emails- PST, EML, MSG, PDF, HTML, and RTF
Direct export of GroupWise data to Office 365
Advanced filters for selective GroupWise to PST conversion
GroupWise contacts can be saved to a CSV file
Multiple GroupWise mailboxes can be converted to PST simultaneously
Converted PST file contains the same folder structure and hierarchy of GroupWise mailbox
Cons
To save converted GroupWise items to PST, you need to purchase software license
Verdict
To sum up this review, Stellar Converter for GroupWise is a high-quality GroupWise to PST converter tool that won't disappoint you. It has a simple interface with user-friendly controls, but at the same time, it offers all the features you need (multiple mailbox conversion modes, advanced filters, etc.) for desired GroupWise to PST conversion. Sure, it's not a free utility, but its license cost is affordable and totally worth it. So, overall, it gets a thumbs up from our team.