How Video Conferencing Differ From Web Conferencing?
Video conferencing and web conferencing are the standard terms that everyone must have come across in the current age of digitalization. Most people get confused between the two terms and consider it as the same technology with different names. But that's not the case, both have their differences and are used for different things. With the passing time and while walking with the latest trends companies started opting for live webcast conferences which makes it easy for people to conduct business meetings sitting at different locations while saving time and money.
Today, many platforms offer live broadcast services for the conference which makes it easy for businesses to conduct meetings, share presentations and so on. Sharing business presentations and having a face to face meeting via online are two different things where web conferencing and video conferencing comes into play.
In this article, we will discuss the difference between video conferencing and web conferencing and where they are used, respectively.
What is video conferencing?
Video conferencing is defined as a two way live audio-visual communication in real-time between two or more than two people via video, irrespective of geographical limitations. Real-time commenting and feedback by the participants are enabled in video conferencing. It allows people from around the world to connect in a live meeting while sitting in their own places.
Video conferencing gives an experience of real conversations as the meeting is held in the same room where people can see each other face to face. It is majorly used for live communications online.
Many big organizations take the help of video conferencing service providers to set up the system and hardware solutions for buzz-free streaming and to carry out meetings effectively. When you plan to opt for live broadcast services for conferences, video conferencing is the best option for you. It offers high-quality video images and audio across multiple locations.
For a video conference, certain equipment like smartphones or PCs, cameras and microphones are a must. Video conferencing can be organized with the help of an internet connection or a local network of the company.
When a company plans to live stream conference through video conferencing, it requires a server that controls multipoint video conferencing sessions.
There is no doubt, that in the current era, video conferencing has increased business efficiency for corporates and is the greatest tool for carrying business communications. It even helps in accelerating decision making while cutting travel expenses to a greater extent.
Live video conferencing service providers allow you to create live stream conferences with an ample number of participants. Whether you want to have a corporate discussion, conduct a business meeting or have to live webcast a seminar for all the employees of the organization, video conferencing is the answer to all. It enables live feedback from the participants through real-time commenting.
To participate in a private live-stream conference via video conferencing it is necessary to log in with the credentials provided by the administrator. He is responsible for creating a user account for every participant he wanted to participate in a meeting. If your video conference is public, it can be connected via WebRTC only entering a name, in that case, you do not need credentials by an administrator.
Read more: Feel Like An International Popstar With Virtual Reality Karaoke
What is web conferencing?
A web conference is a real-time audio or visual communication over the internet, where two or more locations can communicate while sharing information. It is majorly used for content sharing. One can opt for a conference webcasting company that enables online meetings on the device of your choice and remove any communication barriers and challenges. Live broadcast services for the conference allow you to share the screen which helps in illustrating your points in a much better way.
One can share presentation slides with the other party in real-time via web conferencing. It is commonly known as a webinar. To live webcast conferences, a secure internet connection is a must. It allows an event to get accessed from any place around the world from any web browser. For professional web conferencing, one can opt for conferencing Webcasting Company, which even enables external access options.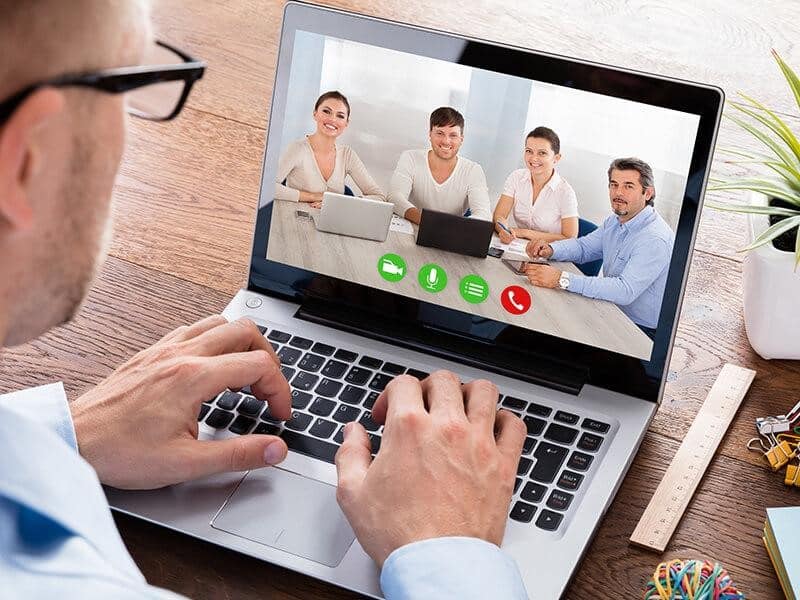 When you plan to share the presentations online web conferencing is the right way to get sorted. Distance education, online courses, etc. have become a standard tread for imparting education while sitting in your remote area. Web conferencing is the perfect fit for distance learning or any other event that does not require any live feedback. In webinars, feedbacks are limited to instant messaging rather than real-time commenting.
More than one speaker can participate in webinars. If we compare it with video conferencing, web conferencing is quite easy as you only need a web browser without any authorization. Unlike video conferencing, it does not require credentials from the administrator and you can participate in the event with a link by entering your name without any validation.
Here is a list of major differences between video conferencing and web conferencing –
The major objective of video conferencing is to have live communication online irrespective of location. Whereas web conferencing is used for content sharing like sharing presentations and slides.
Video conferencing helps in building a business or team and to get live feedback through real-time commenting whereas web conferencing is a better option for having a live communication with people at different geographical locations.
Web conferencing is much more cost-effective when compared to live video conferencing. It only needs a device, webcam & a secure internet connection whereas video conferencing is much tech-savvy.
If we talk in terms of quality, video conferencing offers high-resolution images with crystal clear audio, whereas web conferencing sometimes results in low pixel images due to low bandwidth which limits interactions. Video conferencing is considered good for conducting live meetings whereas web conferencing is considered good for distance-learning where speech is involved.
Web conferencing is easy to use when compared to video conferencing as it does not require authorization and credentials from the administrator which is a must in video conferencing.
In web conferencing, unlimited users can participate in the event unlike in video conferencing, where the number of viewers is limited.
Web conferencing is majorly used for presentations, online training, and distance education and so on. Whereas video conferencing is a good option for business meetings, discussions, announcements, and so on that save traveling cost and time while increasing business proficiency.
Both come with their own merits and demerits. Selecting the right solution, suiting the event will likely to give effective results.
Also Read: How to download YouTube videos to your Android device