SEO, short for Search Engine Optimization, is the process by which a website or online business increases its ranking in search engine results. It is the primary marketing strategy that businesses use to build a robust online presence. While a lot of people have heard of SEO, many people don't know how to use it. So, how do you achieve a strong SEO that'll give your website a high ranking? Many hire an enterprise SEO agency to get results at scale, but if you plan to go it alone, you need to understand how it works, and the best place to start is understanding the essential components of SEO Strategy.
There are major SEO tools to help your website get traffic on search engines; these tools put together make up what's called a SEO strategy. The following is a list of some basic components of SEO strategy, and what they're used for.
Basic Components Of A SEO Strategy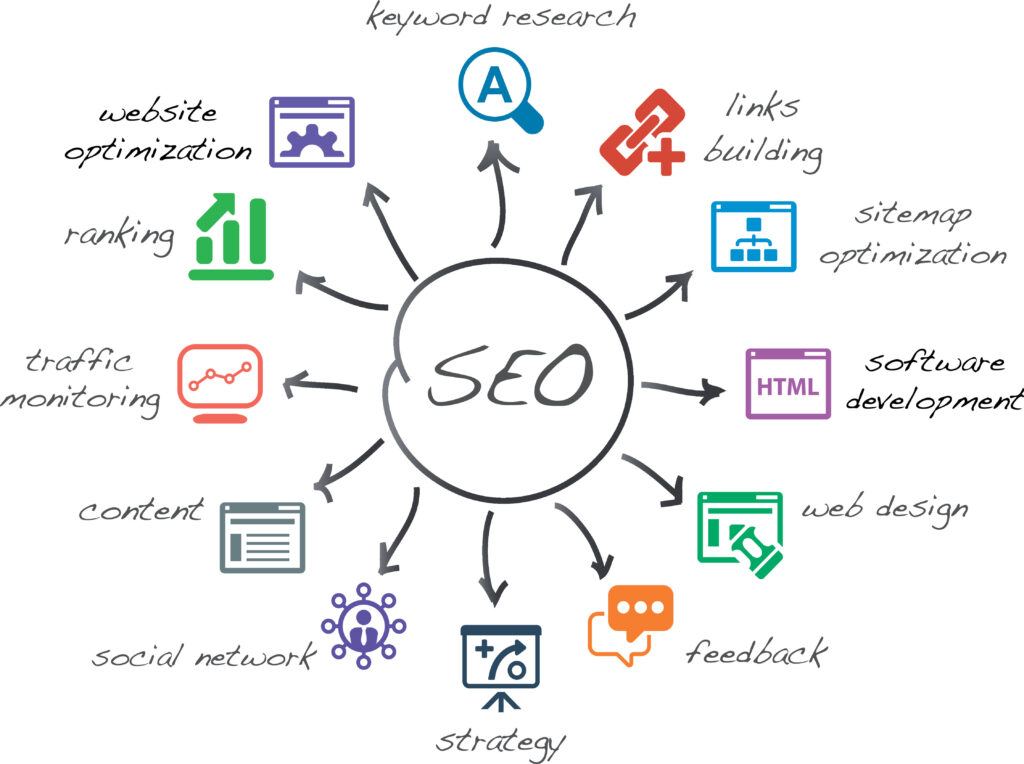 SEO strategy can be broadly categorized into two parts:
Off-Page SEO
These are techniques put in place outside the website to increase or boost its ranking in the Search Engine Result Page (SERP). They include backlinks, social media, etc. Click here to find out what are backlinks.
On-Page SEO
This, on the other hand, refers to techniques that are put in place within the website to achieve a boost in its ranking and visibility. They include the keywords, content and more.
Content
This can be regarded as the most critical component of an SEO strategy. Creating quality content is a key factor when writing for a website. You should only include necessary information; the style should be simple, and easy to read..
The length of your content is also of high importance. It is very relevant to the search engine and your SEO. The longer your content, the better it is. An average of at least 500 words is recommended. Content should be kept relevant and interesting, and make sure to avoid repetition.
Keywords
Keywords are essential components of SEO. The Keywords refer to the specific words typed by a user into search engines to look for a website. They are words that relevant to the website the user is looking for.
Keywords are often better used at the beginning of the text in a well-fitting and creative way. To reduce competition in using a keyword, use long-tail keywords (between two to five words), which will be easier to rank. The longer the keyword, the less competition there'll be for the specific phrase in search engines. Check here for more information on how to do keyword research for SEO.
Meta Title and Meta Description
Meta Title is the title displayed on the search engine result page. Search engines look at the page title as a sign of relevance to the keywords. A maximum of 55 words can be displayed on the search engine result page. You should include a good number of three of your keywords in your Meta title, in a way that will motivate users to visit your website.
The Meta description is the text displayed under your Meta title on search engine result pages. A maximum of 150 characters, including 3 of your keywords, should be used as Meta description in a way that will attract and motivate users to click on the link and open your website.
Backlinks
Backlinks refer to other sources publishing your website; they point and lead people to your website via links. One way to attract backlinks for your website is by posting quality and interesting content and news, to get people talking about your website and giving their honest reviews.
Another way to secure backlinks for your website is by reaching out to relevant bloggers that focus on your area.
Social Media and Online Directories
It's no news that social media is a relevant way to increase awareness about various businesses or websites. It's a channel for you to interact with your users and inform them of any news or updates on your website. You can also post snippets or excerpts of your website's social media content to attract people to your websites.
Aside from social media, online directories are a vital part of an effective SEO strategy when utilized well. It's essential to be visible on various websites, and online directories allow you to do this and to gather reviews and feedback from your consumers. A good online directory presence increases visibility and spurs growth for your brand.
Conclusion
Understanding the essential components of SEO strategy and how they come into play is very important if you want to achieve effective search engine optimization for your brand. Thankfully, the elements are simple enough to grasp. With due diligence and following the information above, you'll achieve the desired results for your website in no time. Or you can consult the best SEO Agency for effective results.