Having a two way radio fleet can be an investment for many organisations and an essential tool for staff during day to day operations. Taking care of a radio fleet can be vital to ensure you're getting the most out of your radios.
Repairs will keep two way radios operating at a high standard, so you'll never have to worry about long term communication errors within your team.
SFL Mobile Radio recommend protecting your radios with maintenance cover and have put together a list of the top benefits for getting your fleet serviced.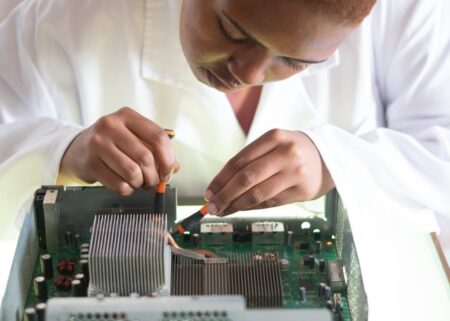 What are the Main Benefits to Radio Repairs & Maintenance?
Quick Turnaround
Don't be put off by having to send your radio fleet off, with an expert team of qualified engineers, the two way radios will be back with you before you know it.
Hire Radios while yours are in for repair
So you aren't without a communication solution when your fleet is being repaired, radios can be hired while you wait. Keeping your team connected throughout the whole process.
Cost Efficient
Saving users from the additional cost of replacing the radio altogether, repairing your radio is more cost efficient and less wasteful. Especially if it is only a minor issue with the device that's simple to fix. Meaning users can get the most out of their radios.
Free Collection Service
There's no worrying about arranging the collection or delivery of the radios, the entire process is handled for you. Getting your radios repaired or maintained has never been easier.
Fixed Price Labour Cost
No nasty surprises, the cost to repair your radios will be set in advance. Regardless of the fault, so you can be confident there will be no additional costs once your radios have been collected.
Top Benefits to Maintenance Packages
Having a maintenance package for your radio fleet will give you peace of mind in knowing your investment is protected. With a variety of packages available for all budgets, having this available for your radios will have them fully refurbished to a new condition.
Regularly servicing your radio fleet will guarantee they're performing at their best. Meaning they will last a lot longer before needing to replace them.
Where can I get my Fleet Repaired or Serviced?
SFL Mobile Radio are Motorola Platinum partners, with a team of certified engineers and over 25 years of expertise, your radio fleet is in safe hands. Have a two way radio fleet that you would like to get it serviced or any that require a repair? Repair services are available to both new and existing customers.
Get in touch with the team on 0151 334 9160 and our team will be happy to talk you through the next steps.