outsourcing vs inhouse: The dominance of mobile apps in the whole world could not be denied, with billions of people going online and billions of connected devices. Mobile apps are rapidly becoming the preferred way of doing business, for everyone across all industry verticals, thus mobile app development services are high in demand. When deciding to build an app, the common dilemma would be between outsourcing or doing it in-house. 
Many startups are faced with the dilemma of doing in-house or outsource the development of a mobile app. Outsourcing and in-house have of course their own pros and cons. Businesses worldwide are facing pressure to grow and compete. 
Therefore, choosing to build in-house apps or to outsource could be doubtful, and should be done carefully, always keeping in mind the business requirements. Here, I am citing the benefits as well as the drawbacks of both for mobile app development.
Why in-house is the best solution
Check out these reasons why training your in-house staff is the best solution.
1. Enterprise apps boost efficiency.
To secure apps on smart devices, such as smartphones and tablets provide the best ways to connect workers, and exchange business intelligence and data in real-time. Using secure and proprietary apps, data could be instantly analyzed and updated, not just by mobile app developers, but also by technicians, salespeople, partners, and others who demand accurate and immediate information to complete the processes, anytime, anywhere. 
2. Everybody is doing applications.
Majority of organizations have increased their mobile spending, thus, almost everybody is doing mobile apps. 97 percent of executives reported that their employees have requested new mobile applications and app features. Moreover, 97 percent of these executives again believe that their organizations would benefit from these kinds of mobile applications. 
3. Mobile apps boost customer loyalty.
Mobile app development boosts customer loyalty indeed. The brand's icon on phones enables a brand to be always in the mind of consumers. Moreover, if the app is associated with the loyalty program of the company, it even has a more positive impact. 
Loyalty apps not just get rid of bulky cards, they also allow smart location-triggered features, such as reviews and discounts' geo-fenced push notifications.
4. More customers going mobile.
Mobile purchases have overtaken in-store and web-based purchases, which is particularly true for young consumers. People are drawn to mobile purchases, especially in the pandemic that the world is facing now. 
5. Third-party application development is expensive.
Although mobile app development may seem to be the easiest strategy, it is not without drawbacks and costs. A study pointed out that 96 percent of organizations that opt for third-party vendors reported difficulties, including higher than expected costs of development, high maintenance, and lack of customizable alternatives. 
Why go for Mobile app development outsourcing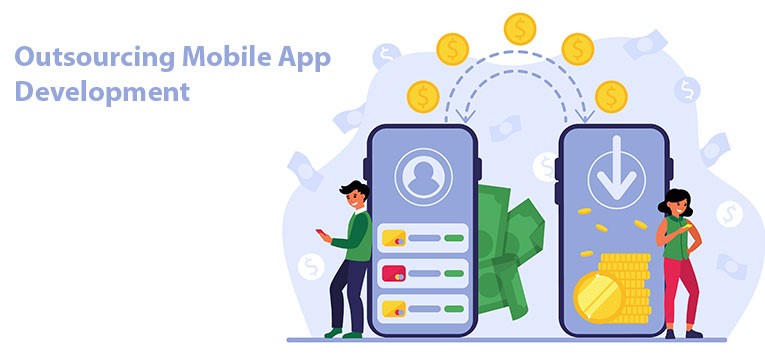 Outsourcing today is commonplace worldwide among organizations from various industries. Companies, through outsourcing mobile app development, could reap several benefits.
1. Best engineering talent.
When teaming up with staff from an outsourcing provider, you gain access to the best engineering talents, in contrast to just hiring people nearby your location. This becomes particularly critical when you are a startup in which a new employee is an important decision that definitely impacts the business outcome. 
Well-established outsourcing firms offer dedicated and fully-staffed professional development teams and have worked together on numerous projects. You will be confident that they would be able to meet your requirements and offer the best solutions.
2. Lower Costs.
One of the main benefits of outsourcing compared to in-house is that it would cost you less. An offshore outsourcing service provider helps organizations lower their costs of app development, which would free up resources that could be utilized for new opportunities of development. 
3. Saves time.
A fast turnaround is typically the requirement in the market for the mobile app development process. When outsourcing this project, there would be no time wasted, as well as money on hiring, training, and retaining staff. 
4. High standard of communication.
When you outsource, you get a team that adheres to the highest communication standards. This ensures complete transparency all throughout the process, the same as if you're working with an in-house team. They adapt to local hours. 
5. Fast market time.
When it comes to outsourcing application development, you get to begin your project very fast. This works best especially in conditions of nationwide quarantine, when everyone is obligated to do remote work. In such an instance, the best choice would be to set up a team of remote developers who work for a software firm, not freelancers because it's somewhat risky, which is not good for a business operating on the edge. 
6. End-to-end support and services.
With outsourcing, you get on-demand access to a pool of talented developers. You could accordingly and easily adjust the size of the team, and the skill sets to the project requirements all throughout the process of development. 
7. Reduced risk.
After you sign a contract, all the risks of the development project are handed over to the outsourcing service provider. An outsourcing company typically guarantees on time and on budget delivery. Furthermore, all your sensitive data about the project is protected with a non-disclosure agreement, to ascertain that there would be no risk of project theft, or leakage to any confidential information. 
Hiring new talent to do in-house app development could surprisingly be an expensive endeavor. However, upskilling your employees in the current technologies makes great business sense. The cost savings and flexibility that the business could enjoy furthermore would make you more competitive, and enables new opportunities for mobile marketing. 
When it comes to outsourcing, particularly offshoring, it has proven to be effective in reducing costs, a great way of accessing high quality service, and fast market time. Choosing a reputable app development company as the outsourcing partner leads to benefits for both parties, as well as heightened competitiveness in the ever-evolving mobile app development field. 
Wrapping Up
When it comes to mobile app development, choose wisely. What is appropriate for another company may not always be ideal for your brand. It depends on the long-term strategy of the company, easy resources access and other factors.
If you decide to do development in-house, make certain that the products you develop are of the finest quality. If you go for outsourcing, make it a point to partner with a reputable and established outsourcing service provider. Again, the key is to choose wisely—all the time.