How to delete your PayPal history: The PayPal Archive button removes your transactions and moves the entries from the review log to the history log. The Archive button will help you simplify the My Recent Activities section and save your deposits, withdrawals and other transactions for quick reference. The history record contains options to perform basic searches, download your history, or access tax documents.
How to Delete your PayPal Transaction History
Step 1. Login to paypal account and click on the "My Account" tab.
Step 2. Click the Browse button to view the recent transaction log.
Step 3. Tap to check the Date box in My Recent Activity to select all entries.
Step 4. Click Archive to remove these entries from your list and move them to your history page. In the "My recent activities" section, the list will show "- No new items -".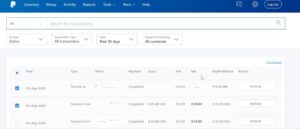 Is it possible or not to delete my paypal activity?
You cannot delete the transaction history records from your account. All you can do is to archive them manually or, once in your time, they can be archived manually. Unfortunately, after all the recent changes to the account view, the manual archiving function of your records is no longer available.
Also read about: What are the key features of payroll software?