Why is my lagging When Playing Games?
I found my computer began to lag when I was playing games since last month. After I rebooted the computer, the issue was solved. But the lag seems to affect many parts of my computer, like the audio lag when watching movie, fps going to single digit.
In general, computer lagging problem always happens on Windows, especially when you play games, open programs or watch videos. What's more, the computer will keep freezing. This is not just seen on old computer, seen on new or normal computer as well.
If your computer lags, there are symptoms that manifest in different ways:
① Programs are opened slowly.
② Games or applications stutter or delay.
③ It will cost much time to saving or converting files.
④ It will take long time to load or shut down the OS.
⑤ Errors appear frequently.
⑥ Peripherals connected to computer can't function normally.
In a word, all things will become slower and slower. Then, you may wonder: why is the computer lagging when playing games or watching videos? How to fix slow PC? To find the answers, go on reading the following part of this post.
10 Reasons for Computer Lagging and Corresponding Solutions
Generally speaking, both hardware and software problem could lead to computer lagging issue. Here, we will show you 10 causes for this issue, as well as corresponding methods.
1. Corrupted or Insufficient RAM
Corrupted or insufficient RAM may affect computer performance, causing the computer start with a blue screen. What's more, if RAM is corrupted, the system memory cannot deal with operations or services as needed. Therefore, the computer is lagging.
In this case, you can replace the corrupted RAM or add memory in order to get rid of lag on computer.
2. Poor Performance of CPU
If the CPU is old or not fast enough, high CPU usage will be caused, which may result in computer lagging. In other words, the better performance the CPU has, the quicker your PC runs.
To ensure the CPU is running well, you can make a CPU stress test. Try replacing it with a new one if it has poor performance.
3. Damaged Hard Drive
If you have a problematic hard drive (especially system drive), the computer may run very slowly, or even fail to start. How to solve it?
In this case, just check the hard drive to see if there is any logical damage on it. Then fix the error or keep away from the bad sector. You can use Command Prompt to check and fix error. Type the command: chkdsk x: /f (x is the drive letter you need to check).
4. Outdated Graphics Card
If you suffer from computer lagging when playing games, one potential factor is the old graphics card. This is because the graphics card is very crucial in 3D graphics rendering and calculating in-game physics.
So, playing games with an outdated graphics card, your computer will probably lag. The solution is easy – just upgrading it now.
5. System Is Running on HDD
The speed of your hard drive determines the computer performance. If you are playing games on computer which is using traditional mechanical hard disk, the computer may lag or even freeze when you are operating some programs demanding for fast speed.
Under this circumstance, you may consider upgrading HDD to SSD as Windows running on SSD is faster than that on HDD.
How to Upgrade HDD to SSD
If you ask technicians for help, it may be costly. Here, MiniTool Partition Wizard can help you finish the upgrade and system migration easily.
Migrate OS to HD/SSD feature enables you to move OS to another disk. Copy Disk is aimed to clone the entire system drive to another drive. Both of them can be used to upgrade normal disk to SSD to solve the computer lagging in Windows.
Here, take Copy Disk as an example.
Step 1: Run this partition manager and reach the main interface. Choose the system drive and click Copy Disk.
Step 2: Choose the SSD connected to computer as the target disk.
Step 3: Choose a copy method. Click Next to go on.
Step 4: Click the Apply to make the changes effective.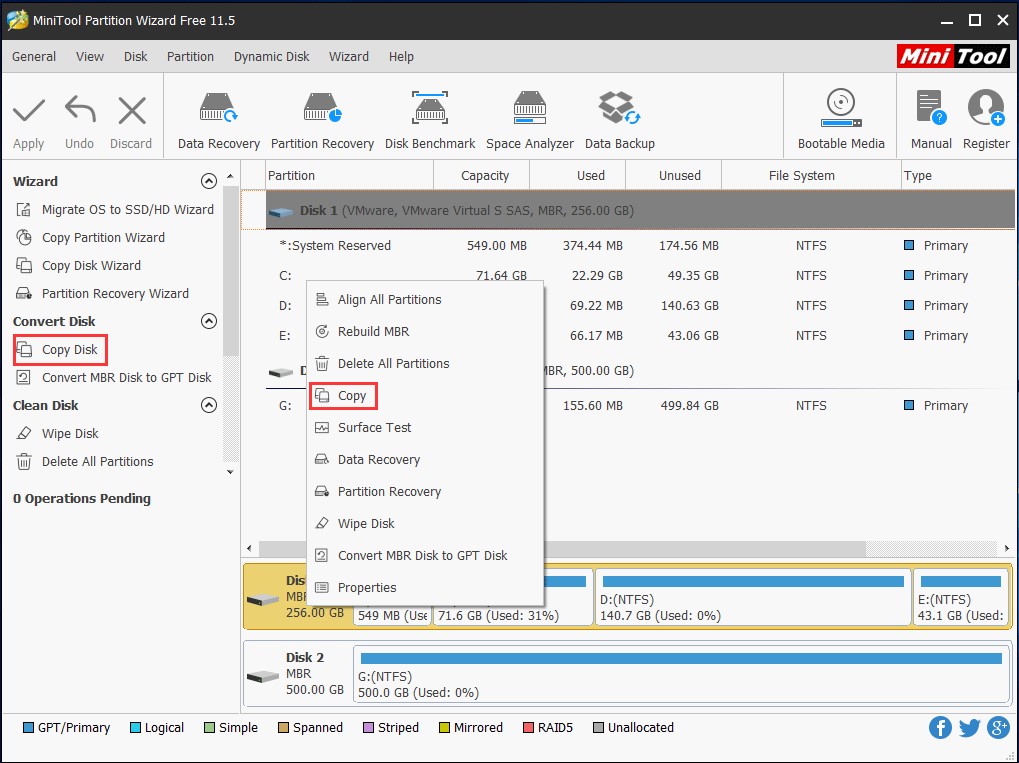 If the games are installed on system partition, and you need to migrate only OS to the SSD, Migrate OS to HD/SSD Wizard feature is helpful. After finishing upgrading HDD to SSD, you can boot from the SSD and replace the HDD in order to deal with the lagging issue.
6. Operating System Needs Upgrading
If your operating system is not maintained or upgraded periodically, maybe there are many programs and tools installed. Thus, the computer would be lagging all of a sudden.
How to fix slow PC or how to stop computer lagging? Follow these methods:
Method 1: Uninstall Useless Programs
Method 2: Remove Temporary Files
To spare more free space on the system, try using Disk Cleanup to delete the temporary files.
1: Open My Computer. Right click on system partition (usually C drive) and choose Properties.
2: Click the Disk Cleanup button under the General tab.
3: Scroll down to Delete list. Select Temporary Files.
4: Hit OK and click Delete Files.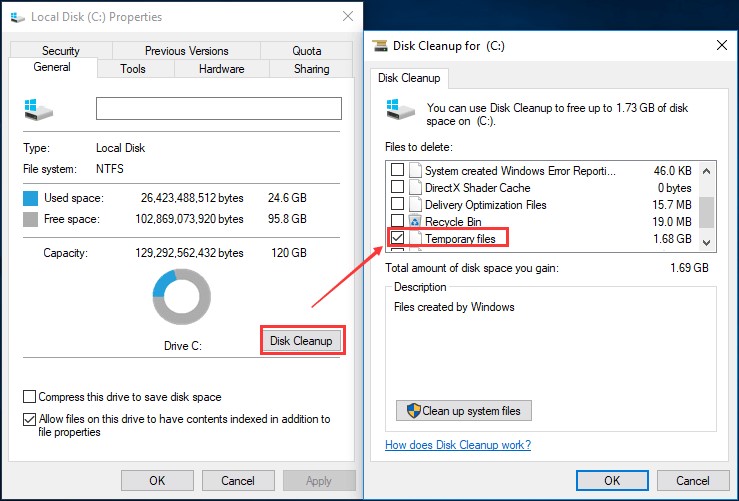 Way 3: Optimize Drive Regularly
This is a way to optimize your hard drive performance. You can do it easily: enter My Computer > right click C drive to click Properties > choose Optimize option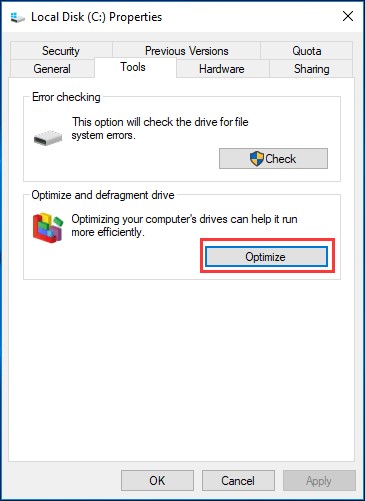 Way 4: Upgrade the Operating System Timely
Upgrading operating system is helpful to solve some problems, like computer lagging on Windows. Have a try.
7. Old Drivers
Outdated drivers may also cause hardware or software issues on Windows. And mostly, such issues will reflect on computer lagging. Thus, it is necessary to update drivers to reduce the problem.
8. Virus Invaded the PC
Nowadays, virus or malware is a big threat to computer safety. Computer may be infected with viruses easily even if antivirus programs have been installed on Windows.
Right now, run a full antivirus scan on your computer to remove the virus. After that, check whether the computer lagging is solved or not.
9. Internet Connection Problem
The internet plays an important role in operating computer. But usual weak or unstable signals, gateway or disconnection issues will cause a computer lagging, which often happens when OS is going to upgrade or uploading data in the background.
To solve this problem, you can try Windows Performance Monitor to know more information about CPU, RAM and network issues. Then, type performance monitor in the Cortana search box to find the result.
10. Insufficient Power Supply
Sometimes, insufficient power supply can also lead to computer to be lagging. Therefore, make sure there is enough power for the CPU or graphics card. To deal with it, try contacting the manufacturer for help or changing a battery for laptop.
Conclusion
Also Read: 7 Best VPN Services for All Devices