Cloud Technology: In the wake of COVID-19, the world has found itself awash with risk. Furloughs and layoffs have become common across organisations. This pandemic has definitely acted like a reset button—rent issues, credit risks, remote work culture, and relocation are just a few of the many challenges that managers and entrepreneurs alike, now face.
Needless to say, the extent of the economic consequences of this black swan event remains unclear. However, what we do know is that the industries are already precipitating massive changes. Even though this catastrophe cannot be entirely controlled, sharp steps can be taken to mitigate its effects on society.
While everyone is looking for a new normal, there is an important question that remains imminent: What practices can be retained and what should be adopted a new? Simply put, what might be the future of work?
This article lists down trends that are most likely to be adopted in a post-pandemic world.
In a nutshell:
1) Remote work culture
2) Flexible and scalable solutions
3) Personalised offerings
4) Tracking and monitoring
There is no doubt that businesses across globe are going through extremely turbulent times. They need to look out for changes in consumer behaviour patterns and be better prepared for unprecedented deviations by adopting these trends.
Without further ado, let's delve deeper into each of these.
1) Remote Work Culture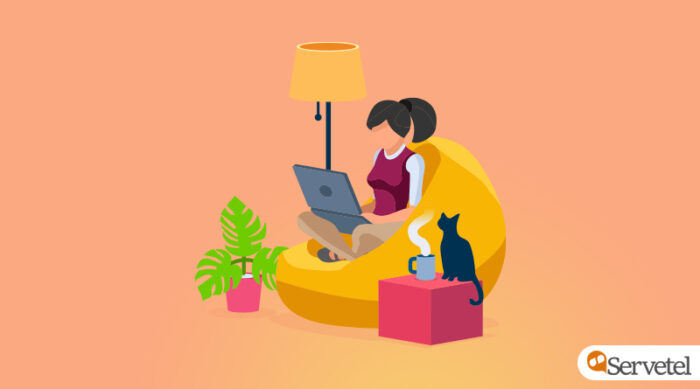 Transition of the workforce to online platforms for a successful work-from-home arrangement is the most overwhelming challenge for any business right now. The remote work trend quickly turned from a trickle to a flood, and it is here to stay in the wake of social distancing norms.
Clearly, a large number of jobs—including marketing, research, analysis and strategising—can be done remotely. Therefore, it is safe to say, the new normal will have technology at its heart.
Even as this pandemic has taken a bitter toll on the economy, it has acted as a catalyst for digital transformation. A collaboration between stakeholders committed to digitisation is set to be the game changer, opening access to various services for the masses.
Although cloud technology is far from a new idea, its true potential is only now beginning to be realised. Organisations that wish to improve productivity, while allowing mobility and reduce costs, should consider transitioning their existing infrastructure to the cloud.
2) Flexible and Scalable Solutions
Often a common barrier restricts easy adoption of technology—the notion that adding applications to an already existing collection of tools takes up a lot of time and effort.
However, someone has rightly said, "Modern problems require modern solutions."
Cloud telephony has the ability to grow with you, given its easy scalability. Whether you're a 500-people organisation looking forward to expanding your operations in another city, or a 20-people startup wanting to downscale your operations to fit a work-from-home model, the cloud has you covered.
Flexibility and scalability, aided by cloud telephony solutions, are the key elements to safeguard productivity for the new era.
3) Personalised Offerings
With digital communication in the spotlight during this pandemic, brands are rethinking their customer relationships and interactions. Surprisingly, the current situation has actually made people communicate more effectively.
With the majority of people being confined to their houses, there is a lot more time to focus on building, initiating, and strengthening relationships. In fact, we might even find ourselves having more meaningful conversations.
Personalisation can go a really long way!
Additionally, since a lot of businesses are dipping their toes in the digital space for the first time, they need to choose a communication method that's personal and engaging. To be honest, sending out simple newsletters via email marketing wasn't attractive even in the best of times, let alone during a pandemic. Instead, opt for a channel where users can receive callbacks, give feedback, etc. and, overall, interact with the brand seamlessly.
Essentially, cloud technology based solutions offer the maximum amount of personalisation with elite IVR systems. Interactive voice response is a customisable product which, if implemented smartly, can yield brilliant outcomes—especially during this pandemic.
With the flexibility to modify your recordings, you can change the message broadcast to your audience. For example, to suit the current scenario: "Due to the novel coronavirus pandemic, all our employees are working remotely. Please expect delayed responses. Sorry for the inconvenience".
Personalisation will not only strengthen your bond with the clients but will also foster transparency.
4) Tracking and Monitoring
Remote culture works best when employees and supervisors communicate clear expectations. To make most out of your remote employees' time, you have to keep a track of their activities consistently.
While technology can help to keep colleagues and supervisors in the loop, it alone cannot reduce the gap. For effective supervision, you should deploy solutions that have an overarching presence on your remote workforce.
Cloud-telephony services offer a comprehensive online dashboard which aids in efficient monitoring. Call detail records and logs are some of the many features that support powerful monitoring.
With the future of work being 'remote' in all senses, managers also need to consider the emotional state of their employees. The best way to manage the staff is to ask them how they prefer to be managed. However, clarity on deadlines, available resources, and work-related challenges still remain a crucial part of this supervision process.
The way ahead:
Society and businesses will eventually find a path out of these turbulent times. Organisations, and all their people, will learn to operate in initially uncomfortable but ultimately more productive digital environments.
For some, the cloud technology has lost its mystery and is now a common service like any other. However, the full scope of cloud technology is as yet unexplored by a majority of people.
Also read: What Is Cloud Computing and Its Features?