Hack Facebook Messenger: Thanks to the advancement in technology, connecting with people across the globe have become very seamless. From the comfort of one's home, it's easy to reach out to anyone from all over the world. Social media become one of the biggest inventions as far as technology and communication are concerned.
Without any doubt, social media has a lot of advantages. However, with the benefits also come the threats. People of all ages are exposed to online threats such as cyber-bullying. It's also a fertile ground for con-artists looking to rob people of their personal possessions.
Children & young adults are among the most vulnerable when it comes to online threats. Unfortunately, it is almost impossible to keep them off the terrain. Are you a parent worrying about the activities of your kids online? Are you considering keeping tabs on their online activities?
Well, you are not alone. Many parents are also in your shoes. Perhaps, your issue is not about your kids' online activities but more about your spouse. Are you worried that your spouse is cheating on you with someone they met online?
It doesn't matter what reason you have to want to access the social media accounts of someone. The fact is that there is an easy way to go about it. In this post, we'll show you how to hack Facebook messenger of just about anyone.
There are different ways to hack into someone's Facebook messenger. Here, we'll be showing you the simplest but the most effective way. Don't get intimidated by the word "hack". The fact is that you don't require any skill or experience to get the job done.
Meet Spyier – The Best Hack App in 2020
You've probably been wondering how possible it is for you to hack into your spouse's or kid's Facebook messenger. Well, here is the one of perfect solution for you! The great part is that you don't even need to know their Facebook password.
If the person you want to hack their Facebook messenger uses an iPhone, you don't need to touch their phone. If it's an Android, you only need to access the phone for about two minutes.
We're sure you're bursting with curiosity already. Here it is – SPYIER! Yes, that's the best app that you can use to access the Facebook messenger of anyone. Beyond Facebook, this app is also perfect for monitoring any other social media app.
So, if you need to hack someone's Instagram, Snapchat, WhatsApp, call logs, text messages, Spyier is the app of choice. It's getting pretty interesting, right? Let's dig further into this amazing app.
What is Spyier?
Spyier is the most effective and seamless method to hack any Facebook messenger. With this app, you don't need to know the password of the Facebook account you want to hack. As matter of fact, don't have to touch the target device to start reading the messenger's messages.
The app trusted by millions of users from all over the world. It has also been featured in a range of tech platforms, including Forbes, PC World, TechRadar, and CNET, among others. Spyier is compatible with both iOS and Android running on OS4 and higher.
The great part is that it works in stealth mode. This means it is impossible for it to be detected. It uses the most advanced feature that makes it the best among the competition. With Spyier, you don't need to root or jailbreak to monitor a Facebook Messenger. Not many hack apps can achieve this.
If target device is an iPhone, you don't have to ever touch the device to install any app. You only need the iCloud credential of the device. Every other thing will be completed from your end. For an Android device, you only need to touch the device once.
Hacking into a Facebook messenger that uses an Android device requires that you install the app. You don't have to worry though. Spyier is a 2MB-sized app, which takes a couple of seconds to download. Installing the app is also easy. All it requires to download and install is less than three minutes.
As soon as you install the app, it disappears and goes into stealth mode. It works in the background without being detected. It doesn't take up memory space or drain the phone's battery.
Unique Features of Spyier Hack App
Spyier gives you complete access to any Facebook messenger. We have to emphasize the fact that you don't need to jailbreak or root to get access. It's pretty easy and straightforward. Here are some exceptional features of Spyier.
Seamless Access to Facebook Messenger: When you have Spyier up and running, it gives you access to any Facebook messenger. You can view the Facebook private chat of the target remotely. You can also see other activities they engage in while using Facebook, including their posts and photos.
Find Deleted Messages: No one can be smarter than Spyier. So, if your target tries to delete any implicating messages, don't worry. Spyier will recover all for you. You will be able to view both the deleted and saved messages, as well as outgoing and incoming ones.
Access to Chat Timestamps: If you're interested in knowing the exact time a particular chat took place, Spyier will get it for you.
Access to Contacts: Spyier allows you to view the specific person the target is talking to per time. You can easily view the display pictures, email address, name, and other important data.
Access to Media Records: Spyier gives you access to photos, sound notes, and videos sent over the target's Facebook messenger. This covers both incoming and outgoing media.
So, are you ready to hack into your kid's or spouse's Facebook messenger with Spyier? Here's how:
Guidelines to Hack a Facebook Messenger with Spyier
The first thing to do is to visit Spyier's official website to sign up for a free account. You need to provide your email address and create a password.
Select a Spyier subscription plan to get started. You should specify the target device that you want to hack – Android or iOS.
When you have completed the registration, you will receive an email containing the guide. If target device is iOS, you don't need any installation. Only you need to provide the iCloud credentials of the iOS device to get started. Follow the prompting to complete the setup.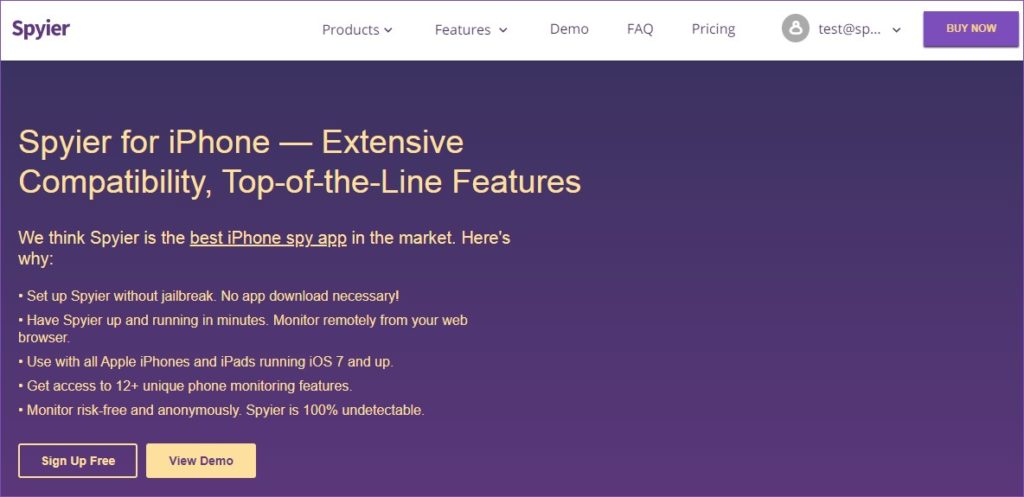 If target device is an Android, you need to gain access to the device to be able to download and install the app. The app is just 2MB and it takes less than three minutes to download and install. When the setup is complete, hide the app and wait for the device to sync with Spyier.
That's all! Login to your Spyier account and navigate to the dashboard. Can access your account from any browser and device. When you log in, check the menu to locate "Social App" and select "Facebook Messenger". This will open the target account and you can start viewing its activities.
You can also use the keylogger option to monitor the activities on the target's Facebook messenger. Keylogger stores up each keystroke on the target device. With this, you can view all messages, including incoming and outgoing. You also get to see the saved and deleted messages.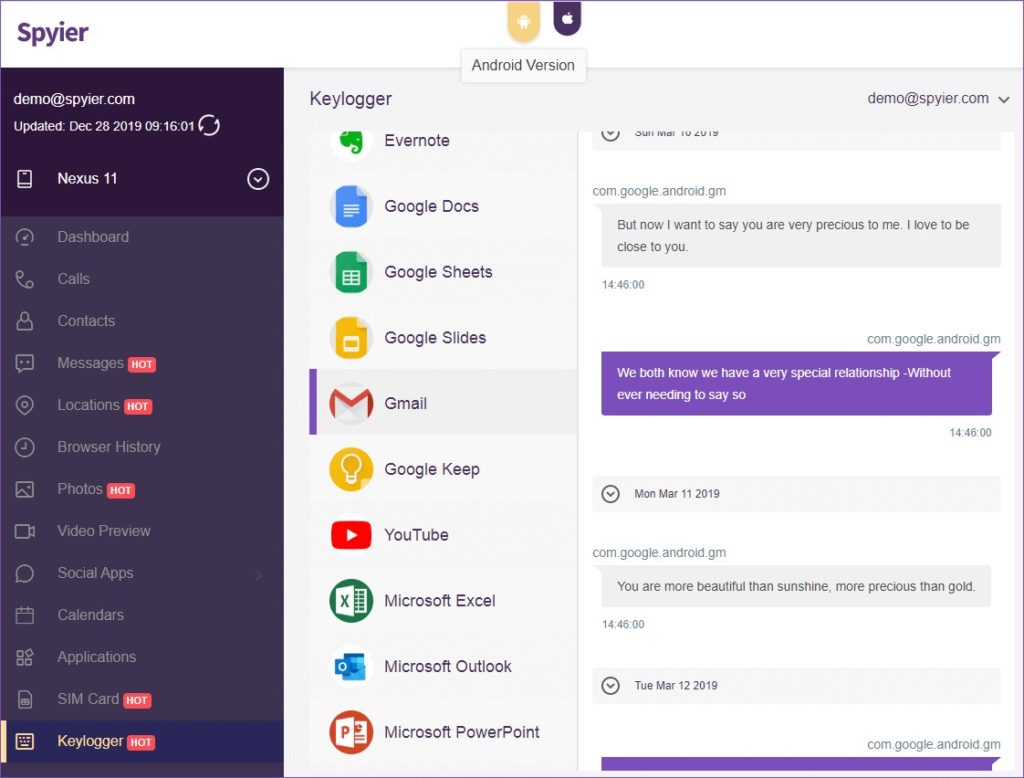 Conclusion
That's it! You can now enjoy the peace of mind that comes with keeping tabs on your kids or spouse. Don't worry about what they do online. With a few clicks, you can see all their activities.