sponsored by accessiBe
As of November 2019, there were 10, 206 ADA Title III lawsuits filed in federal courts against businesses and retailers.
Most of the cases stem from their websites' lacking in web accessibility features, which violates the Americans with Disabilities Act (ADA).  
If your business website is non-compliant to the ADA, you could face the same lawsuits. This can cost you thousands of dollars and potentially ruin your business' reputation. 
With accessiBe, a fully automated web accessibility solution, you can comply with the ADA standards effortlessly.

In this review, we'll look at accessiBe's features and how they help you meet the ADA standards.
Understanding ADA compliance
Before diving into accessiBe's tools and functionalities, let's learn more about ADA compliance and its importance. 
Signed into law in 1990 by President George Bush, the Americans with Disabilities Act aims to protect the rights of people with disabilities. 

This includes ensuring disabled individuals have access to spaces considered as "public accommodation," including the internet and websites. 
Essentially, the ADA is about providing equal access to people with disabilities, so they enjoy the same opportunities as everyone else. 
The ADA covers many different aspects of accessibility, but the part that affects how you serve customers is called Title III.
ADA Title III compliance, however, can be challenging because the law doesn't provide specific guidelines to make your website accessible.
Your safest measure to meet ADA standards and avoid accessibility-related lawsuits is to follow the latest version of Web Content Accessibility Guidelines (WCAG) 2.1 Level AA.  
The WCAG 2.1 provides a spectrum of technical recommendations for making your web content more accessible, and therefore, ADA compliant. 
accessiBe's solution – Full review
Manually checking and fixing your website's accessibility issues is time-consuming, labor-intensive, and expensive. 
Ensuring your site is accessible is more than providing better website navigation for users with disabilities.  
accessiBe's affordable and fully automated web accessibility platform helps you achieve ADA and WCAG compliance with the following features. 
Accessibility interface
accessiBe has two components that work together to make your website WCAG 2.1 and ADA compliant.
The accessibility interface mostly handles the adjustments for your website's UI and design. It helps you achieve compliance with the following features.
Color and display adjustments 
Users with different degrees of color-blindness can adjust the color of your links, buttons, and others for better visibility.

The accessibility adjustments interface lets users invert colors on your website. It also allows them to change the contrast and saturation, including the text, title, and background colors.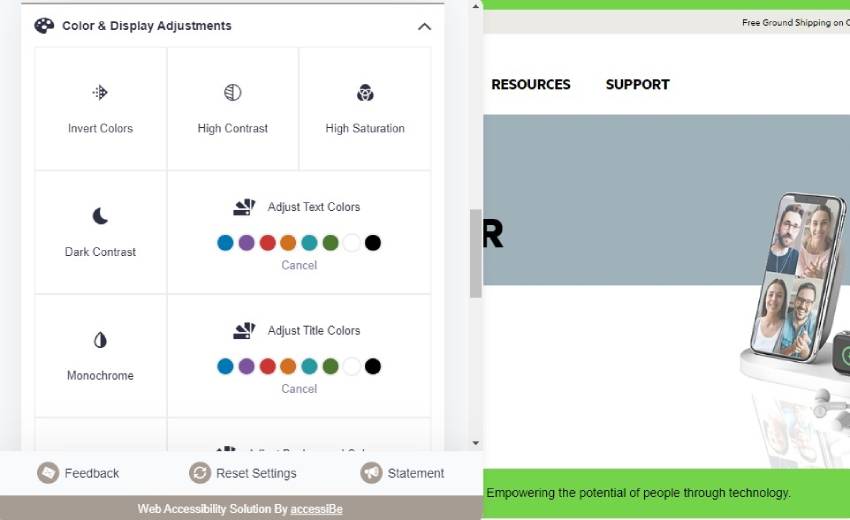 This feature also helps users with light sensitivity to make the color adjustments to your website that allows them to see and navigate effectively. 
Navigation adjustments 
People with motor and visual impairments can browse your website effectively using the accessiBe interface's navigation adjustments.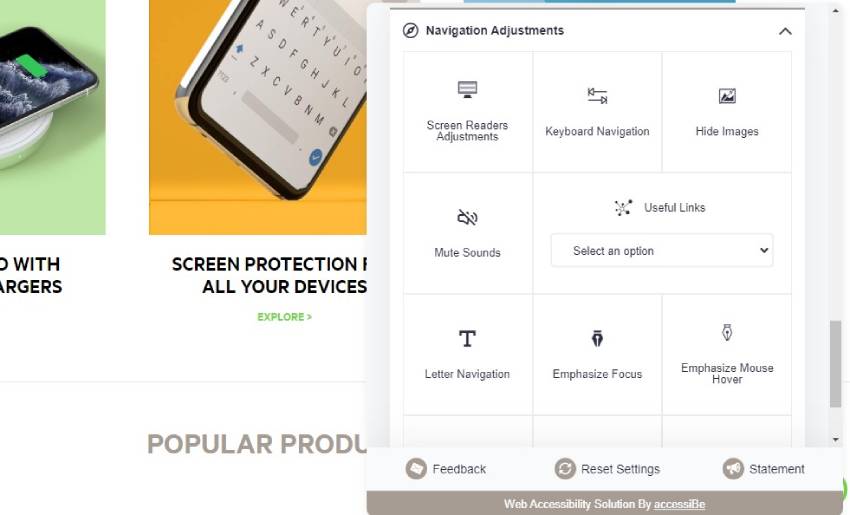 The adjustments include allowing disabled users to mute sounds, hide images, change the cursor size, and make them black or white, turn on keyboard navigation, and more. 
Content adjustments
Visually-impaired visitors can change the font style, type, and size, emphasize titles and adjust letter-spacing, etc. on your website using accessiBe's content adjustments feature.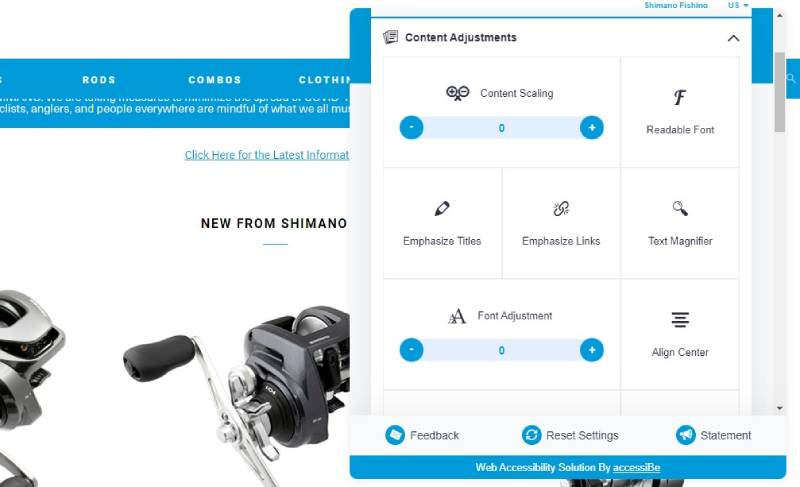 This allows users with aging eyesight and blurred vision to make their preferred adjustments, making your content as readable as possible for them. 
Other interface features
Besides visual adjustments, the accessibility interface lets users enable a virtual keyboard when using your website. 
It includes a built-in dictionary to help the elderly and those with cognitive disorders understand slang terms and possibly difficult words used in your site.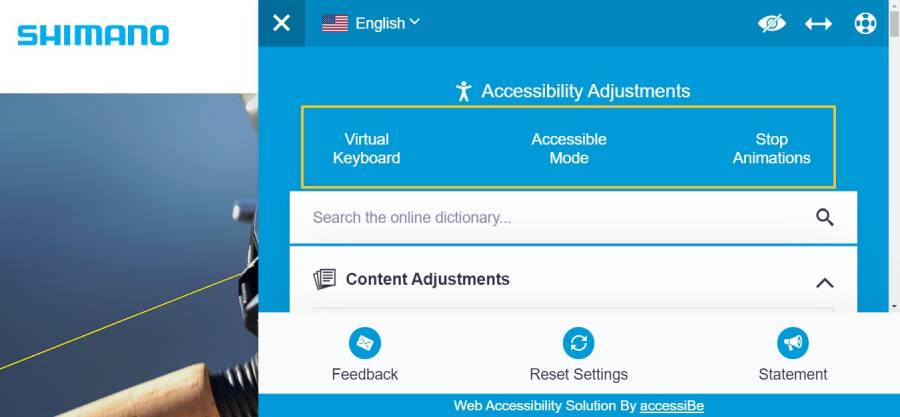 Users with epilepsy can also stop animations or flashing images on your site to avoid triggering seizures. 
AI-powered background application
accessiBe uses artificial intelligence and machine learning technologies to analyze your website and make automatic accessibility adjustments.

After you install accessiBe, it will do all the work for you. The platform will optimize your site for screen readers and keyboard navigation, and you won't need to do a single line of code.
Here's how it works.
Keyboard navigation optimization
accessiBe's A.I. adjusts your website's HTML, then adds different behaviors via a JavaScript code that makes your site navigable with just the keyboard. 
This allows users to navigate your website from top to bottom with the Tab and Shift+Tab keys, go through dropdown menus, trigger links and buttons using the Enter key, and others. 
Clicking Alt+1 enables content skip and quick-navigation menus to help users jump from one section or web page to another.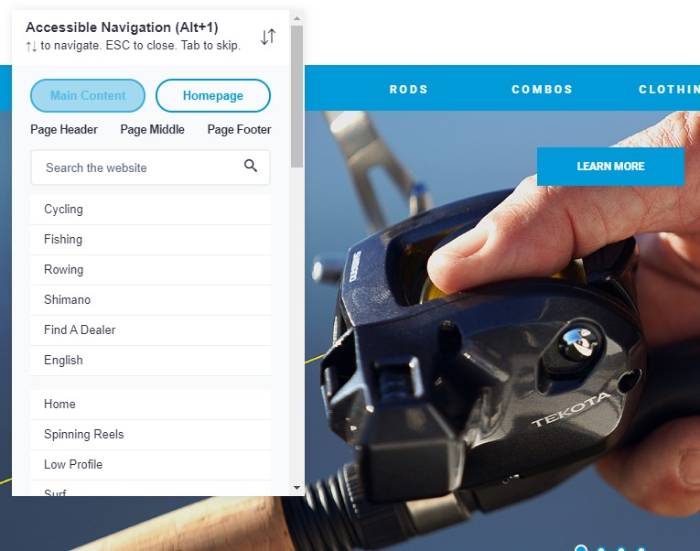 The A.I. will also automatically move the keyboard focus towards triggered pop-ups, so the focus doesn't move out.  
Screen reader optimization
accessiBe's A.I. learns all of your website's components to provide meaningful data to screen reader software.

To do this, the A.I. uses the Accessible Rich Internet Applications (ARIA) set of attributes to give descriptions for your site's actionable icons, accurate form labels, form input validation guidance, etc. 

For instance, accessiBe's A.I. automatically provides an ARIA label for your social media icon, so the screen reader software "reads" it as "Twitter icon," and not just "icon." 
The A.I. also scans your site's images and provides meaningful and precise image-object-recognition-based descriptions in alternative text (ALT) tags.

All of this happens in background and on the fly, helping you achieve full compliance with the WCAG 2.1 and ADA requirements.  
Pricing
accessiBe offers various pricing plans depending on your website's page count.
The standard plan starts at $490 annually, and you'll get seven-day trials for all its pricing tiers.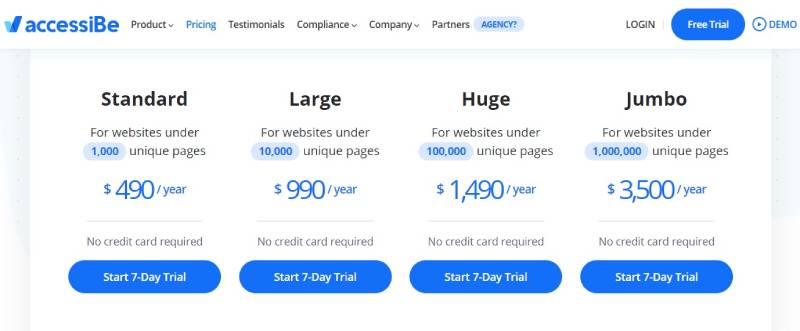 accessiBe also provides scheduled demos to help you get an in-depth look at the platform and it's features before you start a free trial or even commit to a plan with them. 
These pricing tiers are far lower than manual accessibility solutions that could cost business owners tens of thousands of dollars for recurring web accessibility audits.
Pros and Cons
Pros
Once it's installed, it pretty much runs by itself automatically. accessiBe re-scans your website every 24 hours to check for accessibility issues. With the help of A.I., it automatically makes the necessary changes to keep your site ADA compliant even if you add new content to the site. 
In terms of pricing, accessiBe is far more affordable compared to manual accessibility solutions.
Guarantees full compliance for WCAG 2.1, ADA, s508 & more.
Very easy to install – simply copy and paste a single line of JS code from the platform to embed it to your site.
In terms of turnaround, while manual web accessibility plugins and services take too much time and effort, accessiBe's automated solution takes away the complexity of making your website accessible and ADA compliant in up to 48 hours.
Cons
Understanding accessiBe's automation and A.I. talk can make it seem overwhelming and complicated — at least, for those who give the site a very quick glance. However, despite accessiBe's A.I. and advanced functionalities, it's really very easy to use since it only takes a few steps (minutes) to install accessiBe.
Final thoughts
Failing to comply with the ADA guidelines can lead to your business facing accessibility-related lawsuits, which can cost you a lot of money, and destroy your reputation and business. 
Avoid costly and laborious manual tools and use accessiBe's fully automated WCAG and ADA compliance solution.

In this review, we've shown how the platform is cost-efficient and has all the features to keep your website accessible and legislation compliant at all times, protecting your business from ADA Title III lawsuits.

Plus, accessiBe helps you improve the user experience of persons with disabilities on your website. This drives more site traffic and increases sales for your business.