In recent years, websites have become essential tools for people and organizations with a wider range of different objectives. A website is needed for commercial and marketing purposes, but they are also needed for initiatives, personal projects, and social groups.
The website builder is a phenomenon that has emerged in the last few decades, but now it is a huge global market that specializes in different areas. Website builders are available for anyone, and they are easy to use and get started with. Those new to web development are well-advised to check website creator reviews before getting started.
What is a website builder?
A website builder is a platform, program, or tool that enables the creation of a website. They simplify the process of building a website to make it easier and accessible to more people. Without the use of a website builder, developers are required to write code in a programing language, such as Javascript, PHP, or Ruby. This calls for expert knowledge in web development, so many prefer to use the expedient of a website builder.
Types of website builder
Various kinds of website builders can be chosen, some of which are specific to a particular genre or niche, such as the travel industry. Some website builders aim at e-commerce businesses, so they provide the infrastructure required, such as payment processing facilities.
There are also offline website builders, such as Rapidweaver, for which software programs need to be downloaded and installed. Files will need to upload to a web host when the web project is finish. One advantage here is that the website can create without an internet connection.
Online website builders managed on the provider's service, so files do not need to be downloaded. The website can create within a web browser, and in many cases, web hosting services provided, so this doesn't need to manage separately.
How to use a website builder
Using a website builder to create a website is a task that can be completed easily and in a short space of time. It doesn't require any specialized training in web development, although, with some web builders, knowledge of basic code can improve your customization options.
Choose your website builder
There are many more website builders to choose from, each with different options in terms of genre, styles, features, functionality, plugins, and extensions available, customer and community support, and price. Time should be taken to research the website builder that will be the most suitable for a particular project. Some website builders are easier to use but hand over less control to the user. By paying extra, there will be a wider selection of themes and more options for customization. Most website builders also offer free trial periods.
Select the right plan for you
Website builders usually offer various plans with different features and themes available. Most offer a free plan that is limited in options, while some plans can cost up to $40 per month. Plans can offer different levels of bandwidth, hosting and domains, and advertising controls.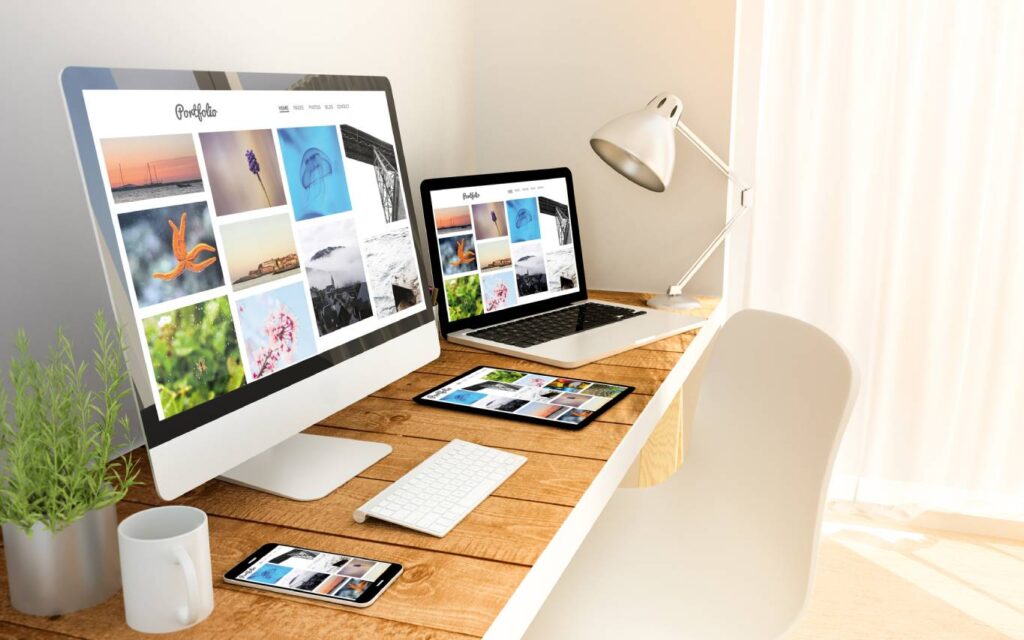 Pick your hosting and domain
Hosting may be offered by the website builder, or it can be purchased from a third-party provider, such as Bluehost. Website builders often give the chance to connect directly with the hosting company. Domains may also be bought through a website builder, though this usually needs to be purchased separately through a domain provider, such as GoDaddy or Namecheap.
Choose your template or theme
Templates or themes bring structure and style to a website, and they save hours spent on designing the site. The number of templates or themes depends on the particular website builder. Still, there are commonly various themes available in different categories, so users can find the one that is the most suitable. These may be designed to suit typical website types, such as travel blog, artist's portfolio, or online store. Templates and themes can then be customized by changing fonts, colors, styles, and functionality.
Upload your content
Once the setup of your website has been managed and tweaked, content that includes text, images, and videos can be uploaded. The success of the site may depend on the quality of the content, so images and videos may need to be optimized in an image editor prior to the upload. Texts should be checked for errors, and writing guides can be followed, so engaging content is delivered.
Add plugins and extensions
At this point, there may be extra functionality that is not found on the main website builder portal. This could include social media integrations, currency converters, or any other feature that might be needed. Most website builders offer a wide selection of plugins and extensions that can cater to more specific needs. 
Website builders typically feature drag-and-drop software that lets you customize elements on a page with layouts chosen from a handful (and sometimes hundreds) of available web page templates. Website builders exist in both online and offline formats, the main difference being an internet connection
Publish your website
The final stage in creating a website with a website builder is to preview and test the site to check for errors or inconsistencies. The preview function offers the chance to view how the site will appear live, which may be slightly different. When everything is ready, the 'publish' button can be hit, and the site will go live to the world.
The process of building a website is relatively simple, but choosing the best possible website builder for you is a task that should not be taken lightly. An excellent website builder can make the web creation process simple and enjoyable so that users can focus their attention on all of the other tasks of their project.